In the previous article about how we can enable WhatsApp stickers on the android devices, we used one of the popular WhatsApp sticker applications that available now in the play store, that is StickoText.
It is one of the most downloaded applications in the play store now. Today we will check how to install the application on your mobile and add the sticker pack to your mobile. You can also check how to install Whatsapp latest APK file from the website, to enable the sticker option on your mobile also.
Initially, the application was named ad StickoText in the play store, and recently the developer changed the name of the application to 'Sticker Packs For Whatsapp'. Originally the name is StickoText, and the developer changed the name to make it identifiable for the users by the name itself.
(Check also 'WhatsApp Stickers Not Available? How to enable WhatsApp Stickers on Android?')
To use the application, go to the play store and search for the StickoText application. You can also find the direct play store link at the end of this article too. Click on the link that will take you to the application. Then, install the application on your mobile.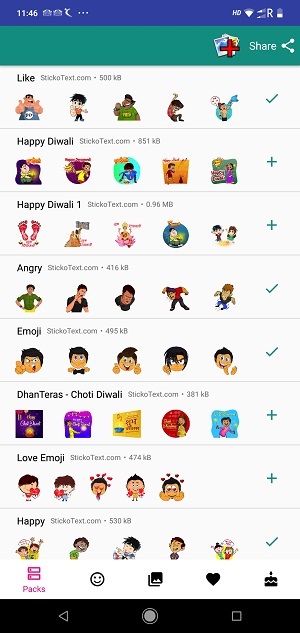 Once the application is installed, various sticker packs are added to the application under different categories. If you are opening the application for the first time, you may notice a '+' sign on the right side of each sticker packs. The '+' sign means that you didn't add that pack to your WhatsApp account yet, and you can add that to your WhatsApp account.
Once you add any pack to your WhatsApp, the '+' sign will change to a 'Tick' mark, so you can identify which pack is already added and which pack is missing, etc. Please note, you can add a pack from the sticker application. To remove any added pack, then you have to go to the 'My Stickers' section on WhatsApp and remove it from there.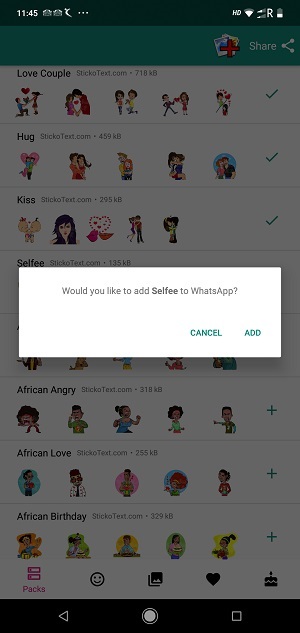 To add the sticker pack, click on the '+' sign, and then a confirmation window is displayed to add that to your WhatsApp account. Click on the Ok button, and you are done. That pack will be added to your WhatsApp account.
You can now see the added sticker from the sticker section within WhatsApp. If you click the sticker pack itself, you can see all the available stickers in that particular category, and you will get an option to add the pack to your WhatsApp by pressing the 'Add to WhatsApp' button.
(Check also 'Installing WhatsApp APK File from the Website. Does it make any Problem ?')