Because of the simplicity and usability that smartphones offer, they have made life easier. The mobile alone is insufficient; instead, applications from the Google Play Store are used to enhance the process of our tasks.
Several applications can be used for various purposes, depending on what you're looking for.
Apps to Remove Plagiarism
You can find applications in various categories on the Google Play store, including education, finance, sports, photography, and more.
These applications are beneficial to students because they help them improve productivity and handle their work promptly.
One example is the plagiarism checker app, which benefits many people, including business people, authors, educators, and website owners.
For these individuals, checking for plagiarism is a must because failing to do so may result in difficulties.
People no longer need to turn on their computers to search for plagiarism; instead, they can use the plagiarism checker application on their mobile.
Choosing the right app for plagiarism detection is a difficult job, and in this post, we will assist you in finding the best app for you.
Why do you use a plagiarism checker app?
If you're a student, a businessperson, or an article writer, plagiarized work can ruin your career. Most website owners take plagiarism seriously, and they believe that they cannot publish content on a website until it has been checked for plagiarism.
If you're a freelancer, a content creator, a businessperson, a student, or a website owner, you probably use your phone for most of your tasks.
For instance, students nowadays submit their assignments via mobile, and freelancers similarly send their documents via mobile.
As a result, you should always use the plagiarism checker on your phone if you submit files via mobile.
Let's discuss the available apps to Remove Plagiarism for your smartphone:
Prepostseo Plagiarism Checker
Prepostseo's app for checking plagiarism is undoubtedly the best plagiarism checker, which you can download from the Play Store for free.
It works efficiently and tenaciously to provide precise results.
This application is safe to use because it does not save your data in their database and saves everything on your phone.
This tool allows you to upload files in a variety of formats. It also allows you to easily insert content into the application, ensuring that the result is special.
This application's most advanced function is to produce a conclusion by comparing the content in a sentence-by-sentence format.
The free edition allows you to search up to 1000 words, while the premium edition allows you to check up to 5000 words, depending on the subscription you choose.
Plagly
Plagly is another free smartphone application that students and teachers commonly use. If you're looking for a free but quick tool to search for plagiarism, this is a good option.
It first provides you with a fast result of your content. Furthermore, it compares the content posted or uploaded with the content published on the internet if you enter content or upload a file.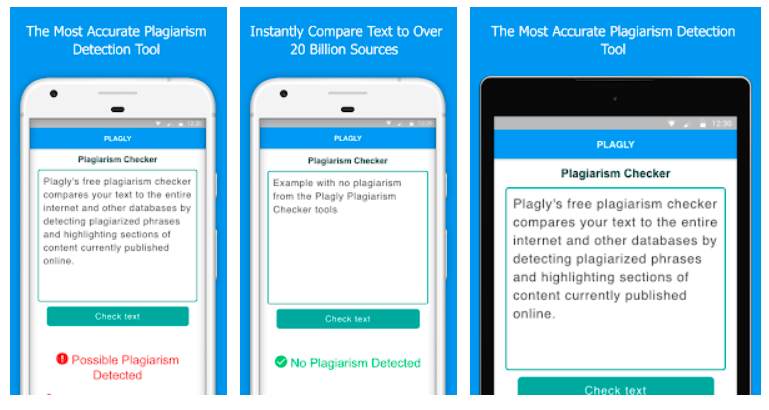 It makes use of cutting-edge technology, such as advanced algorithms that evaluate your content.
This application uses a popular language that prepares inventions to check the content to validate the report's authenticity and source.
It's a free app but go to Premium Accounts if you want any extra features like advanced questions or a vocabulary search.
Get it from Play Store
Kavach
This is another choice if you're looking for a free plagiarism checker. For students to search their theses, the Kavach is introduced.
This software allows you to upload a PDF file while also allowing you to cite plagiarized content.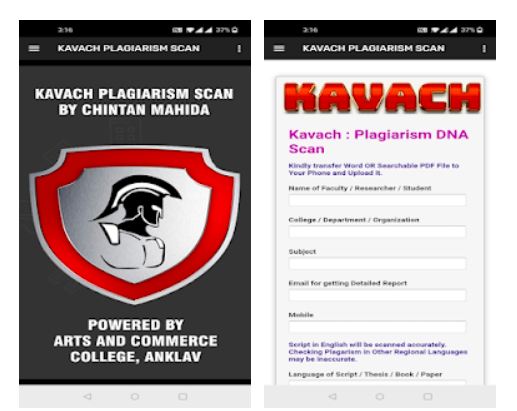 This app is beneficial to the institute because it can collect information from a large number of students who are looking for plagiarism.
Get it from Play Store
Plagiarism Checker (By Fitness Here)
This is one of the most commonly used applications for checking plagiarism and correcting grammatical and linguistic errors in your paper.
Since it includes all of the requisite editing resources, it will assist you in fully editing your post.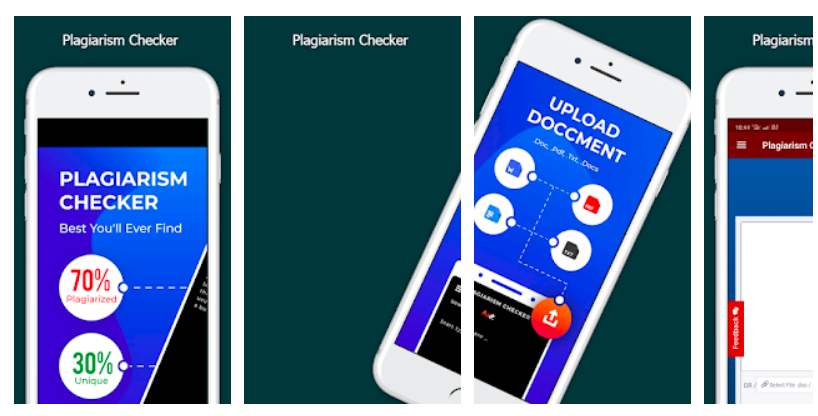 This app is usually free to use, but paying for a membership unlocks more features and removes limitations.
Most bloggers and writers suggest using it because it is a complete package for content optimization.
The editor has the right to modify the content that has been reviewed for plagiarism within the application.
If you find plagiarized content in your writing, you can easily delete it by modifying your text and replacing the copied words.
Bloggers and students can use the free version of this app, but businesses and other institutions should use the paid accounts to solve their problems.
Get it from Play Store
Plagiarism Checker by Maksim
This is yet another free plagiarism checker that is effective and offers a variety of features to users. Some of the features of this fantastic plagiarism checker app are mentioned below:
It can search various formats within the app, including uploading DOCX, TXT files
You can even paste the content into the tool to review the content instantly
It is free to use and requires no registration or subscription
Final Words
The plagiarism testing app has enabled users to continue working more quickly because it can access the plagiarism checker instantly.
Using a plagiarism checker is always a good idea, whether you're a business owner, a student, a journalist, or a blogger. If you don't have a budget for utilizing the premium plagiarism checker, the above-mentioned are entirely free and useful in this regard.
You could face negative consequences if the search engine detects plagiarism in your text.
If you are a student or a startup, you should consider using the resources listed above because they are effective and, in most cases, free.