By cleaning duplicate files on your Android device, you can recover chunks of disk space effortlessly. Further, it also helps you improve device performance. To clean identical files from your device, you can perform manual cleaning of your device or you can use duplicate file remover tools for instant and effective results. To help you de-duplicate your Android device storage, we have discussed one useful tool Duplicate Files Fixer here.
Features of the App
Multiple Scan Options to Cleanup your Android Phone: Duplicate Files Fixer is a smart duplicate file remover app that helps you refine your search process by offering you multiple scan options. Here, you select any specific folder or look for a full scan mode. During full scan mode, the app will find and remove identical files from remotest corners of your device including SD card on it.
While selecting a specific folder (like pictures, audio, videos, or documents) you can minimize the scan process for instant results. In addition to that, you can also click on the "Full Junk Scan" option on the home page to avail benefits of another useful app called "Systweak Android Cleaner".
(Also see: YuppTV Review – The Best Indian Live TV Service with Unlimited Movies)
Swift Scan Process: App is designed to deliver swift and accurate results suing smart algorithms and advanced techniques. Here, the app will search for all identical files from the selected folder or from full storage space.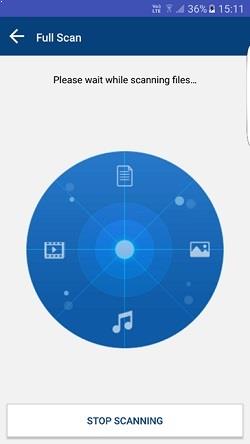 Scan Results: Scan results are displayed in a group format with all last files of the group remain marked to be deleted. Additionally, you can also mark files manually by clicking on the "Unmark All" option. You can click on the "Mark All Except Last" option to mark the first files of the group to delete.
In addition to these features, the app offers another useful feature called "Unmark Shortest File Location" to help you to unmark those files from scan results that exist at the shortest file location. Further, it will keep those files that exist at the longest file location and delete them. It is a useful feature to instantly access the files.
Backup Option: App offers useful data backup options with the "Right Backup" tool Here, you can back up all your data before you delete it. To access this feature, click on the "Backup Now" option under scan results.
(Also see: SMS Organizer From Microsoft – The Best Application to Filter SMS)
Logs: Under logs, you can find full file summary of all remaining files. Here, you will find the remaining files from the removed duplicate file groups. Further, you can export the file to your Android device storage or remove it permanently.
Ignore List: Here, you can add or remove any app from your device to Ignore List. It will exclude the selected app during the scan process. Use this useful feature to keep your important data untouched.
Scan Filters: Under scan filters, you can find options like the same name, same size, and same content. Further, you can add 0-byte files and hidden files & folders when you select a full scan or document search mode. Technically, scan filters help you to refine your search process for quick and accurate results.
(Also see: Yi Home Camera – Best Affordable Home Monitoring IP Camera)
Multiple Language Options: App supports all major language options to help users around the world.
Dual Themes: App offers two intuitive and user-friendly themes in the form of Classic and Material themes.
Conclusion
Duplicate Files Fixer is a simple yet powerful tool that helps you de-duplicate your Android device storage effortlessly. It not only helps you recover storage space but it also helps you speed up your device performance. We suggest you use this tool for instant and effective results. Download the application from the Play Store and try yourself.