SMS Organizer form Microsoft can be considered as one of the best SMS management app. As the best SMS app, the things to be considered is to distinguish messages, in terms of personal, financial, and any official matters. But organizing SMS in the correct way was not easy all the time. At this point, Microsoft came with a beautiful application called SMS Organizer.
(Also see: Yi Home Camera – Best Affordable Home Monitoring IP Camera)
This application will automatically filter all the SMS in your inbox according to the category. So no more your messages will be all together. Despite, it will be categorized as Personal, Transactions, and Promotions. All your personal messages will be available under Personal Tab, All the transactions such as banking and other financial information will be available under Transaction and all the promotions, ads, etc will be under the Promotions tab.
Along with this 3 option, the app also lets you to Archive your SMS. So if you find some messages not to show in the inbox, you can archive that, so it will be available in the Archive category. This application will also let you sent free SMS up to 30 messages every month.
One important thing is that you can register with this application only using an Indian mobile number only, which means Microsoft created this application exclusively for Indian Users.
(Also see: SBI Launched New Age Banking Mobile App Called YONO)
Highlights of the Microsoft's SMS Management App
Organize your SMS: Intelligent Categorization
Your Inbox is cleaned by categorizing your SMS into Personal, Transactional, and Promotional categories helping you focus on the messages most important to you.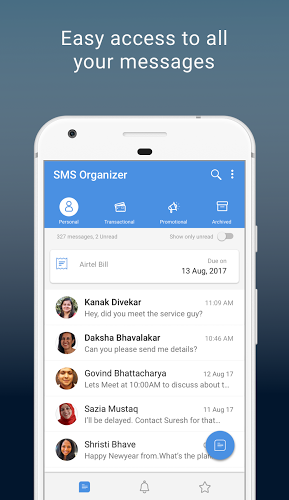 Unread Filter
Now quickly check only the SMS which you missed by choosing the Unread filter. Also, the info bar shows you the count of unread SMS and total SMS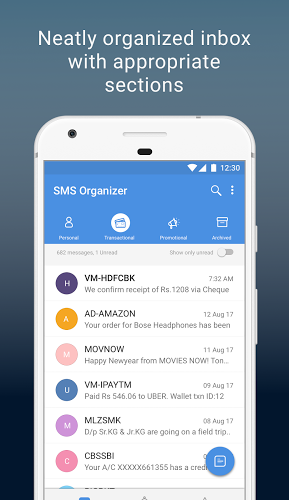 Smart Reminders
You will be reminded of upcoming trains, flights, buses, movies, and bill payments using the information in the SMS through timely reminder cards and notifications with action buttons like pay bills, book cab, etc. Also, there are contextual actions like check PNR status, check Flight status, and do Check-in directly on the cards for quick access. You can also create a custom reminder to help you remember important items.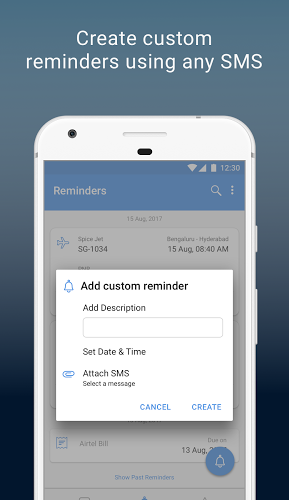 Support for FREE SMS
Now enjoy sending a FREE text to any mobile number in India.
Support for Dark Theme
Switch to the new beautiful Dark theme at just the press of a button.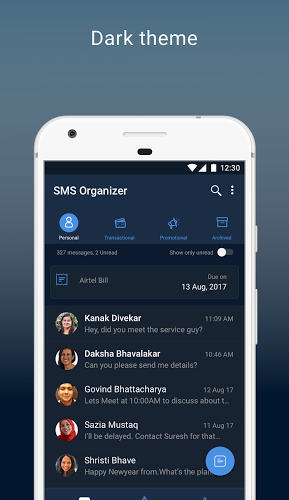 Support for Backup & Restore
So, the next time you format your phone or switch to a new device doesn't worry about losing all your important SMS.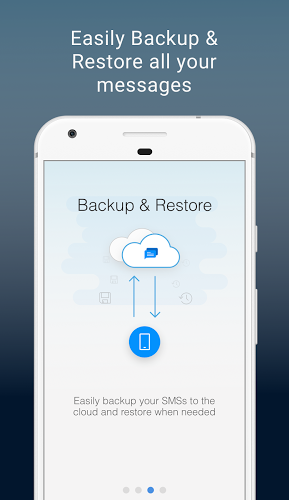 Customize your Inbox
You can favorite SMS for quick access, block spam senders, and mark senders as promotional. Further, you can control the level of notifications, customize ringtones, increase/decrease font size, etc. You can also quickly reply/delete from notifications itself.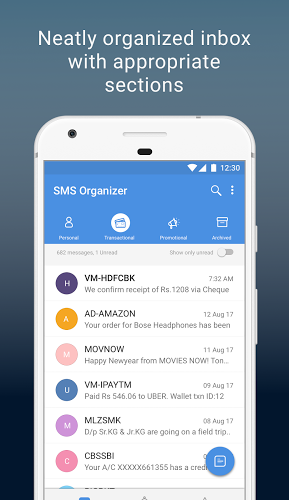 Offline
The app is built to work perfectly offline i.e. without an Internet connection. All classification and reminder creation happen on the device itself.