Last Month India government launched a new application named UMANG which is called as the 'Mother of all App'. The application was launched as a part of the Digital India Campaingn.
UMANG will consist of 200+ services offered by Central, State and Local administrations under one single platform. The Modi government has invited bids from partner agencies to develop an app that will incorporates services like applying for a passport, filing income-tax returns and paying various bills or to access any other government services to just one mobile app.
"Everyone is carrying a smartphone and using the internet on mobile. So we want to provide services wherever the citizens are," an official said.
(Also see: pCloud Review – The Best Cloud Storage Alternative)
What is UMANG?
UMANG stands for Unified Mobile Application for New-age Governance. The project is being developed by the union ministry of communications and information technology's national e-governance division (NeGD).
What will UMANG do?
Some of the services which will be available under UMANG are, National scholarship, Healthcare applications, Passport Seva, Women Safety (Nirbhaya), E-Post, Crime and criminal tracking, Network and systems, Commercial tax/GST, Income tax, CBSE/State education boards, E-Municipality, IRCTC, Utility bills, Mother and child tracking, Public distribution system, Transport Vahan/Sarathi, e-Court, m-Kisan, Land records, PF/NPS. The government plans to have at least 50 service this year and gradually scale up to 200 in three years.
(Also see: Get Free Instant International Debit Card From Kotak 811)
How will it work?
The platform will be designed in such a manner that it would be capable of maintaining or remembering citizen personal details, preferences and data required to access department services without the user having to re-enter every time. Key identification documents like Aadhar Card, PayGov and DigiLocker shall also be included within this platform.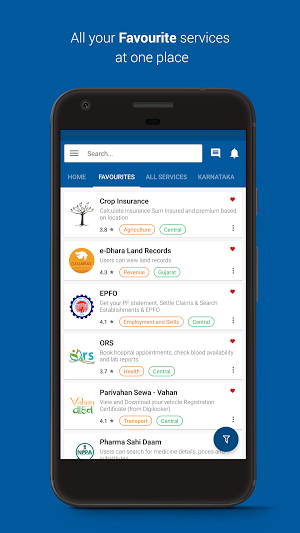 How to access?
The government aims to make the app available to anyone using a smartphone and internet. There is also a proposal that all these services should be made available on SMS and a single toll-free number for those not having smartphone . The app can be accessed 13 languages including English.
Features of UMANG
Unified Platform: It brings together all government departments and their services on a single platform to provide better and easier services to citizens.
Mobile First Strategy: It aligns all government services with the mobile first strategy to leverage mobile adoption trends.
Integration with Digital India Services: It provides seamless integration with other Digital India Services like Aadhaar, DigiLocker, and PayGov. Any new such service will automatically be integrated with the platform.
Uniform Experience: It is designed to enable citizens to discover, download, access, and use all government services easily.
Secure and Scalable: It supports Aadhaar-based and other authentication mechanisms for service access. The sensitive profile data is saved in an encrypted format and no one can view this information.
(Also see: SBI Launched New Age Banking Mobile App Called YONO)
Services Offered
UMANG provides easy access to a plethora of Indian government services ranging from – Healthcare, Finance, Education, Housing, Energy, Agriculture, Transport to even Utility and Employment and Skills.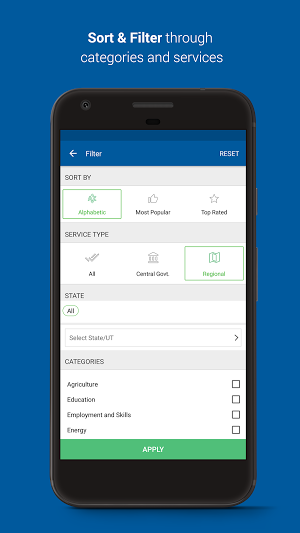 Benefits for Citizens
Single-Point Ubiquitous Access: All government services are available for citizens on a unified platform for easy access through multiple online and offline channels (SMS, email, app, and web).
More for Less: Only a single mobile app needs to be installed instead of each app of each department.
Convenience: Citizens do not even need to install or update the app again to avail government services if more services are added to the platform.
Saving of Time and Money: Citizens can anytime and anywhere avail these services through their mobile phones, desktops, and laptops without any need for visiting the department office and standing in queues.
Uniform Experience: All the government services including payment-based transactions provide secure and uniform experience.