Looking for an Online Barcode Generator Tool? Well, you have landed at the right place, then.
Barcodes are exceptionally useful, and within no time, they have become an indispensable part of everyday life. Generating Barcodes online is now the most common thing ever, and it is also easy.
Multiple Barcode Generator Software/ Tools allow you to easily create different types of barcodes. Since automated businesses have become mainstream, such tools are increasing. However, due to multiple options, finding the best ones sometimes gets tricky.
Worry not; we have compiled the 5 Best Online Barcode Generator Tools in this article. Our list of options includes both free and paid Barcode Generating Software. If you need to create your own barcodes, don't stress since these tools will make your job quick and easy. Let's have a look at them:
What is an Online Barcode Generator and How Does it Work?
An online barcode generator is a tool, software application, or website that creates barcodes for different items.
Barcodes are the visual parallel lines representations of data that scanners or barcode readers can scan. They are commonly used for product labeling, tracking, money transferring, inventory management, etc.
An online barcode generator is a user-friendly tool that simplifies the process of creating barcodes. The tool asks users to input data, including letters and numbers, and further use algorithms to encode it into a specific barcode. A Barcode generator produces an image of the barcode, typically in PNG or JPEG format. Users can further download it and use it for different purposes.
Best 5 Online Barcode Generator Tools (Free and Paid)
1. Labeljoy
Labeljoy is one of the best Online Barcode Generator Tools. Its impressive and wide range of capabilities supports twenty-one barcode varieties, including standard EAN 13, EAN 8, specialized ITF14 barcodes and more. This online tool offers the convenience of obtaining barcodes from databases.
Its most appealing feature is the ability to connect with external databases, including SQL servers, MySQL and Oracle streamlining data integration. It also allows numeric and alphanumeric values within barcodes easily. What makes Labeljoy a popular choice is its ease of use and the simplified barcode label creation.
Labeljoy is versatile and allows users to explore barcodes in formats like PNG, PDF, JPG and more. Not only that, but it also supports roll printers.
Labeljoy offers a free trial with unrestricted access to features, making it a popular choice for individuals and small businesses.
Whereas, larger scale businesses with extended needs can opt for its paid versions, including the basic version at $199 to the full version at $329, and a server version for $1599. Labeljoy features 4,500+ clipart files, 6,500+ layouts, and dynamic barcode fields for an overall comprehensive solution. And by supporting 27 global languages, it offers worldwide accessibility.
2. HandiFox
HandiFox stands out as a top-notch barcode inventory software solution. This Barcode Generator is meant for efficient inventory control and streamlined sales order management. It is basically a desktop application that merges mobile device functionality into inventory management. It empowers both small and large-scale businesses by allowing them to create and utilize barcodes. With that, it can aid in inventory tracking and management.
HandiFox may come with a relatively higher price tag, but its advanced features and comprehensive support for inventory control and sales make it a worthwhile investment. The ability to create custom barcode labels further adds to its utility.
While it offers a generous 30-day trial period, its premium version is priced at $1195 per mobile device for Inventory Control and at $1495 per mobile device for Sales. This award-winning barcode generator software is an excellent solution for both desktop and mobile devices.
3. Morovia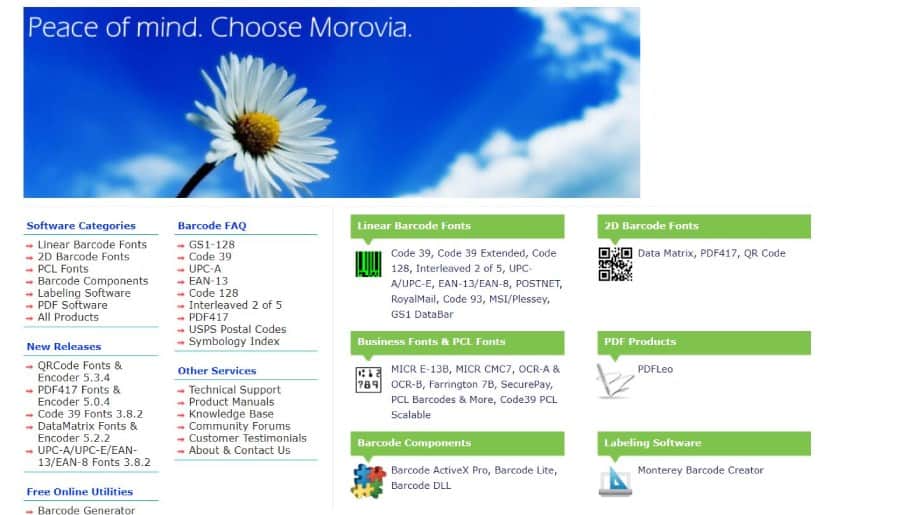 Another of the Best Online Barcode Generator Tools, Morovia, is known for its usability quirks. This online tool is known for its ability to customize barcode dimensions where users can make their barcode taller for easier scanning. Morovia is one of the most user-friendly options available that allows users to include or exclude text within the barcode and more such customization.
Not only that, but it also allows customizing parameters like barcode colour and orientation. It is one of the most effective and useful tools in retail, where barcodes streamline the checkout process.
For using Morovia, input the data, make any desired customizations and click on Submit. Once done, this online platform allows the users to download barcode images in various formats, such as PNG or JPG. Users can download the Barcode image in projects, labels, or wherever barcode usage is required.
Morovia's tool supports a wide range of barcode types, including UPC, Code 39, QR codes, and more. It is a useful tool for individuals, businesses, organizations and more. The best part about Morovia is that it is absolutely free to use and is available for all.
4. Wasp Barcode Maker
Wasp Barcode Maker is one of the most practical solutions available online for Barcode generation. This tool is presented by Wasp Barcode Technologies and is utilized for Barcode generation, inventory management, and asset tracking. Wasp conveniently integrates with Microsoft Office, making it an accessible tool for businesses relying on this software suite.
It has multiple pre-designed templates allowing users to generate barcodes without extensive design work. It allows various types of Barcode generation, including UPC, Code 128, Code 39, QR codes, and more.
The best thing about Wasp Barcode Maker is its feature that visually displays check digits in the barcode's caption, ensuring accuracy. Not only that, but it also allows users to modify the size of barcodes for easy scanning. Users can even customize other parameters, including colour, font and layout. Some versions of Wasp Barcode Maker may support integration with databases, enabling users to create barcode labels directly from their data.
Wasp Barcode Maker has simplified barcode design and generation like never before. It easily connects with Microsoft Access and automatically generates hundreds of barcodes. Wasp comes with a 30-day free trial offer followed by paid subscriptions, including Basic (1 User License): $149, Basic (10 Users License): $495, and Pro (1 User License): $199.
5. Barcode-Generator
Last but not least on our list is Barcode-Generator, a popular solution available online. This top-tier free online barcode generator tool is versatile and valuable and caters to a wide range of barcode needs. Barcode-Generator allows creating barcodes for different usage, including VCard, text, email, SMS, social media, PDF, and more. With an extensive selection of over 100 code formats, it accommodates requirements for various industries.
The best part about Barcode-Generator is that it can generate both static and dynamic codes. With this feature, users can enjoy flexibility for different use cases. Once the barcode is generated, users can download it with a single click, eliminating unnecessary steps. Users can also export the barcode to multiple file formats, including JPG, EPS, and SVG, for added flexibility. And since the tool is 100% free, it caters to a wide range of audiences.
Overall, these were the Top 5 Online Barcode Generating Tools. We have tried including both Free and Paid tools for users' convenience. However, even the Free tools are beyond limitations and offer a range of functionality.
We hope you will be able to find your ultimate tool for creating Barcodes from here on.