Digital files never come with a long-lasting guarantee, as several causes can result in losing these files. For example, suppose you just returned from a trip and transferred all your photos to your device. Because of some reason, you lost them permanently, and now there is nothing you can do.
However, you can resolve this issue independently instead of getting help from an IT expert. Wondershare Recoverit is a top-rated photo recovery app that can help you with this problem.
Recoverit comprises all the technical requirements which are needed for data recovery. By the end of this article, you will know how to recover the lost data back in your device with the help of this effective tool.
1: What Major Factors Lead to Photos/Data Loss in Devices?
Data loss is a common digital problem nowadays. Everyone can face this issue on their devices, and some users don't even know why this happened in the first place. Because of this reason, you need to know the factors that can lead to photos loss in your device. Some of the most common data loss reasons are described below:
1. Human Error
Most of the data loss in multiple domains is caused by human errors because it is the nature of humans that they are not perfect. Especially in business industries where people have to do so much work like typing, updating, editing, or other process, mistakes are common. For example, accidental deletion of data files and liquid spillage are frequent human errors.
2. Hardware Failures
When you have so much to do with just one device, it will likely get fed up and malfunction. Users love to store their important files on one device, so accessing them can be easy. However, when storage limits exceed, it can result in hardware failure. The data in a drive can be wiped up entirely because of this issue.
3. Malware Attacks
Malware attacks are very surprising and are not easy to locate. Devices are very tech-savvy; however, issues like malware attacks can impact them badly. It can lead to malicious ads, deletion of files, automated controlling of devices, and many other things. It is one of the most irritating and hectic reasons for data loss.
4. Power Outage
No device can work without consuming its required power. Sometimes a user is so busy working on files that they overlook that the charger is not connected. If your device shuts down without warning, it can lead to scenarios like losing the file you were working on. Not only this, but it can also lead to the deletion of other files in the device.
2: The Powerful and Blazing-Fast Data/Photo Recovery Tool of 2023
Wondershare Recoverit is a top-ranking data recovery software specifically designed to help people who need to recover their lost files. It is best in class and can help you retrieve the lost data back to your device in any scenario. This data recovery software possesses 35+ patent technologies that can scan and recover data from multiple devices, including SD cards, USBs, recycle bins, hard drives, and many more.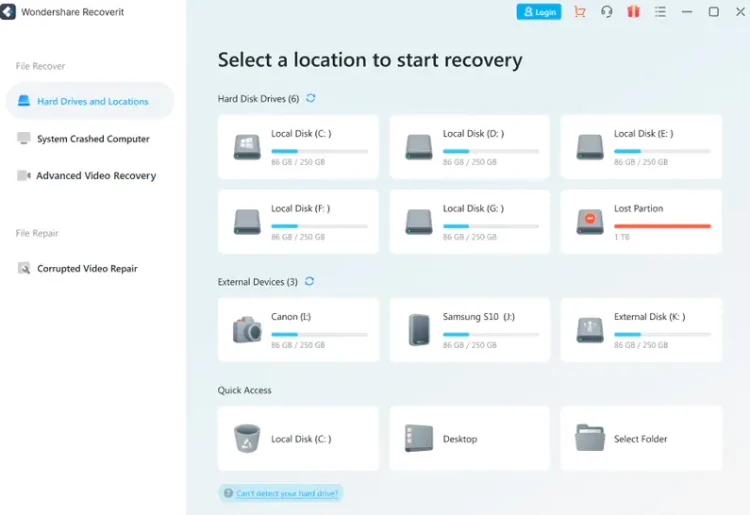 Furthermore, Recoverit is a reliable tool that never ceases to astound its users with its high-quality services. It supports a wide range of file formats; thus, you can use this tool without restrictions. Whether you are working on photos, videos, archives, audio, documents, or other files, it can always help you.
This photo recovery app can also assist you in deleted file recovery, formatted recovery, partition recovery, and other types of recovery. In short, it is a perfect tool for efficiently recovering lost data back in the device.
3: What is the Procedure For Recovering Lost Data/Photos in High-Quality?
Recovering lost data, such as photos, with Wondershare Recoverit is not challenging. You can quickly recover any deleted file with a few clicks. Moreover, to avoid any confusion, follow the steps listed here:
Step 1: Launch Recoverit and Select Location
Download Wondershare Recoverit, the blazing-fast data recovery app, and launch it. Then, from the default interface, select "Hard Drives and Locations" from the left side of the window. Following this, choose your hard drive from the "Hard Disk Drives" section or folder from the "Quick Access" section.
Step 2: Scan the Selected Location
Once the location is selected, hit "Start" and scan the selected drive or folder. This deleted photo recovery software will make an all-around recovery to find all the lost files. If the file you want to recover is in the list of scanned files, you can also "Stop" or "Pause" the recovery process.
If you are looking for a photo file that is not in the list of scanned files, go for the "Enhanced Recovery" option. This will deeply scan and find all the photos from the selected folder.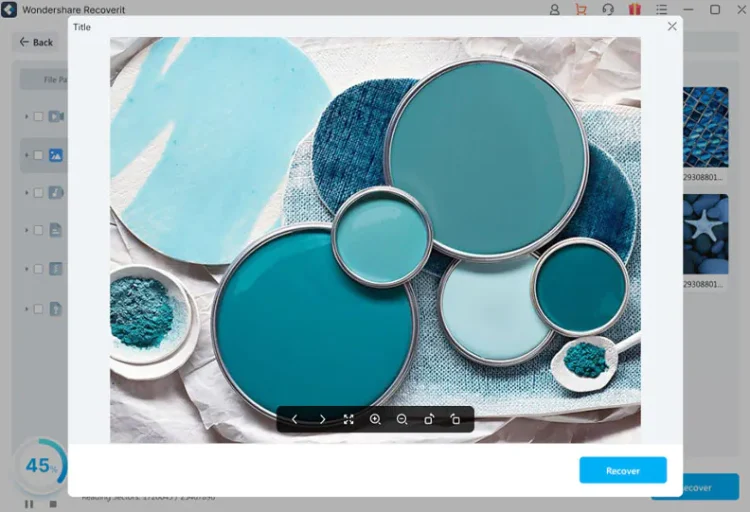 Step 3: Recover the Lost Files/Photos
Preview is beneficial in avoiding confusion for recovering files. You can also see the quality of recoverable files with this helpful feature. Tap on the "Preview" button to see the lost or deleted data, such as photos. Once satisfied with the results, hit the "Recover" button and select a path to save these recovered files.
4: Useful and Effective Tips to Prevent Data/Photos Loss
Now that you know about the metrics that can cause the deletion of files, you must be looking for ways to bypass them. Here are some of the practicable and effective tips which you can follow to prevent this issue:
Work Cautiously: The digital devices are exquisite and must be handled with complete optimization. If you work cautiously with the device, human errors like accidental deletion and liquid incidents can be prevented.
Optimize Device: Devices have their capacities, and if you exceed the limit, it will impact the device badly. Analyze the system storage from time to time to prevent storage problems and hardware failures.
Install Anti-Virus Software: There are thousands of anti-virus software on the web, but not all can give satisfactory results. Always work with top-rated and reliable ones to prevent data loss issues.
Check on Battery: Always check your device's battery before working on something. Moreover, make sure you are using a charger that is compatible with your device.
Final Words
To conclude, anyone can face data loss issues but don't panic because it is resolvable. Instead, always work with reliable data recovery software to recover lost files. The one you can use without any restriction is Wondershare Recoverit. It can help you in multiple scenarios and is very easy to use.