The tool we will try today will be reviewed from my experience. Today I will check AudiFab Spotify Music Converter. I use the tool for some reason, the reason is big, through which I came to know that this tool is handy.
I often use Spotify to listen to music. What I love about Spotify is that it makes a playlist of whatever I listen to, which I find to be a very friendly and unique feature of other music-listening apps.
Well, I'm a Spotify Premium user. Because of this, I can use Spotify's offline feature, which allows me to download music so that I can listen to that downloaded music whenever I want without the internet.
But, the songs I download from Spotify are encrypted because of cache files that have limitations. This does not happen only with me; every Spotify Premium user faces this. We can download songs with the help of Spotify Premium, but still, we cannot cross some limits.
So I was looking for a solution to the same thing and found the AudiFab Spotify Music Converter. AudiFab Spotify Music Converter is a tool that helps me bypass Spotify's limitations. And that's why I want the users of Sporty to know about this tool. So, here is a detailed review of the AudiFab Spotify Music Converter.
Features of AudiFab
While using the tool, I fell in love with its features. AudiFab comes with a lot of great features that can be greatly helpful to you.
Batch Download Spotify music at up to 10x speed
I'm a Spotify Premium user and wanted to convert all the songs, playlists, albums, and podcasts Spotify created for me to local files. But due to some limitations of Spotify, this was not supposed to happen.
But with the help of AudiFab Spotify Music Converter, I could convert Spotify songs, playlists, albums, and podcasts to local files with the help of 10x speed. The most important thing about the feature of AudiFab is that it can be used by both Spotify Free and Premium users.
Convert Spotify to MP3, AAC, WAV, FLAC, ALAC, and AIFF
I didn't see any format issues while using AudiFab. AudiFab supports six main formats, which include MP3, ACC, WAV, FLAC, AIFF, and ALAC. Many people mostly use all formats; you can convert any Spotify song with these formats.
Keep the original audio quality and retain ID3 tags
While using AudiFab, I also found out that the music I listen to from it is of the same audio quality as the audio quality I get when listening to music on Spotify. I must say, I liked this feature. And there's also an ID3 tag feature that will preserve the title, artist, album, artwork, track number, disc number, and year of the music files you download from Spotify.
Provide free updates and technical support
Even when using the AudiFab, I saw frequent updates, which I have found to be another great thing about the tool. As such, the AudiFab team updates their tools frequently, so users do not face any problems while using the AudiFab tool.
Support Windows 11/10/8.1/8/7 and Mac OS X 10.11~13
AudiFab works very well in most used windows operating systems, windows 10 and 11 but at the same time works well in old windows operating systems, windows 7, 8, and 8.1 as well.
If you're using Mac OS X 10.11~13, you can still use the AudiFab tool. You will find such tutorial videos on the internet by watching, or you can learn how to make AudiFab in this way on Windows and Mac. Even AudiFab itself provides tutorial videos on its website for its users.
One-click upload converted songs to OneDrive/iTunes
One of the best things about the AudiFab tool is that you can upload the converted songs to OneDrive or iTunes. So you can very easily upload your converted songs to OneDrive and iTunes without even opening OneDrive or iTunes because you can do it directly on AudiFab with a single click.
The process is quite simple; all you have to do is view your converted songs and then select the converted songs that you want to upload to OneDrive or iTunes. After this, you have to follow some instructions given by AudiFab; after this, your selected converted songs will be uploaded to OneDrive or iTunes.
Designed with built-in useful additional tools
Convert your local audio files to MP3/M4A/FLAC/WAV/OGG/AIFF, burn music to CD, or edit ID3 tags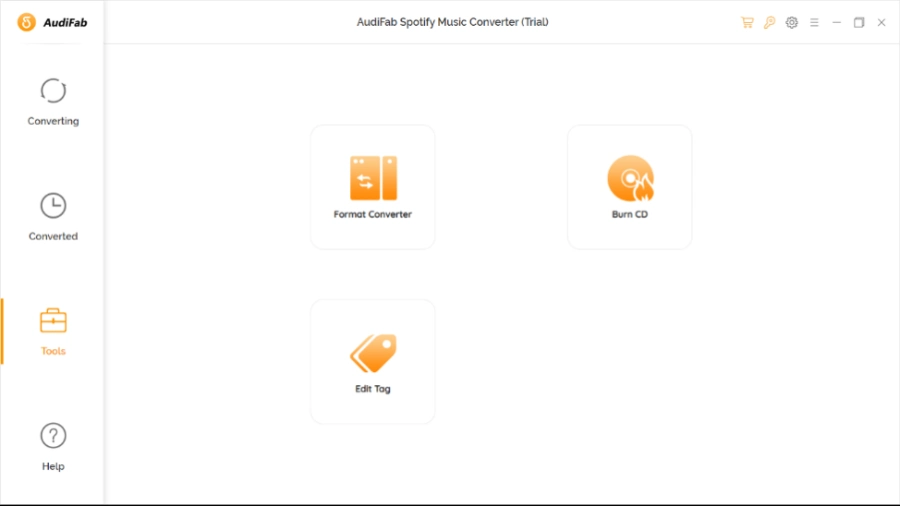 By the way, sometimes I also need a tool that I can use to convert my music files to MP3, M4A, FLAC, WAV, OGG, and AIFF. Well, now, with the help of AudiFab, all I can do is use the tool. Also, I sometimes have to burn music to CD, which I can do now using AudiFab. You can even edit ID3 tags using the AudiFab tool.
And for the AudiFab to do this kind of work in these, you nor I will have to look for any other tool.
Dark and light skins
AudiFab Dark and Light Skins, or you can say, comes with a Dark and Lights theme which is quite remarkable and unique.
Customize output sorting
Sort playlist, artist, and album, or artist/album, album/artist. With AudiFab, I can customize the output sorting of songs like Playlist, Artist, Album Artist/Album, and Album/Artist.
Conclusion
AudiFab Spotify Music Converter is a fantastic tool that any Spotify user should use, whether a Spotify Free user or a Spotify Premium user. Along with this, AudiFab comes in three renewal plans. One plan is the monthly subscription plan which costs $14.95.
The second plan is the annual subscription plan which costs $59.95, and then there is the third plan which is a lifetime plan in which you only have to pay $129.9, and then you can use the AudiFab tool for your lifetime.