For designers and photographers, encountering corrupted PSD files can be a frustrating experience. Countless hours of hard work and dedication can seemingly go to waste instantly.
5 Ways to Repair Photoshop File – Easily and Quickly
But fear not, for in this article, we'll unravel the mysteries behind PSD repair. If you are wondering how to fix a corrupted Photoshop file, embark on this journey with us to reclaim your digital masterpieces now.
1. How Photoshop Files Become Corrupted?
Before diving into Photoshop file repair, let's explore why Photoshop files become corrupted. Understanding these causes can give you insights into how to prevent future mishaps. Here are some common culprits:
Photoshop crashes or closes unexpectedly.
Virus or Malware Infection.
System crash or sudden power loss while working on a PSD file.
Errors during the PSD file transfer, such as network interruptions or incomplete transfers.
Bad sectors on the hard drive.
Using incompatible or outdated plugins in Photoshop.
Fret not! There are various methods to repair Photoshop files easily.
2. How to Fix Corrupted Photoshop File?
1. Quick Fixes for Photoshop File Repair
Let's start with some quick fixes for PSD repair:
Restart Photoshop: Restarting Photoshop can sometimes resolve minor glitches and issues.
Open in a Different Version: If you have access to an older version of Photoshop, try opening the file in that version.
Open as a Copy: Try opening the damaged file as a copy.
Try Different Editing Software: If you can't open the damaged file in Photoshop, try opening it in other image editing software that supports various file formats.
Check Backup: Check if you have backed up the files to cloud storage or elsewhere.
If the above methods are ineffective, please resort to more advanced methods.
2. Repair Photoshop File Using Reliable Software
When it comes to PSD repair, professional repair tools are a solution that we have to mention.
These tools are designed to mend broken PSD files, often restoring them to their original state without breaking a sweat. "Remo Repair PSD" is one of the frequently discussed repair tools. However, in this post, we would like to introduce a more outstanding Photoshop repair software – 4DDiG File Repair. Here are some key features of this powerful tool:
The higher success rate in repairing damaged Photoshop files.
Easy to operate, user-friendly interface.
Support repairing various file formats, including PSD, PSB, Excel, Word, PPTX, PDF, and more.
Support batch repairing multiple corrupted PSD files.
Fast repair speed and offering file preview after repair.
Here is how to fix corrupted Photoshop file in three simple steps:
Step 1: Download and install 4DDiG File Repair on your computer. Launch the software and click on the "File Repair" tab.
Step 2: Click "Add File(s)" to import your damaged or corrupted Photoshop files. After adding the files, select "Start Repair" to start the repair process.
Step 3: 4DDiG File Repair will repair corrupted PSD files at the fastest speed. After the repair is completed, you can preview the first page of the files. If you are satisfied with the repair result, select the files and click the 'Export Selected' button to save them.
Now, you no longer need to worry about how to fix corrupted Photoshop files. This is the best alternative software to Remo Repair PSD and PSD Repair Kit.
3. Recover Photoshop File with .temp Files
Sometimes, temp files can help in recovering corrupted Photoshop files. When you're working on a document in Photoshop, the software often creates temporary files as backups or recovery points. These files might contain versions of your work before a crash or corruption occurred. Here is how you do it:
Step 1: Press the "Win+E" key and type "%LocalAppData%\Temp" into the address bar.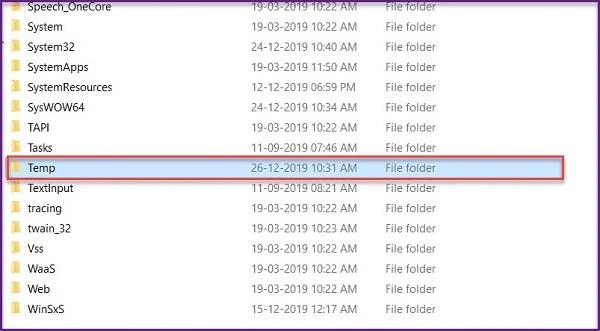 Step 2: Locate the folders or files related to Adobe Photoshop. The temporary files might have names like "Photoshop Temp…" or similar.
Step 3: Once you find the temp files, change the file extension from .temp to .psd. Then, try opening these files in Photoshop to check for recoverable content.
4. Recover Photoshop file via File History
If you have enabled File History before encountering file corruption, you can say goodbye to any concerns about how to fix corrupted Photoshop files. This built-in backup tool can automatically back up versions of your files and allows you to restore them to previous states. Following these steps to repair Photoshop file using File History:
Step 1: Right-click on the corrupted PSD file and select "Restore previous versions."
Step 2: In this window, you'll see a list of previous versions of the file.
Step 3: Select the version before the file is corrupted. Then, click "Restore."
Step 4: Open the recovered PSD file in Photoshop to ensure your work is intact.
5. Repair Photoshop file through AutoRecovery
Another method to repair a Photoshop file is by using a built-in feature in Photoshop called AutoRecovery. However, it might not always work for severely corrupted files. Here's how you do it:
Step 1: Launch your Photoshop and click the "Edit" option. Then, select "Preferences" from the drop-down menu.
Step 2: Go to "File Handling" and enable the "Automatically Save Recovery Information Every" option. You can set an appropriate interval to save Photoshop files.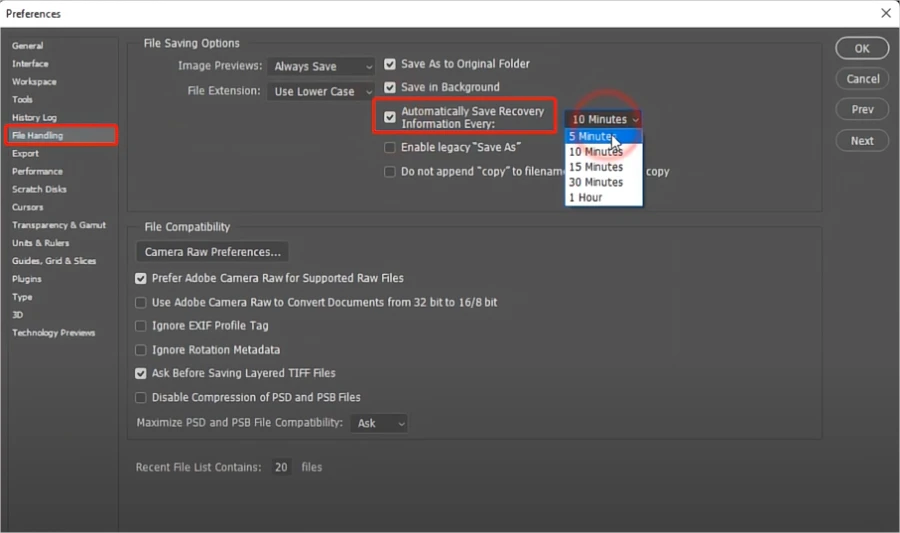 If this solution doesn't work, we strongly recommend using professional PSD repair tools like Remo Repair PSD or 4DDiG File Repair.
Open a Flat Copy to Recover the Photoshop File
When you post questions like 'How to fix a corrupted Photoshop file' on online Q&A forums or help sites, you might receive responses suggesting that opening a flattened copy of the corrupted PSD file could potentially repair it. While we aren't entirely certain about the effectiveness of this solution, if it works for you, we will certainly incorporate it into this article.
For Windows users, you need to hold down the Alt + Shift keys and simultaneously click on the corrupted PSD file to open it. As for Mac users, you should hold down the Option + Shift keys and perform the same action.
3. Helpful Tips for Preventing PSD File Corruption
The best method for repairing a corrupted Photoshop file is to take preventive measures to avoid its occurrence. Here are some valuable tips for you:
Regularly back up your PSD files to an external drive, cloud storage, or another reliable location.
Keep your Photoshop software up to date. Updates often include bug fixes and improvements that can help prevent corruption issues.
Take advantage of Photoshop's Auto Save feature, which automatically saves your work regularly during your workflow.
Install a reliable PSD repair tool like 4DDiG File Repair or Remo Repair PSD. Once the file is damaged, you can take immediate action.
If you're sending PSD files over the internet, consider compressing them into ZIP or RAR archives.
Regularly perform a comprehensive scan of your computer to check for malware or viruses. It's best to conduct a full scan at least once a week.
Final Words
In conclusion, if you encounter a damaged file while working with Photoshop, there's no need to feel disheartened. There are multiple ways to repair Photoshop files, regardless of your technical expertise. Don't let corrupted files impede your creativity and workflow.
FAQs about Photoshop File Repair
1. How can I repair PSD files online for free?
If you want to repair Photoshop files without software, try using 4DDiG Online Document Repair. This online tool is free, and repairs corrupted videos, audio, and photos. Here is how to use it:
Step 1: Go to the official website to use this tool.
Step 2: Add your corrupted PSD files by clicking the "Upload Document" button.
Step 3: After a successful upload, this tool will automatically analyze and repair the document.
Step 4:Save the repaired file to your computer.
2. How do I recover a crashed PSD file?
Sometimes, crashes occur due to temporary glitches. Restart Photoshop and try opening the file again. If it doesn't work, Photoshop's AutoRecovery feature can sometimes save unsaved changes after a crash. Look in the AutoRecovery folder for any recovered files.
3. Is there a repair tool in Photoshop?
No, Adobe Photoshop doesn't include a built-in feature for repairing corrupted files. Here are some popular Photoshop file repair tools for 2023:
4DDiG File Repair
Remo Repair PSD
PSD Repair Kit
Repair Toolbox
OnlineFile.Repair
File Repair Databases