Collaboration is crucial in today's fast-paced business environment, and Microsoft Teams is a go-to platform for seamless team collaboration. It offers a range of features like chat, video meetings, file storage, and application integration, all in one place. In this article, we'll look closely at some of the top apps that can help boost your team's productivity in 2023.
1. Virto Kanban Board
Managing projects and tasks can be daunting, but not with Virto Kanban Board. This app seamlessly integrates with Microsoft Teams and provides a visual, intuitive way to organize tasks, track progress, and collaborate easily. The Kanban-style boards allow you to see the workflow at a glance, making it easy to identify bottlenecks and prioritize tasks effectively.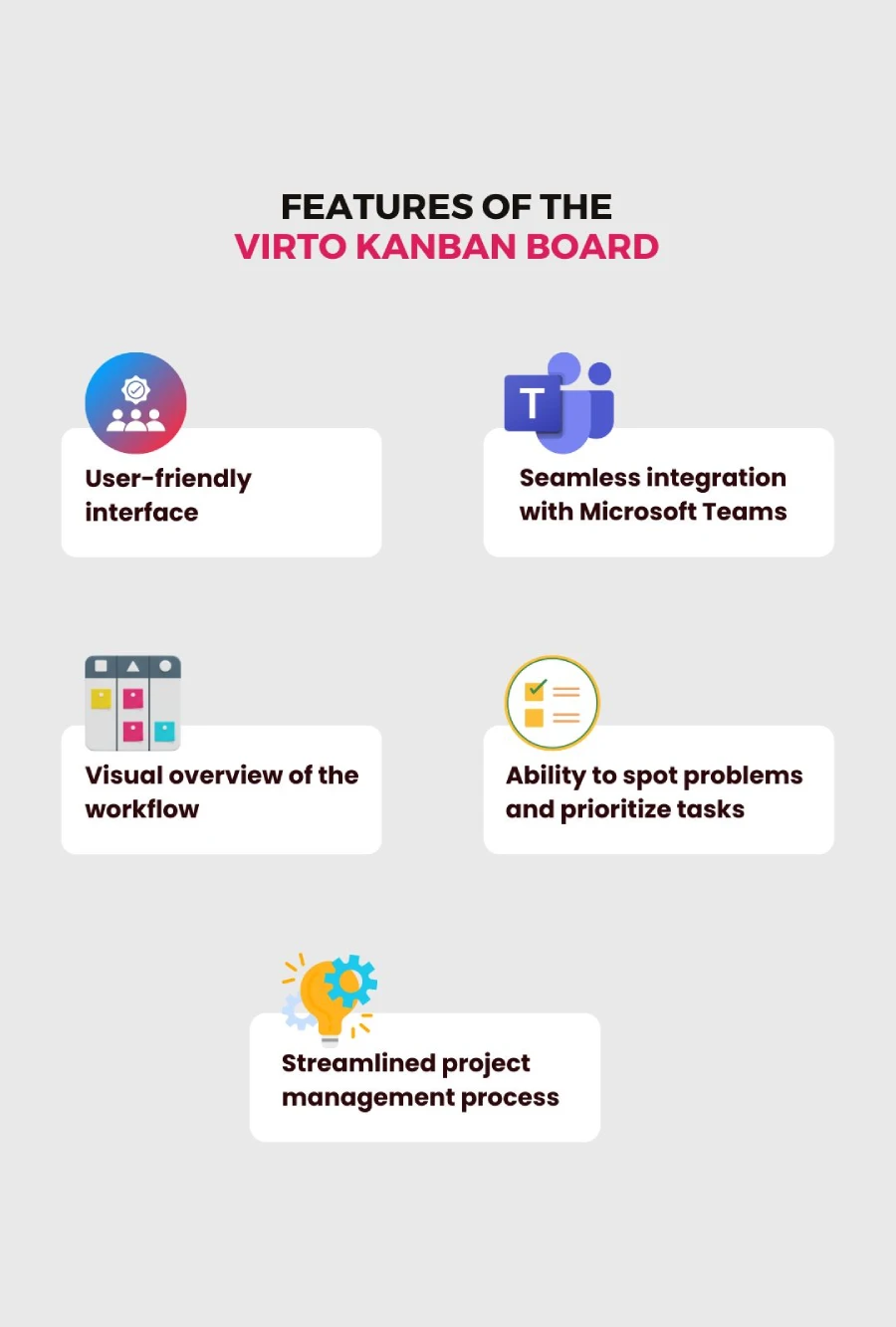 Here are some features of the Virto Kanban Board:
User-friendly interface
Seamless integration with Microsoft Teams
Kanban-style boards for a clear visual overview of the workflow
Ability to identify problem areas and prioritize tasks
Streamlined project management process
With Virto Kanban Board, your team can streamline their project management process, stay on top of deadlines, and achieve more together.
2. GitHub
It's another one from the list of the best apps for Microsoft Teams. For software development teams, GitHub is a game-changer. This powerful code hosting platform integrates seamlessly with Microsoft Teams, allowing developers to collaborate on code, review changes, and manage repositories without leaving the Teams environment.
The real-time notifications keep everyone in the loop, fostering better communication and collaboration among developers. With GitHub integration, your team can ship code faster and maintain a smooth and efficient development process.
3. Microsoft Dynamics 365
Customer relationship management (CRM) is vital for businesses to maintain strong customer relationships and drive growth. Microsoft Dynamics 365 integration with Microsoft Teams empowers your sales and customer support teams with valuable customer insights and tools.
They can access customer data, track leads, manage opportunities, and respond to customer inquiries directly from the Teams interface. By unifying CRM and collaboration, your team can enhance customer service and make data-driven decisions effortlessly.
4. Polly
Gathering quick feedback and conducting surveys has always been challenging for Polly. This popular app integrates with Microsoft Teams to help you create polls, surveys, and quizzes within your chat or channel.
Whether it's collecting opinions on a new project idea or conducting a team vote, Polly streamlines the process and consolidates responses in real-time. With Polly, your team can make informed decisions faster and keep everyone engaged in the decision-making process.
5. Power BI for Microsoft Teams
Data-driven insights are vital for making well-informed business decisions. Power BI for Microsoft Teams brings powerful data visualization and analytics capabilities directly into your collaboration hub.
With this integration, you can easily share interactive reports and dashboards with your team, informing everyone about the latest business performance metrics. Power BI integration empowers your team to be more proactive and data-savvy, from sales analytics to project progress tracking.
6. Trello
With the Trello integration for Microsoft Teams, you can bring all your Trello boards and cards directly into your Teams channels, making it easier to keep everyone on the same page. Your team can create, update, and view Trello cards from the Teams interface, eliminating the need to switch between applications constantly.
Whether tracking tasks, brainstorming ideas, or organizing project workflows, the Trello integration ensures seamless collaboration and enhances your team's productivity.
7. Zapier for Microsoft Teams
Zapier is a powerful automation tool that can integrate with Microsoft Teams, helping to automate repetitive tasks. It connects with hundreds of other apps, allowing users to create automated workflows (called Zaps) that save time and reduce the risk of human error. For instance, a Zap could be set up to automatically post an announcement in Teams every time a new blog post is published.
8. Asana for Microsoft Teams
Asana is a widely-used project management tool, and its integration with Microsoft Teams enhances project visibility and collaboration. With Asana in Teams, you can turn conversations into actions, create new tasks, update existing ones, and more without leaving the Teams platform.
Moreover, you can also view and manage your project's progress with Asana's visual project plans. These allow for real-time changes, helping your team adapt and react to any shifts in goals or timelines.
Conclusion
In conclusion, Microsoft Teams is a powerful platform for team collaboration, and with the right apps and integrations, its potential is limitless. From project management to software development, customer relationship management, quick feedback, and data analytics, the featured apps – Virto Kanban Board, GitHub, Microsoft Dynamics 365, Polly, and Power BI for Microsoft Teams – can significantly boost your team's efficiency and productivity in 2023.
Investing in the right apps for Microsoft Teams is like giving your team the perfect toolkit to conquer their tasks, streamline their workflows, and thrive in a highly competitive business landscape. So, what are you waiting for? Embrace these integrations and take your team's productivity to new heights in 2023!