The pandemic situation has changed our professional life thoroughly. As we are bound to social distancing guidelines, everyone faces problems in their personal and professional life. As most corporate companies and institutions work from home, having high virtual operations productivity can be challenging.
Meetings are necessary to discuss the workflow and growth of the company regularly. And the education of students has already suffered due to COVID-19. Many organizations and institutions are making them used to work generally in the new normal situation. Organizations ask their employees to learn the various features of different video conferencing applications to do office work and deliver lectures successfully.
Organizations and educational institutions are adopting the new culture by using different applications and methods.
Video conferencing and teaching online is the best way to resume your work from anywhere. Even it is helpful for people to connect with their family members who are living apart.
Video conferencing is the basic need for students and employees with good quality and easy access. In addition, it helps you in meetings and conducting online teaching.
Video conferencing is the only way to do work efficiently. Google Meet is one of the best video conferencing tools used worldwide to continue their work during this epidemic situation. However, only companies need to monitor the video tools to keep the data safe.
Let's know more about the features, benefits, cons, and applications of video conferencing tools.
What makes an application a better platform for video conferencing?
A good video conferencing tool requires updated software to conduct online classes, chat with a co-worker, or organize live webinars. It's easy to arrange meetings with a good video conferencing tool, host a classroom, or dial-in numbers with others.
Video conferencing is not only about showing your face. There are several additional features required to do a successful video conference.
A better platform should provide screen sharing, live commenting, whiteboarding, or recording of the meeting or class. These features make your virtual session feel like face to face one. Plus, there should be no call drop or video lagging during video conferencing. Video conferencing is more than showing your face to others.
Data confidentiality is also equally important. Many apps are not updated with advanced security. Data leakage can create a big fuss for organizations. Google Meet and Google classroom are some of the best platforms with all these advanced features and make it easy for you to contact people virtually.
But it isn't easy to choose one from the Google meet and Google classroom. So we have shared a detailed difference between Google Classroom and Google meet to help you choose the best among the two.
Difference Between Google Classroom and Google Meet
Google Classroom and Google Meet are two different applications of Google. Both are used for different purposes. Google meet is used to meet and greet co-workers, while Google classroom is more of a platform for sharing assignments.
Google meet is used more for small corporate meetings, while google classroom is used for education purposes.
For example, Google Classroom can share documents and slides, while Google meet is solely used for video conferencing purposes.
Here, you will be learning the difference between Google Meet and Google classrooms.
Google meet
Google has its A to Z application for different uses. It has been serving the world with the best platforms for a long time. Google meet is one of the best platforms to meet and have small conversations.
Over 120 million teachers and students are using G meet for teaching and gaining knowledge. In addition, Google meet made it easier for educational institutions and companies to do work continuously without any twaddle.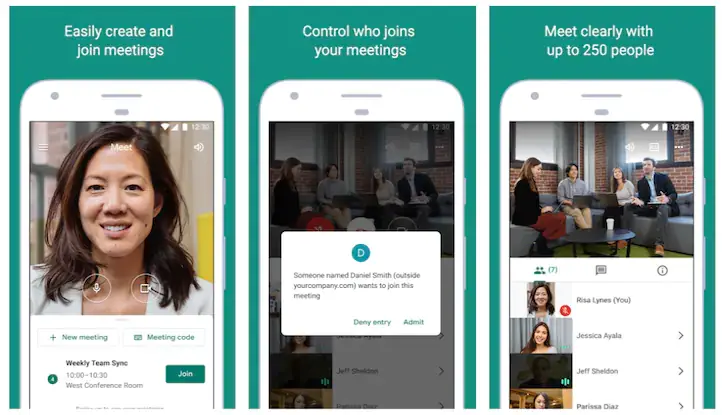 To help educational institutes, Google has expanded its premium access to meet everyone's features until September 30, 2020. This premium feature allows you to have 250 participants per call, 100,000 viewers on live streaming within your area, and record meetings to have it as a backup in Google drive.
Pros
You can share your screen while video conferencing.
Free access for everyone. You only have to create a google account.
Advanced features with the membership of G Suite (Documents, slides).
There are no charges for extra call-in members.
Full online data security and confidentiality.
Can switch to multiple screens easily.
Cons
Fewer members are allowed to join at a time.
Not trustworthy for MAC users
A bit, messy dashboard.
Not good for long and large meetings
Ability to mute a particular member
Usability of Google Meets
It is easy to use and is integrated with the Google Calendar. The benefits are, when you set up the meeting on Calendar, a link to the meeting will be created automatically.
It is very easy to create a meeting on Google Meet. Google calendar reminds you of the meeting 30 minutes before. You can see who has made a meeting and the pin assigned to the meeting. You can adjust the time according to convenience.
You can create separate google rooms with people. You can choose to join the google meetings by web or dial the number and send an invitation.
You can see all the participants at a time on the screen as a grid of participants.
Google Classroom
Google Classroom is a free web service of Google for all schools that wants to provide education digitally. You can give assignments, study material, and lectures to the students in one place.
During this pandemic, Google classroom is the best platform to resume the schools and colleges digitally. Google classroom is used by over 40 million users across the world. It is considered as the best platform for schools to teach students virtually.
Pros
Easy to attach G suite files like documents, sheets, slides, and forms to better learn.
It's easy for students to submit assignments, and teachers can track them, send them back for editing, and award them with grades or points.
There are many additional features like EdTech – Pear deck and puzzle, etc.
Teachers can share the additional resources links with the students as extra study material.
It is easy to access all the features of Google meet as it's easy to find in one thread.
Teachers can create online quizzes and lectures.
Well organized and easily accessible for everyone.
Cons
It is not a learning management system. Still, some schools try to use it as LMS.
Doesn't have features like the robust features of LMS
Need to transfer grades manually
No caption-closed option for uploaded videos.
Online meetings and events can't be done
Cannot be integrated with Google calendar
Usability of Google Classrooms
Google Classroom is the best product for teachers. It is easy for humanities, English, and social studies teachers to teach using Google Classroom. It will be a bit challenging for maths and science teachers to teach using this application. It is easy to learn the usage of google classroom.
Well, it's easy to upload documents and study materials on Google Classroom. In addition, teachers can easily track the date and time of the assignment submitted by students.
Why Google meet is better for video conferencing?
Google Meet has already shown that it uses enterprise-friendly and easy to use software. Over 2 million users are joining google meet daily.
Goggle is ensuring that organizations, institutions, and schools can work using Google meet without any interference. In addition, Google has already extended the premium features for everyone at no cost until September 30, 2020.
The main concern of Google is to provide security and data privacy to users. So it has tried its best to make Google meet the most secure platform to keep your data confidential.
Google has made the default settings for the privacy of online classes and conferences, so no one has to put extra effort into security.
Due to the G suite feature, google meet has more benefits. It is the best option for schools to keep their data confidential. There are no charges to call in as opposed to join by videos. It is highly cost-effective. All you need to do is make your google account.
Wrapping up
Google Meet is the best platform for conducting small meetings and classes. It has high security available for your data. In addition, it is easy to use and has n number of additional features that make it the best platform for video conferencing.
You can set up the meeting and Google Calendar that will automatically create the link. If you usually forget about the meeting timings, Google meet is the best option for you.
Whereas Google classroom is the best option to teach students digitally. You can provide all the study material and assignments using Google classroom. So it is like a digital classroom.
Students can also upload their handwritten assignments. For better teaching, teachers can upload presentations and excel sheets for the students. They can also share links, outsourced documents as a reference of the class notes.
Google has made our life a bit easy-peasy with this G suite feature. So make a google account and work stress-free during this terrible time of the pandemic.