Cloud telephony is a radical solution for business communication. With the introduction of cloud technology, phone systems have become more advanced than ever.
Its ingenious functionalities and powerful cloud services are the driving force for handling day-to-day business processes. In addition to that, cloud phones are the most valuable choice to enjoy a cost-effective, flexible and scalable phone system.
What's best about cloud telephony is that it is feasible for any small or large business. However, different platforms offer different capabilities, so you need to pick the best one for yourself. In this article, we will learn briefly about cloud telephony.
What is cloud telephony?
Cloud telephony is a communication technology that moves your phone systems to the cloud. Unlike traditional phones that require copper wire connection, cloud telephony requires a stable internet connection to operate communication channels.
It is a type of UCaaS (Unified Communication as a Service) that packages phone calls, messages, real-time chats, file transfer, etc., in one platform. Cloud telephony outperforms traditional phone connections in cost, functionality, and services. It provides modern organizations with many layers of long-term benefits.
Since cloud telephony service providers update their system regularly, it helps you provide great service to customers. It also enables businesses to increase staff productivity by automating the system, which is crucial for boosting your company's ROI.
How does Cloud telephony works?
Cloud telephony converts a person's voice to digital signals like any VoIP service. These signals are digitally converted into data packets and sent through the internet to the recipient.
The data packets are encrypted and sent through a speaker or headphones on the other end. When a caller calls from a VoIP phone or softphone app, the call is routed through a third-party VoIP service provider.
It uses a unified communications solution to connect your team's communication channels and tools, allowing them to do many tasks from a single platform. As a result, you can use UCaaS in conjunction with your CRM tools to increase employee productivity and improve customer service over a period.
Subscription-based billing is available with cloud-based phone systems. As a result, it is no longer necessary to invest in additional physical infrastructure on-premise.
What are the features of cloud telephony?
Cloud telephony phone systems are packed with different features. Each with unique functionalities for agents to use to handle their business communications. Here are some of them:
1. Call forwarding
A Telephony feature allows customers to redirect inbound calls to another number or service. Numerous phone systems in the market have call forwarding as a standard function.
Whether your business handles all calls via one phone line or has a different call center, it can substantially improve how you manage all of your calls.
Small businesses wish all of their phones to ring simultaneously, whether at the office, at home, or on a personal mobile phone.
They ensure that customers receive prompt responses or establish a local presence. It enhances the customer experience and customer interaction to the greatest extent possible.
2. Intelligent call routing
Intelligent call routing helps you identify callers and their reasons for calling and then route them with the right agent.
It calculates an agent's track record, experience, and skills to guarantee that the caller is routed to the agent who can provide the best solution. Not only that, but it also needs the caller's information to compute the most efficient path.
These data may include call priority, previous inquiries, their specifics, client value, and customer personality maintained in your company's database.
Intelligent routing improves customer satisfaction by reducing average session times and the number of times a consumer is routed or placed on hold.
3. CRM integrations
CRM integration is the process of connecting a CRM platform to various apps. Its primary purpose is to move data from the CRM platform to the applications.
It saves accurate data from your enterprise applications so you can get a complete picture of your company and customers.
Through automated processes, it is possible to automate tasks. It reduces the need to switch between CRM apps and cloud telephony systems.
4. Auto Attendant
An auto-attendant in cloud telephony is a voice menu that enables callers to be routed to a specific line without going through a customer service agent or receptionist.
Since it enables callers to go more rapidly through the call flow, the auto-attendant, also known as a digital receptionist, is a popular call center software feature.
It automates and streamlines the inbound phone call by replacing or supporting the human operator. Therefore, it is a very valuable and affordable feature for a business.
5. Interactive Voice Response (IVR)
In short, Interactive Voice Response, or IVR, is an automated telephone system. Instead of communicating with an agent, inbound callers can get information from a voice response system and plays pre-recorded messages.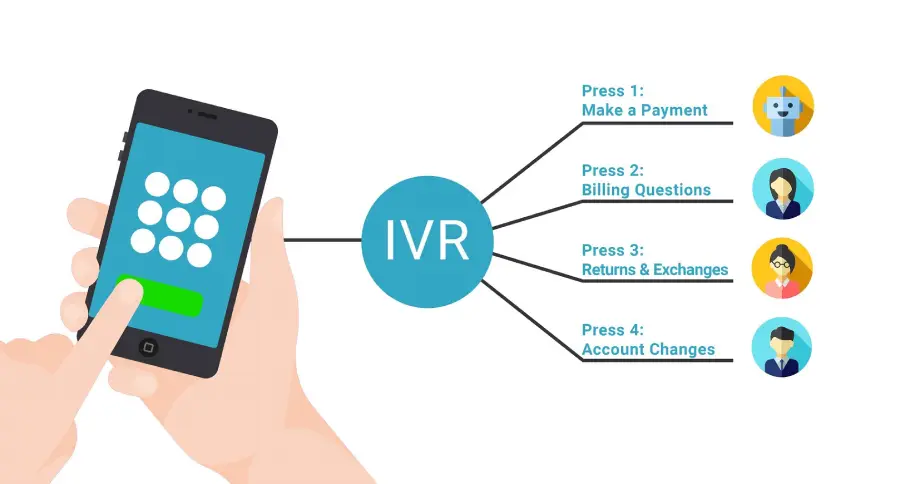 It has menu options that allow you to direct a phone call to specific departments or agents using the touch-tone keypad or voice recognition.
Along with customer satisfaction, it also improves the efficiency and KPIs of call centers.
Customers can discover the proper answers and navigate the menu more simply with the help of an effective interactive voice response system. This can be extremely beneficial, especially during periods of high call volume.
6. Autodialer
As the name suggests, an auto-dialer is an outbound dialer that automatically allows you to dial the phone numbers. This will enable you to save a significant amount of time at work.
It helps connect a client to a live agent after the customer's call has been resolved. This results in a simultaneous increase in productivity and efficiency.
You can assign calls to different agents based on different factors using an auto-dialer.
What are the benefits of cloud telephony?
Cloud telephony offers a wide range of functions and services that can assist large and small companies to communicate on a whole new level. Ultimately, it provides the following benefits.
1. Features are on a completely different level
The features of cloud technology are outstanding communication solutions. Call forwarding, IVR, ACD, intelligent call routing, click-to-call widget, etc., are popular cloud telephony features.
These features are critical for enhancing customer satisfaction.
In addition, evaluation is an important part of growing and enhancing your organization. Therefore, it's vital to evaluate your phone system's performance frequently.
Call analytics and CRM integration are two features that let you gather information and generate insights for business evaluation.
2. Agents experience high productivity
A cloud communications system's integrated functions are designed to boost professional productivity.
Advanced calling features, video calls, file sharing, and integrations help agents to focus on important daily tasks instead of wasting time switching between platforms.
Having many functionalities in one platform simplifies corporate procedures, which results in happier, more productive employees and customers.
3. Phone systems are reliable and secure
Companies using a reputable cloud telephony service provider significantly experience a high-reliability level.
Leading providers offer better uptime SLAs, ensuring the highest level of business continuity and lowering the risk of losing a target consumer.
It's vital to choose a provider that values security so that your customers, calls, and data are entirely secure from cybercriminals. To protect against security flaws, most cloud-based phone systems offer end-to-end encryption and sophisticated security mechanisms.
4. Work from anywhere
Cloud telephony is becoming the primary option for business communications due to the rise in work-from-home trends caused by COVID constraints.
With a virtual cloud phone system, agents can remotely work from anywhere. All they need is a stable internet connection and a computer, tablet, or smartphone to get started.
Users can enjoy every one of the services and features on any device thanks to cloud telephony software. For example, although we know mobile apps are not as sophisticated as desktop software, you can make phone calls and use call routing, call forwarding, voicemail, and other capabilities.
The versatility of a cloud system makes it an excellent solution for off-site teams, remote workers, and any firm establishing a virtual workplace.
5. Effective communication at an affordable cost
Cloud telephony assists you in saving money for internal and customer communication. It eliminates the necessity to spend money on things like SMS, faxing, call forwarding, video conferencing, and file storage.
It's easy to bundle the expenses of multiple services into a single subscription plan.
Installation and maintenance will not be costly. Instead, depending on your budget, you'll benefit from reasonable subscription pricing.
A softphone app combined with a headset allows businesses to save money on hardware infrastructure.
How to choose a cloud telephony system?
All cloud telephony systems have the same motive of providing cloud communication services but still are different in some ways from each other. There are things you need to consider while selecting platforms to handle your business communication which are:
Adequate features and services
Affordable and reasonable subscription plans
Attractive user interface
Virtual phone numbers from at least over 50 countries
Strong security and protocols
Having a good cloud phone system is necessary to ensure good productivity and higher customer satisfaction levels for businesses. In addition, it is responsible for managing leads and increasing the ROI of your company. Therefore, you must do comprehensive market research to find the best business phone services.