VideoProc Converter, one of the top one-stop video processing programs, was launched in October 2018 by Digiarty Software, Inc. It has witnessed a sharp rise in global users since its inception. What initially began as a program intended to deliver easy video editing and conversion solutions for Facebook, Instagram, and TikTok.
It has become a robust and capable 4K/HD video toolbox to convert videos/audio/DVDs, fix, compress, edit, download, and record for over 1000+ UGC sites and beyond. But does the program truly live up to its reputation? Here we have pieced together a full review of VideoProc Converter, unlocking every bit of the program: features, options, price, strengths, and drawbacks.
VideoProc Converter Overview
Designed as a full-fledged video processing software for Windows and Mac, VideoProc Converter enables users to convert quickly, download, record, compress, and edit large 4K videos. It can quickly tackle and efficiently address all the issues related to media formats, codec, quality, size, processing, corruption, etc. Built upon a robust and versatile technical base primarily characterized by ease of use, intuitiveness, compatibility, and stability, the tool is open to beginners and experts. It offers the most customizable solutions to all.
VideoProc Converter Features
1. Full-GPU Acceleration
Video tasks consume much processing power and data, especially on a poorly configured machine. For instance, transcoding high-quality h.264/H.265 files solely through software would necessitate high CPU usage (often 90-99%) and might sometimes force a computer to collapse when doing so.
However, empowered by the unique level-3 hardware acceleration, one of the most dominating features of VideoProc, the whole execution process can be drastically shortened and enhanced without landing any detriment to the media file. Based on our testing result, graphics-based acceleration reduces video size output by up to 90%, with minimal loss in playback quality and up to 98% of the initial image quality reserved.
Moreover, technically speaking, the technology offloads video encoding and decoding and video processing from CPU to GPU, which prompts an up to 47x real-time increase in speed, along with an average of 2% CPU usage only. And in our testing, the GPU acceleration in VideoProc Converter reflects on 3 fields mainly, including media converter, video editor, and screen recorder.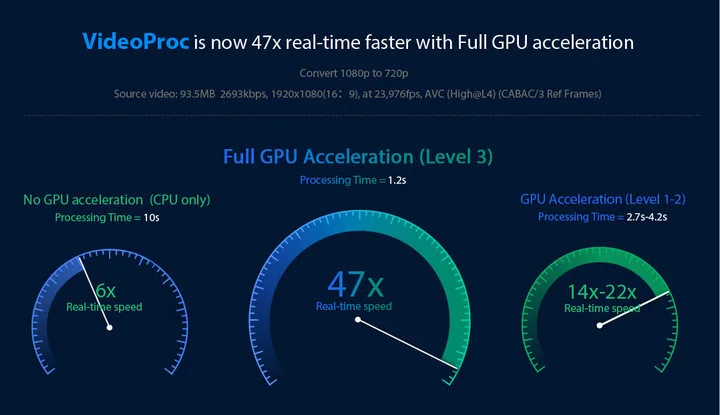 2. Capable Media Converter
Containing 370+ input codecs and 420+ output without third-party codec packs, VideoProc Converter grants you the ability to convert videos/audios to universal and lossless codec formats, backup DVDs into video or audio files, and customize the media file properties for resolution, bit rate, frame rate, and more.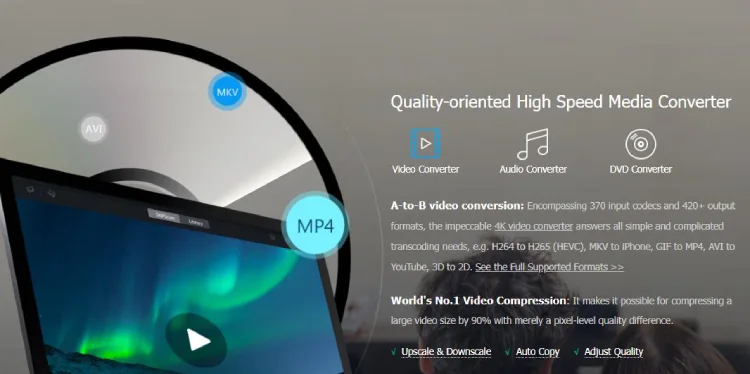 1. Video Converter
The impeccable 4K video converter can answer all the simple and complicated transcoding needs. It can (batch) convert and export to almost any format you can imagine, easily upscale a 720p/1080p to a 4K/UHD video without blurs, and automate the conversion process with presets for Instagram, TikTok, YouTube, Xbox, etc. Better yet, on top of the quality adjust feature included that can help deliver high-quality video, the auto-copy mode makes it possible to convert videos without losing a single frame.
2. Audio Converter
Audio jobs are never too much hassle with VideoProc Converter. You can convert audio between formats like MP3, AMR, WAV, OGG, FLAC, iPhone Ringtone, etc., with crystal clear Dolby Digital 5.1 channel surround sound, extract audio from video, and fast copy the audio bit-for-bit from the source to AAC, AC3, MP3, DTS, and DTS-HD without any loss of quality.
3. DVD Converter
It can convert any feature-length DVD to MP4, highly compressed HEVC, (multi-track) MKV, various formats playback on iPhone, iPad, Android, HDTV, Mac, PSP, Xbox, VLC, etc. in minutes, and copy DVD by 1:1 ratio with no quality loss incurred. Homemade and copy-protected commercial DVDs, ISO CDR disk images, and DVD folders are all supported.
3. Built-in Media Downloader Engine
Apart from the strong conversion ability, VideoProc Converter is also packed with solid support for media downloads of any sort, allowing users to easily and losslessly download video streams, live videos, video playlists, channels, and music from Facebook, Dailymotion, Twitch, TikTok, Instagram along with other 1000+ UGC sites, and convert the downloaded video to MP4, MP3, iPhone, Android, Also included is the subtitle search feature that enables you to search the matched subtitle texts online for movies and TV series.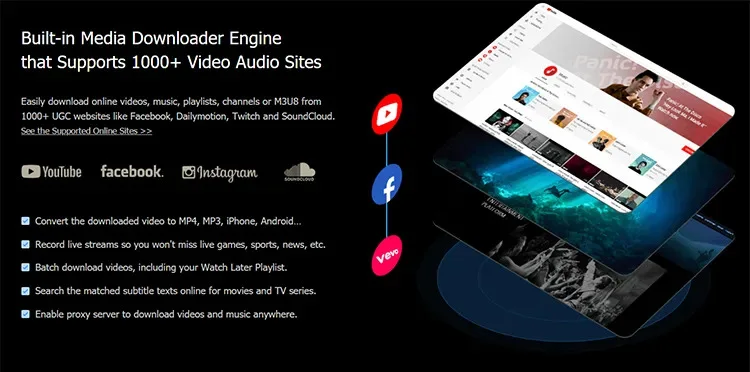 4. Screen Recorder
The capacity of the screen recording function in VideoProc is hard to overestimate. Featuring four recording modes, VideoProc Converter allows you to easily capture the entire or partial 4K computer screen, record video from your facecam, or record screen activities and the webcam simultaneously to create reaction videos.
Also included is the chroma key function that enables you to insert a separately filmed background footage or another static image to create a seamless composite. Besides, packed with a basket of utility tools, you can crop, draw, and highlight any content and add outlines, texts, arrows, voiceover, images, and more.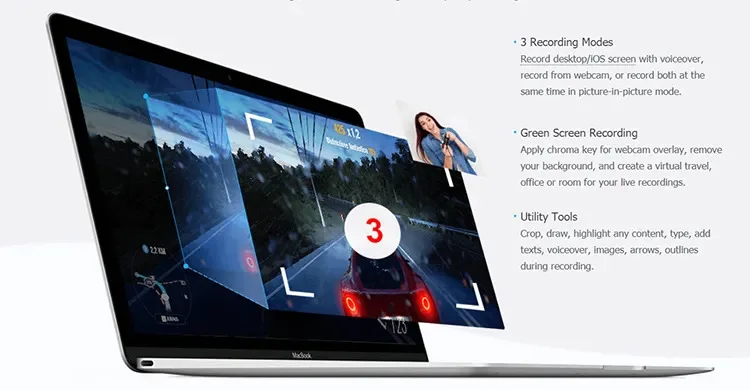 5. Flexible Editing Options
VideoProc Converter supplies a wealth of editing tools that you can put to use to touch up your video:
Cut, merge, rotate, crop, add subtitles, watermarks, effects, filters, and more.
Stabilize wobbly videos; remove the fisheye distortion using the lens correction features.
Easily remove/reduce wind or other background noise.
Turn video into GIF, capture video snapshots, and extract images from video.
Synchronize audio with video output; regulate the playback speed and audio volume.
Convert a 3D video into a 2D format, and watch any 3D movie on a 2D screen.
The straightforward interface design is another point that you can leverage. With its four basic functions laid before sight, you can directly find the one you wish to dive into and get your work done. In addition, VideoProc ensures 100% safety and privacy, with no data collection or bundled software during use.
VideoProc Technical Specs
Here are the technical specifications for VideoProc:
Supported GPUs for Hardware Acceleration
NVIDIA: NVIDIA® GeForce GT 630 or higher
Intel: Intel® HD Graphics 2000 or higher
AMD: AMD Radeon HD 7700 series (VCE 1.0) or higher
Apple Silicon chips: M1, M1 Pro, M1 Max, M1 Ultra, M2
System Requirements
Windows Version: (Windows 7 or higher; 32-bit and 64-bit)
Mac Version: (Mac OS X Snow Leopard 10.6 higher)
Processor: 1 GHz Intel® or AMD® processor (Minimum)
RAM: 1GB RAM (Recommended: 2GB or above)
Hard Disk Space: 200MB of hard-disk space for installation
VideoProc Converter Pros/Cons
Pros
Quick and easy installation; starts up in no more than five minutes.
The intuitive user interface is easy to dive in, especially for beginners.
Real-time comparison between the original view and the edited preview.
GPU acceleration for fast rendering and smooth video processing.
A massive catalog of supported input/output formats and codecs that are popular and niche.
Convert, edit, download, and record all in one go.
Fast and customizable functional controls for the desired result.
Support over 1000 UGC sites to save media from.
The free trial is available for various pricing plans to fit your needs.
A 30-day money-back guarantee is promised if the customer is unsatisfied with the product.
Cons
The tool is currently not available on Linux.
The free trial version limits the video file to five minutes.
Pricing
Apart from the free trial version limited to processing 5-min media files, the program has three pricing plans to cater to different needs.
$25.95 for a One-Year Subscription (3PCs/3Macs)
$39.95 for Individual Lifetime Use (1PC/1Mac)
$57.95 for Family Lifetime Use (3-5PCs/3-5Macs)
VideoProc is offering a HALLOWEEN discount now on its website at 50% off.
Note: the price specified above is based upon the US dollar, and the exchange rate and sales tax may be applied based on your country/location.
Final Verdict
The advent of various video converters in the market has helped ease the burden of media processing. Still, we found what the peers fail is the strong balance among quality, compatibility, and stability that VideoProc Converter incorporates in its system, which is a much-needed characteristic in the media industry. Thus if you are after an easy yet reliable solution to convert, download, edit or record your media files, give the all-around video processor a shot.