Reading someone's Facebook messages is tough as Facebook has tight security for the sake of making its users feel safe so nobody would be able to breach into the privacy of others. Still, there are some ways through which users can read someone's messages on Facebook easily.
In case you need to know how it can be done and which way can be applied to do this then you are in the right place. Here we are going to let you know about the way through which it can be done without having any fear of being caught. Just read this piece of information till the end to find out how it is possible.
Spyine, The Best Facebook Monitoring App
This is one of the finest applications that can be used to gain access to someone's Facebook messages easily. You can now hack Facebook messages. Read more to get to know about this amazing app name Spyine from us. You will not find any other app better than this one.
This application is really good in performance and offers really good results. Using this app for both android and iOS is equally well. For android apps, you need to install the app in the spied phone and allow it to run in the background later. This app is really small in size so it doesn't drain the battery of the target device.
After installation, the app disappears from the screen so you are safe in using this app. For iOS just add iCloud account details of the spied device and that's what you need to do in order to use the app. There is nothing else for you to be done to read the text messages of someone on Facebook.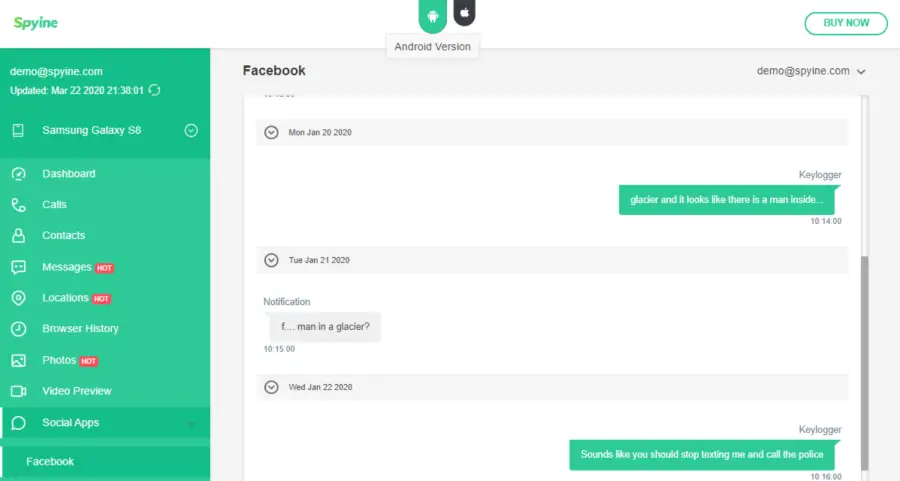 The application is reliable and can be used without having any fear of legal formalities. As the app is original and 100% secure to use so no need to be worried about being caught spying on anyone's messages. Plus the app doesn't save any data to use it against you later so you are safe in using this app.
Jailbreaking and rooting are not part of Spyine so you are safe here as these features take a lot of time, energy, and technical know-how to deal with the app. Spyine works without both of these features so here you are really lucky in using this app without rooting or jailbreaking as the process of using the app is really simple.
Spyine's web-based interface is really dynamic and lets you use the app with all kinds of browsers as there is no need to use a certain one in order to use the app in any way. The ease of usage is really attractive as anyone can make the app work according to their usage.
You can easily gain access to all the social media platforms with the help of this app including Facebook, Instagram, Twitter, Snapchat, Skype, WhatsApp, and many others to get to know about all the activities of the spied device. Even the deleted information of these accounts can be recovered easily and can be seen by the user.
You can find out the location of the spied phone with the help of its feature named geofencing that lets you track the spied phone on a map where you are supposed to mark a few boundaries while following the device on a map. Here now when the device will cross those marked places you will receive an alert.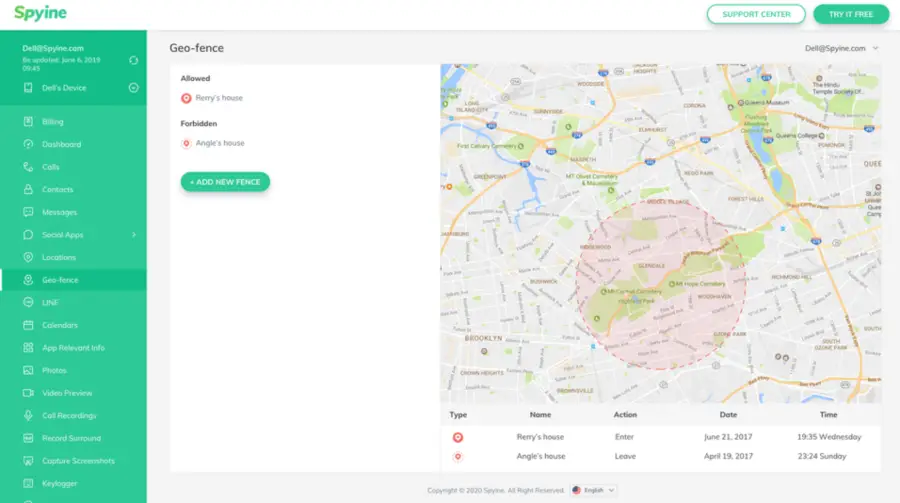 Users can read text messages, see locations, check out internet history, keep track of call logs, see contact numbers and names, check out videos and pictures, and learn so much more. There is nothing that the app doesn't detect for you. Everything is crystal clear if you are using Spyine.
By using this app you can avail from different subscription plans by visiting the official website now. These multiple subscription plans are really cost-effective so you can choose the one that suits you the best when it comes to budget and prices. You can also try out a one month free trial of this app before moving towards the paid plan.
You can also check out the live demo on the official website of Spyine from where you will be able to know how exactly the app works. This will help you in getting to know about the features and functions of the app easily.
In case you find it hard to deal with the app then it would be better that you go for the customer support team. They are professionals and help you in the best way possible so you would be able to fix all the issues that you are facing currently while using the app.
They work 24/7 for the sake of your ease so you can contact them with all your issues at any time of the day or night. They know quite well what their work is so there would not be any fear of not getting help if you feel stuck using Spyine.
Using Spyine to Read Someone's Facebook Messages
Step 1: As the first step, just go to Spyine's website, make an account. It's free to Sign Up and remember that you are going to add the email that is still in your usage.
Step 2: Now go for a suitable Spyine's subscription plan. It is based on the devices you want to monitor, as you can pick between Basic, Premium, and Family subscription plans.
Step 3: Here set the target platform. It can be iOS or Android.
Step 4: Just download the Spyic app into the spied device and remember that there is no need to root the device. This process will only take a couple of minutes so after the installation make sure that you hide the application from the spied device's screen.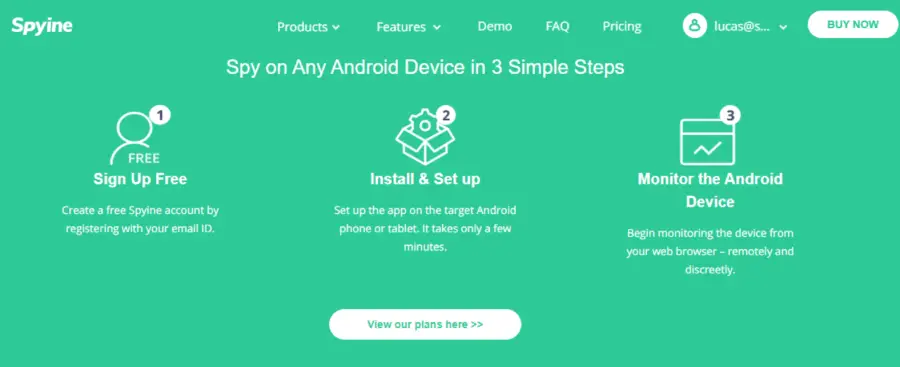 Step 5: At the end login to your Spyic account. From here you can log in from any phone or PC browser.
Step 6: At the end of the dashboard, you are now capable to see the Social Apps > Facebook option that is present in the selection panel. You can also utilize the Keylogger option that is present at the bottom.
Conclusion
Just go for one of the best Facebook message monitoring applications today and make the most out of this app as it will help you in gaining access to the spied device and account without any trouble. You can use this app as it has everything that one could ask for.
The application offers multiple subscription plans for you to pick from so just visit the official website today and choose your preferred plan according to your necessity. We hope that you would love using this app.