Mobile payment and e-wallets are now becoming popular, and a lot of applications are now available offering all the services like payment, recharge, money transfer, etc. Even Banks are also providing e-wallets like SBI Buddy, HDFC Payzapp, etc. But here in this article, we are going to check out what are the features and offers we get from PhonePe. Many of us are already using this application, and some others may already be heard of it. In this article, I will tell you about my experience with this service.
First, i would like to tell you what PhonePe is, PhonePe is a mobile payments service in India. It offers UPI payments, recharges, money transfers, online bill payments, etc. PhonePe is much better than Internet Banking and offers you the safest and fastest online payment experience. The most interesting thing about PhonePe is that they are giving offers all the time. If you are using this, you may notice that you are getting cash back for almost all the payment or recharge done.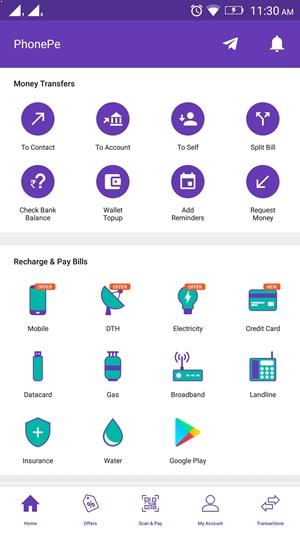 I am using this from the beginning and still love to use it. The interface of the application is clean, and all the things are clear. You may not find anything unclear in PhonePe, whereas some applications may confuse you. It is fast and secure. You can do recharge, bill payments, money transfer, etc.
with a few clicks, and the application is smooth, and it can be done quickly. Now let see the feature in detail. Also, you can use the PhonePe application on both Android and IOS devices.
(Also see: ICICI Pockets Review – Best e-Wallet with Virtual Debit Card)
Recharge & Bill Payments
You can recharge any mobile number in India using PhonePe, and it can be done in 3,4 clicks. Along with mobile recharge, the application also offers you DTH Recharge, Electricity Bill Payment, Credit Card Payment, Data Card Recharge, Gas Bill, Broadband, Landline, Insurance, Water Bill Payment too. For all the payment, you can use the PhonePe balance, Debit Card, Credit Card, UPI Payment. You can also buy a Google Play voucher from the application.
PhoenPe Wallet
Like all other e-wallets, PhonePe also offers you an e-wallet for an easy payment option. You can load money into it using the Debit Card, Credit Card, or UPI payment option. Since we have the UPI option, we don't need to top up the wallet because UPI payment is speedy and secure. So what I am doing is making all the payment and transfer via UPI Itself and keeping the wallet to receive all the cashback.
Bank Transfer
You can transfer money from your linked bank account to any other bank account in India Instantly using IMPS any time for free. All you need is the account number and the IFSC code.
(Also see: List of Free Virtual Debit Card for Payment in India and Internationally)
UPI Payment
PhonePe will let you create a Virtual Payment Address (VPA) after linking your bank account and using that UPI (Unified Payments Interface) ID (e.g., yourname@ybl), you can send and receive money from and to your bank account.
How to add a Bank Account in PhonePe
You can link any Indian Savings Bank Account to PhonePe. To link a bank account, the app will send a message from your registered mobile number with the bank, and after validation, you can set a PIN for your connected bank account to use it for all the further payments. PhonePe's UPI is working in collaboration with Yes Bank.
Since UPI is more secure and fast, you can choose UPI for payment or recharge from the application, and you only need to input the PIN to complete the transaction. So no need to login to the bank's website as we did earlier for Internet Banking Payment and to wait for OTP.
You can link as many bank account to PhonePe using UPI and can choose your preferred bank for payment.
Balance Check
Using the same UPI option and with your PIN, you can check the balance in your bank account any time within the application. No need to check your balance from the Bank's application. Note: You will only get the balance amount details. No detailed report will be available.
Request Money
You can request money from other PhonePe users or your friends using UPI Request. You only need to enter the UPI ID of the other user whom you are requesting the money from and the amount. That's it, send the request, your friend can send you the amount with one click. They don't need to be on PhonePe. They can do it from any other UPI app.
(Also see: Get Free Instant International Debit Card From Kotak 811)
Withdrawal
You can even withdraw money from your PhonePe wallet to your linked bank account for free. But the cashback money you received during your payment or recharge cannot be withdrawn.
Offers
PhonePe always provides offers and cashback for your payments and recharge. Almost all the time, you will receive a fixed percentage of the amount you spent as cashback. You can use that amount for any further payment and recharge.
Invite and Earn
PhonePe also lets you and your friends earn money from the application. You can invite your friends to the application, and once they Join using your Invite Link, you and your friend will get cash in the account.
How it works
First you need to Install the application from a referral link. You can use my referral link to Join.
Install the app from this link and register, then link your bank account to it using UPI. You will be getting Rs.100 then.
Then go to My Account section in the application and click on the Invite & Earn section to get your invite code.
Share your invite code to your friends, when your friends join PhonePe using your referral link and link their bank account using UPI, you will be getting Rs 100 for each successful Join.
You will be getting Rs.100 once the person registers and makes the first payment using the PhonePe UPI payment option.