In the previous artcile, we discussed how and why Apple Watch gets locked Automatically once removed from the wrist. In this article, we will see how to change the orientation of the Apple Watch.
Change Orientation of Apple Watch
What makes a smartwatch more flexible than a traditional watch is the customization. You must always stick to the same design and look like a regular watch. But with a smartwatch, you have all the options to customize it. For example, you can change the watch faces, the display elements on the screen, the color, etc.
So, in terms of customization, the smartwatch is flexible. However, when considering a smartwatch, the premium name is the Apple watch. Though it is expensive, the accuracy of health and fitness data makes it stand ahead of other smartwatches.
As said about the orientation, the Apple Watch stands ahead of other smartwatches in the place of the Watch orientation; most other smartwatch doesn't provide the option of changing the watch orientation, whereas the Apple watch does. So yes, you can change the Apple Watch orientation depending on your wrist's placement.
How to Change Apple Watch Orentation
Apple Watch allows users to switch the watch from one wrist to another. However, since the Apple Watch uses the Digital Crown for navigation, it should be oriented correctly on both wrists so that handling the Digital Crown won't be difficult.
You can change the Apple Watch Orientation from iPhone and Apple Watch Itself.
Change Apple Watch Orentation From iPhone
Step 1: Open the Watch App on your iPhone.
Step 2: Tap on Settings to see all the Watch Settings.
Step 3: From that, tap on Watch Orientation to enter the Orientation Setting of Apple Watch.
Step 4: Now, you can see the options. You can change the options as per your choice.
a. If you are wearing the watch on Left Wrist, you can select the Left Wrist option and the Digital Crown on the Right Side option.
b. If you are wearing the Apple Watch on Right Wrist, you can select the Right Wrist Option and the Digital Crown on the Left side combination.
The above combination is changeable; however, to use it efficiently, it is good.
Chnage Apple Watch Orientation From Apple Watch
Step 1: Unlock your Apple Watch and click the digital crown to access the menu items.
Step 2: From the menu items, tap on the Settings app.
Step 3: From the settings, select General, and you will find Orientation Settings. Tap on that.
Step 4: You will see the settings, WRIST, and DIGITAL CROWN, with left and right options.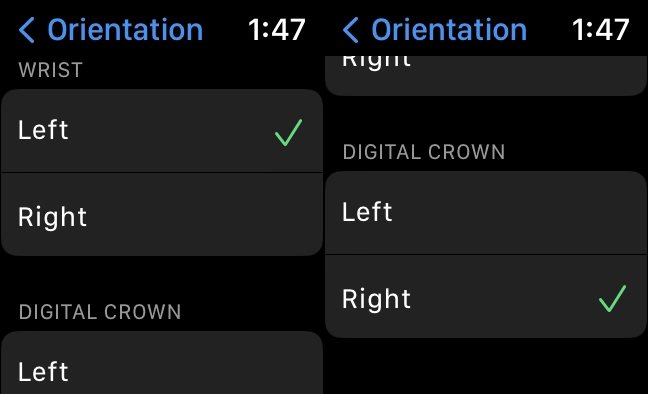 Select the combination as per your need, like the one we did above with iPhone and Watch App.
After changing the orientation, you can easily switch the Apple Watch from one wrist to another, which won't affect the experience and the usage of the Digital Crown.