It is easy to find a reliable and genuine Android TV in the market for sure. You would be able to explore everything regarding the product easily without any issues at all.
If you are searching for a replacement for your old TV, then you should look out for an affordable Android TV for your overall requirements. The Android TVs will give you the best movie experience while watching your favorite TV and movies with Stunning Full HD resolution at Amazon Prime, YouTube, Hotstar, and Netflix for sure.
With so many options available in the market, it becomes difficult to choose a reliable and trustworthy one under 20k for sure. At this price, you would not only get Smart features but also feature-packed hardware like good sound, big Full HD screens, connectivity options, and many more. Are you planning to buy affordable Android TV in the coming days? If yes is your answer, then here you would come to know about the best 5 budget Android TV you should be aware of right now!
Mi Mi L32M5-AI HDR Smart LED TV (32 Inch)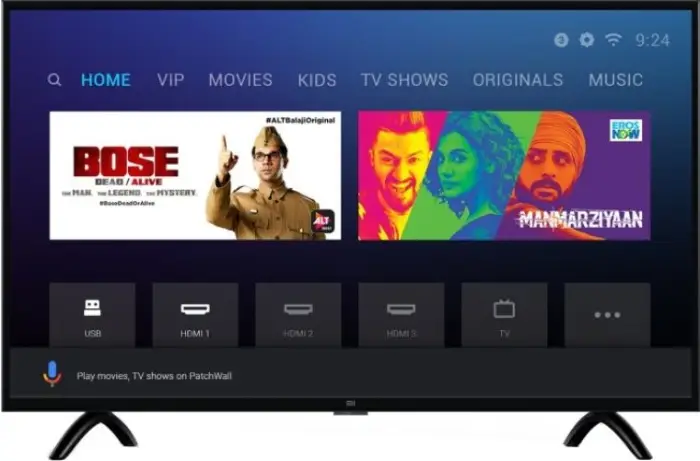 Mi is one of the most trusted and reliable brands available in the market for users all around the world. If you are looking for an affordable Android TV under 20k, then you should consider Mi L32M5-AI without any second thought for sure. It has gained a huge reputation in recent years in the country with its budget-friendly products for the users. It would be better for you to note that this android TV has a perfect 32 inches display size with a 1366 *768 panel, which is better in this budget range for everyone.
Also, you would be able to watch more than thousands of hours of entertainment from tons of several apps such as prime video, Hotstar, Netflix, and many more. It gives you the best performance so that you would love using it again and again for sure. This smart OS is based on Android OS 9.0 so that you will get all the famous apps automatically.
Motorola 80.5cm (32 inches) HD Ready LED Smart Android TV (32SAFHDM)
Motorola is also one of the oldest brands in the market and has covered almost all home appliances which include Smart Android TV as well. The fact that this Android TV comes way under the budget of 20,000 is appreciable considering the specification it provides for such a better investment.
First of all, you should note that you would get an HD Ready, 1366 x 768 Pixels resolution panel with a 50-hertz refresh rate which would allow you to watch your favorite movies and TV shows with up to 50 FPS on this panel.
With its super-fast quad-core processor, powerful 20 W box speakers, IPS panel, watching contents at home will never be the same again for sure. Also, you would get a USB port to connect any storage device like an external HDD to watch stored content on the go. It is easy to access your movies and many more using your voice with the help of an in-built Google Assistant.
Nokia 80cm (32 inches) HD Ready LED Smart Android TV (32TAHDN)
Nokia is one of the famous brands of electronic products in the market. You would be able to find multiple budget smart TV options from Nokia, including this 32 inches, one LED Smart Android TV.
This budget-friendly Android TV offers a 32 inch full HD screen and HD Ready, 1366 x 768 pixels. It provides great colors and better viewing angles making movies watching a smooth experience for everyone.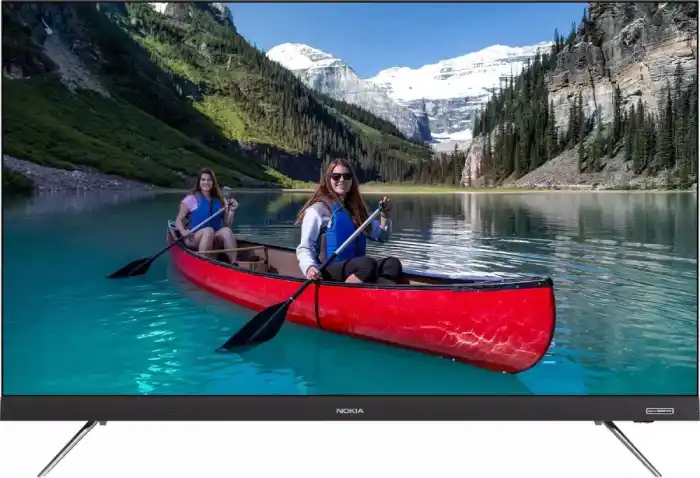 One of the best things about this Nokia TV is the high-quality speakers used by it. You would be able to find a pair of stereo speakers in this TV unit that used the Dolby Audio system for providing the top audio quality. It has a stunning and sleek design so that you can enjoy clear and crisp detail with vibrant colors.
Realme 80cm (32 inches) HD Ready LED Smart Android TV (TV 32)
Realme uses great quality LED panels in this smart Android TV that offers great colors. The contrast levels are perfect for the price and you can experience the better visuals that result from its Chroma Boost Picture Engine.
The design of the TV is very attractive as it is quite thin and slim which makes it one of the most modern and stylish looking smart TVs at the price. Also, it offers you great audio performance that makes your favorite movies, shows, and various other video contents all the more enjoyable for sure.
You should note that this TV is powered by a 64-bit Quad-core MediaTek processor which makes for smooth performance, helping you play games, watch TV shows, and many more without any hassle. It also offers you access to the Google Play Store, where you would be able to download a wide variety of apps based on your needs.
Vu 80cm (32 inches) HD Ready LED Smart Android TV (32K160)
Vu is the fresher name in the market and you might have not heard about the Vu brand before in the smart TV genre.
It is offering a pure android TV with a very affordable price tag as compared to various other options available in the market. It runs on official Android OS v9.0 pie. This TV gives you the perfect option to browse the Google Play store directly from your smart TV and download any game or app as per your overall requirements.
It also offers a built-in voice assistant which makes the control and use much better as well as accurate. For starters, this Android TV has 3 HDMI ports which allow you to plug up to 3 different streaming simultaneously and also switch between them easily. This Android TV is very affordable and there is no need to compromise on your monthly budget while buying it for sure.
At last, you are aware of the best 5 budget Android TV for your entertainment needs. Just go for it right now!