Sometimes we may find that specific videos from our friend's status are quite exciting and want to be downloaded and forwarded to others. But as we all know, downloading WhatsApp Status Video or a Status Image is not an easy task. There is no option to download WhatsApp Status Image or Video within the application.
Download WhatsApp Status Video
We have a simple and easy way to download WhatsApp Status Video on our Phone and thereby forward or share with others. Some other third-party applications are available in the Play Store, which helps download the WhatsApp status videos, but we are not using any such application.
The only thing needed here is your File Explorer Application. Here we are recommending Solid Explorer as it is one of the most outstanding file managers available. So let's see how.
Step 1: Open the File Manager. Here it is, Solid Explorer. On the right top, you will find the settings option (3 vertical dots). Click on that.
Step 2: In the listed option, you can find an option called the 'Folder option.' Click on that.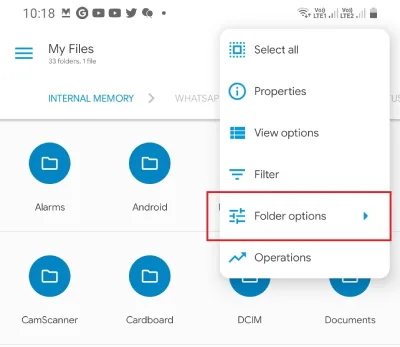 Step 3: In the following option, you may find another option list, and you can find 'Show hidden files'. If it is unselected, Select it.
Now, the first part is done; we have enabled the hidden file option. Since the WhatsApp Status Photos and Videos are stored in the hidden folder, we cannot see it without allowing the Hidden Folder Option.
Step 4: Now goto the Internal Folder > WhatsApp > Media > .Statuses folder using the Solid Explorer.
All the WhatsApp Status Videos and Photos are stored within the '.Statuses' folder. You can find all the current listed status Photos and Videos in that folder. Copy or share the files with others.
Note: As shown above, the '.Statuses' folder starts with a dot, which means the folder is hidden by default. The WhatsApp statuses get removed automatically after 24hrs, so the files within the '.Statuses' folder also will be removed after 24hrs. If you need and Status Photo or Video to see after 24hrs, you can copy the file to any other folder.