Our current lifestyle is very fast-paced and revolves heavily around technology, digital devices, and the internet. With our high usage of digital devices, there is a demand for online tools that replicate real-life items like pictures and sketches. Thankfully, with graphic design, you can design any pattern on a computer or smartphone, as you can draw on paper.
Despite its high application in our lives, people still conceive graphic design as a complicated design process best left to professionals. However, the truth couldn't be far from this interpretation, with graphic design being a simple creative process that anyone can attempt. The first requisite to trying graphic designing is a reliable app with basic essential features.
Through this article, we will share with you an all-inclusive graphics design online tool that will help you create everything from a simple logo and business card to elegant brochures, flyers, and more. Drawtify also has advanced features like motion editor, photo editor, and typography tools necessary for making an attractive design.
What is Drawtify?
Drawtify is an online vector graphic design app that allows you to create simple and attractive designs using its primary and advanced tools. Drawtify has vector drawing tools that let you sketch using fundamental tools such as pen and pencil. Drawtify also has advanced features like a photo editor with multiple filters, enabling you to edit your pictures for your designs.
The layout function permits planning the perfect placement for your designs, considering scaling, layering, alignments with a simple drag and drop interface. With Drawtify, you can access several typography tools with unlimited font, style, and coloring options. In addition, the motion graphic editor is ideal for designing posts with animated motions. To know the different features of Drawtify and discover the different ways you can use this intelligent graphics editor tool, continue reading.
What Can Your Design on Drawtify?
Now that we have explained Drawtify, you might be curious about what you can design on this all-in-one graphic designing tool. Here is the list of items you can create using Drawtify:
You can design your logos in multiple formats, including Text logo, Graphic logo, and Motion Logo.
For Businesses, Business card, Resume, Label, Cover, Report, Letter Paper, Invoice, Menu, and ID Card, are among the top designs available. You can also design Certificates, Greeting Card, Invitation Card, Postcards, Gift Card for various occasions within your organization.
For Marketing purposes, Posters, Flyers, Banner, Newsletters, Brochures, Booklets, Catalog, and Infographic designs are available on Drawtify.
You can also design Social Media Posts for Facebook, Twitter, Instagram, Tumblr, Youtube, Pinterest, Twitch, and LinkedIn on this comprehensive app.
Features of Drawtify
Now that we have covered what design templates are available on Drawtify, it's time to learn why to choose this particular online graphics designing tool. Here are the top features of Drawtify explained in detail:
1. Zoom in on your design to focus on fine details
With Drawtify, you can perfect even the tiniest details on your designs with the free scaling feature. You can choose between 10% to 1200% zoom capacity to view your creations under different focus points.
2. Add unlimited layers to creating perfect designs
Drawtify allows you to add endless layers to your graphics designs to enhance their visual appeal. Place new layers on top of each other, stack them horizontally or diagonally, as per your preference.
3. Add various effects and filters to your images
Along with adding new layers, you can also add special effects to your designs using Drawtify. Choose from a series of node and image filters like blending to deliver beautiful and flawless results.
4. Enhance your graphics by adding 3D elements
To make your designs more visually appealing, add 3D details to them. Add motion elements like 3D effects to create animated results that will immediately grab user attention.
5. Edit better with the multi-page editing mode
With Drawtify, you can edit your images effortlessly with multi-page editing features for your designs. Simultaneously edit multiple pages with a single click, using the features and saving time.
6. Import your photos in a series of image formats
Drawtify allows you to import images in multiple formats. You can upload your pictures in formats such as JPG, PNG, PDF with different import limits based on your plan choice, free or pro.
7. Export your pictures for a professional finish
Get a professional-like finish on your designs using Drawtify. Using this tool, you can export your results among formats such as JPG, PNG, PDF, SVG and GIF, APNG, and VIDEO for motion graphics.
8. Enjoy unlimited resources in the form of templates
Drawtify makes it easy for you to create stunning designs by providing pre-designed templates. With these designs, you can create beautiful results by customizing the templates to fit your requirements.
9. Autosave your designs to preserve your progress
With Drawtify, you don't have to worry about losing your progress and wasting your time and efforts. Drawtify autosaves your creations to ensure that the latest development gets updated on the server.
10. Get copyright-free resources for your usage
Using Drawtify, you are free from the worry of copyright strikes. All the images and templates designs available on Drawtify are copyright-free, ensuring that you will never lose your work to any claim.
Template Collections of Drawtify
On Drawtify, you can design any of our previously mentioned graphics using their pre-built templates. These templates are available under various categories such as Logos, Marketing, Social Media, and Business. You can choose any of these pre-designed models and customize them to your specifications or start from scratch. The templates fall under two categories, free and pro. The free templates are available to everyone, but the pro designs are exclusively for members who have paid membership access to Drawtify.
Pricing of Drawtify
Drawtify is available in total three plan options, which include a free version and two paid plans. The free plan is a basic plan with limited features such as an upload limit of 40 MB, SD image export, and the Drawtify watermark. The two paid alternatives constitute a monthly and yearly plan. You will get the same features under both options, but the monthly plan will cost you $14.99.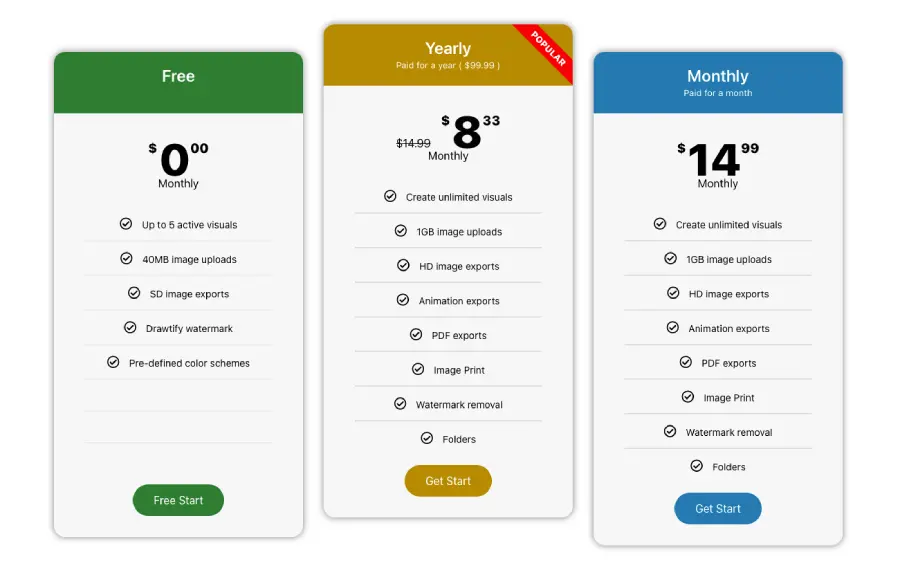 On the other hand, the annual version is available for $99.99 per year, making the monthly cost $8.33. If you are looking to test out how the app works, the free plan will help you explore all the features before committing to a premium plan.
Conclusion
In this article, we have explained worth knowing about Drawtify, an online vector graphic design app. With Drawtify, you can design anything from a logo, business card, poster, flyer, infographics, social media posts, and several other marketing graphics. This comprehensive graphic design tool is ideal for everyone and will guide you in creating professional-looking graphics with minimal time and effort.
So if you are looking for a simplified graphic designing tool with user-friendly features, this is your chance to grab the perfect tool. So get your hands on Drawtify and start creating impressive designs today.