Video animation is in a lot of trends these days. Owing to its ability to enhance visibility and grabbing customers' attention with the best use of the application features, video animation has many things to bring to the table. When you are having a look across the variety of video creators, don't miss out on Doratoon.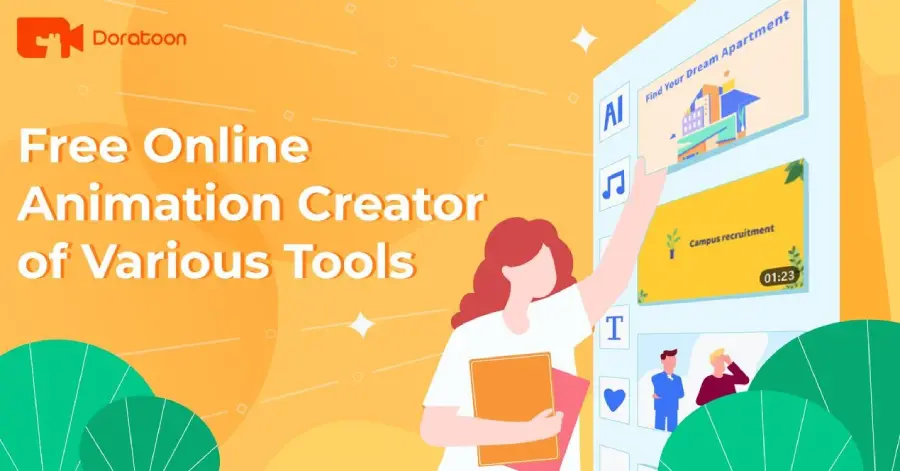 What is Doratoon?
Creating stunning and splendid animation videos is no more just a suggestion. With Doratoon, you can implement this idea and turn it into reality for your events and shoots. Doratoon is an animation video maker that helps to curate animation videos within a few minutes.
Are you in a dilemma whether to use this application or not owing to the absence of knowledge and implementation?
Don't worry as you can make excellent videos without the learning curve as well.
With Doratoon, you have the option to design and animate your videos by making use of thousands of templates that you gain access to. Also, it might interest you to know that you can also opt for adding royalty-free music in the videos that you will curate for your business and its verticles.
You can make use of Microsoft office tools like PowerPoint to make eye-catchy and creative videos. Doratoon is not a complex platform. This platform supports the easy use of tools and features for a larger benefit for businesses, events, marketing services like product and service promotion, celebrations, bold advertising, and for various companies and insurance services through the process of video animation.
How Doratoon helps to create animation videos
To help you level up in creating animation videos, this platform brings forward a variety of tools, and advanced features and functions. So, if you are up for creating innovative and creative videos, this is how Doraton helps you.
Animated Characters
Adding animated characters in videos is all the more engrossing and fun. Also, this makes the videos more relatable, and the idea behind the same, worth sharing. With this application, you can re-create scenes by making use of more than 8,000 expressions and actions. These facial expressions are original and will attract a larger audience towards your business lane, services, and products. You can deliver your ideas in a better way and also add a fun quotient to the videos.
Artificial Intelligence Dubbing
The future belongs to artificial intelligence and if you aim to curate an excellent and attention-grabbing video, you should add dubbing. However, don't compromise on the quality of dubbing. Good quality of dubbing in your video is going to enhance its quality and relatability quotient.
This application enables automatic dubbing generation and also, provides you with the option of adding text inputs in your animation videos. Dubbing is a superb way to impart your knowledge and let your audience gain trust and faith over you with the same.
The smart way of adding Subtitles
If you are targeting a larger audience, make sure you are not compromising on the feature to add subtitles to your videos. Once you put accurate and efficient voice inputs in your videos, you refrain from typing that can alter the accuracy degree of the animation videos. Doratoon is one such online animation maker that helps you to quickly identify the dubbing contents and thus, enable automatic subtitling with proper recognition and accurate translations for the target customers.
Conversion of PPT to videos
If you are opting for the curation of PowerPoint presentations but are too bored of the mainstream ideas, Doratoon has something interesting for you. With the features of this application, you can import the PPTs, and automatically analyze the materials with various video animation tools and effects available.
This step can enhance how your PPT interacts with the viewers and also, become more fun, engaging, and attractive. This is one of the best ways to target the interest of your customers and push them to reach out to you.
Steps to create animation videos
Doratoon is the fastest animation video maker to curate videos for multiple purposes. To create videos, you need to follow these steps:
You need to log in to your account and if you don't have an account already, you should sign in.
Choose the 'Workbench' option and you will be directed towards a new page.
Then you need to select 'create new work'.
After this, you need to choose a method for creating that is whether you want a blank draft and create videos using templates or you simply want to convert your PPT into animation videos.
Also, when you are choosing a blank draft to create videos, you can choose between the portrait and landscape modes, as per preference.
You can make use of a variety of features from adding subtitles, fixing the timeline, adding sounds and colors, changing the background, choosing templates, font display, adjusting the opacity, swapping on requirements, choose texts, add characters, and much more.
Don't forget to change the name of the video that is saved as 'unnamed-01' by default.
Once you are done, you can preview the video and make changes if required. You also have the option of deleting and beginning fresh.
If you are satisfied after previewing, you can export the video to various platforms and upload it, as well.
Pricing – Trial and Pro+ Plan Details
If you want to try this animation video creator, you can opt for a free trial. You can try this application without payment for 2 months. If you like the features, tools, and results, you can upgrade your membership to the Pro+ Plan that will be available for a monthly payment of $49. In your pro+ plan, you will be able to enjoy the following benefits:
Rights of commercial use
Add royalty-free music to your videos
Add royalty-free objects
You gain the access to more than a thousand templates
You have the advantage of unlimited premium exports
Download the video as MP4
Unlimited material space capacity
Make videos of unlimited length
Get the deleted drafts by mistake within 30 days
In all, this application is convenient to use and offers you a variety of features, as well as, support to curate the best videos for various purposes like businesses, designing mini-courses, corporate presentations and publicity, event promotions, and marketing purposes amongst others.