Want to know which are the Best 5 Deep People Search Tools? Before the internet era and digitization, finding and contacting people (especially a long-lost school friend or neighbor) was not that convenient. However, with time, as the internet grew and we came across various tools and platforms, finding individuals has become easier than ever before.
So how do you search for people online? Social Media Platforms or Google? While Google and Social Media Platforms like Facebook and Instagram are limited in locating specific individuals. But with dedicated people searching tools, the job has become easier.
Deep People Search Tools/Websites are designed to gather comprehensive information about people's backgrounds. Whether you're looking to reconnect with old friends, conduct background checks, or satisfy your curiosity, such tools help. Deep people search tools might not dominate the online landscape like Google, but they are quite successful at their job.
Unlike social media platforms, these people finder services go beyond surface-level information. But the question is, which is the Best People Search Tool? Join us as we shortlist the Best 5 Deep People Search Tools. Let's get started:
What are People Search Tools?
People search tools are online services that enable users to find information about someone, such as your neighbor, relative, new friend, or potential employer. These tools are available through search engines, websites, etc.
They are similar to a regular search engine but with focused searching capabilities. People Search Tools aggregate data from public records, social media platforms, online directories, and other databases and offer complete details about an individual.
The information can include anything and everything from employment history, educational background, contact details, social media profiles, criminal records, and more, depending upon the specific tools.
However, before you start using People Search Tools, it is important to learn that the availability and accuracy of the information can vary depending on the sources used by such platforms.
Best 5 Deep People Search Tools
1.TruthFinder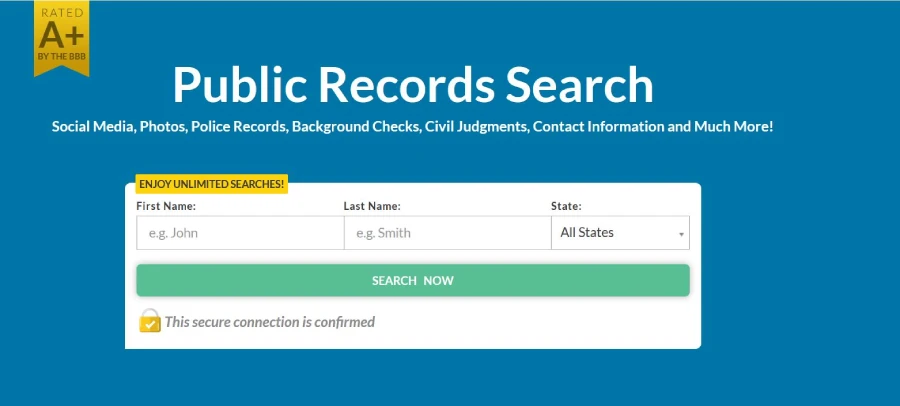 TruthFinder is one of the best Deep People Search Tools. This comprehensive platform provides accurate information from various sources about any individual you search for. TruthFinder enables users to search for police records, court records, social media photos, contact details, and more regarding someone's identity.
TruthFinder is a fantastic platform for finding people online rather than just connecting with them. However, it is extremely loved for its ability to generate a background check so that users can save themselves from any kind of scam. TruthFinder uses data from federal, state, and county sources.
Besides that, it also comes with features like dark web scans, reverse phone lookup, address lookup, and more. TruthFinder offers free basic information; however, a subscription is necessary for a detailed report. Any search at TruthFinder remains confidential with 256-bit encryption. The platfrom doesn't notify or alert the subject when you search about them.
How to use it?
Goto the official website and start using the People Search Service. All you need to do is, enter your First and Last Name, City, and State and click on Search. If you are skeptical about State, choose All States.
*TruthFinder is available only in the United States. Or for locating people within the United States.
Price and Subscription
People Search: $28.05/Monthly and $23.28/Bi-Monthly
Reverse Phone Lookup: $4.99/Monthly
Reverse Email Lookup: $29.73/Monthly
Pros and Cons
Pros
Best for background checks
Accurate results specifically focused on the United States
Extensive database of criminal and court records
Offers multiple tools, including reverse phone lookup
User-friendly interface
Provides dark web scans
Detailed reports
Cons
Limited to US-only results
Results may take some time to display
Premium subscription can be costly
2. US Search
US Search is a trusted and well-established website for finding individuals throughout the United States. Its user-friendly interface makes it a popular choice that allows anyone to navigate quickly. Users must simply enter a name, phone number, or address, and the tool starts working.
Soon enough, the website successfully locates the individuals you search for. Free users have limited access and may get information, including age, previous locations, and possible relatives. However, with a paid subscription, US Search also gathers information, such as recent addresses and phone numbers.
US Search boasts a vast database and is known as one of the oldest and most reliable people search engines available. While accuracy may vary, US Search remains a popular choice in the industry, operating since 1993.
How to use it?
Start by visting the website and click on the GET STARTED tab. You can choose from 'Search By Name,' Search By Phone Number,' or 'Search By Address.'
Price and Subscription
$1.99 for Single Search Report
Starts at $19.86/month
For US SEARCH Pro
Monthly Unlimited Reports: $59/month
Annual Unlimited Reports: $599/year
Pros and Cons
Pros
Affordable service
Fast search results
Best for US-based searches
Oldest database in the industry
Automatic filter for enhanced search accuracy
Cons
Limited information available for free users
Basic presentation of results
Available only in the United States
Higher prices for a full background check
3. Intelius
Among the Best 5 Deep People Search Tools, our next pick is Intelius. This highly regarded people finder service is quite popular with users, all thanks to its excellence in various aspects. Intelius comes with multiple useful features and usage as people search, email lookup, social network search, property records, background checks, criminal records, and reverse phone lookup.
Due to its robust database, every single result Intelius generates is impressive. Besides that, for user security, Intelius use a 256-bit encryption connection. However, Intelius isn't a free-to-use platform. Users have to buy a subscription plan for different services they want to use. Also, the search results of Intelius are limited to the United States.
The platform is renowned for its accuracy and thoroughness in locating public records. And since its report presentation style attracts users, Intelius is one of the most used tools that deliver reliable and accurate findings.
How to use it?
Goto the portal. Now on the home page, enter information including the First Name, Last Name, City, and State of the individual you want to search about. Finally, click on Search and wait for the result to get displayed.
Price and Subscription
People Search: $24.86/ Monthly and $21.13/ Bi-Monthly
Reverse Phone Lookup + People Search: $0.95 (6-day trial) followed by $34.95/month
Address Lookup + People Search: $0.95 (7-day trial) followed by $34.95/month
Pros and Cons
Pros
Ability to reconnect with old friends
Access to property data for review
Comprehensive criminal and court records
Ideal for conducting background checks
Cons
Limited to US-only results
Relatively expensive service
Lack of transparency in pricing plans
4. TruePeopleSearch
TruePeopleSearch is a free and user-friendly people search tool in our list. This one provides more detailed free results for those not interested in using a paid tool. TruePeopleSearch enables users to find anyone they want by entering their name, phone number, or address. The platform is free and offers quick search results in the form of addresses, phone numbers, and email IDs.
TruePeopleSearch is an excellent tool for locating contact information, email address, and location simply based on a person's name; however, the search options are not extensive. For users seeking more comprehensive background reports like criminal data, court records, etc., TruePeopleSearch redirects them to another website to get full results. TruePeopleSearch also offers a free Android app.
How to use it?
Go to the TruePeopleSearch homepage, then type the Name, City, State, or Zip of the individual you want to search about. Finally, click the Search icon (from the right side) and wait for the result to be displayed.
Price and Subscription
Pros and Cons
Pros
Free people search engine
Simple user interface
No account required
Multiple search options (name, phone number, address)
Availability of Android app
Cons
Detailed reports require payment
No iOS app
Sponsored links blending in with search results
5. Spokeo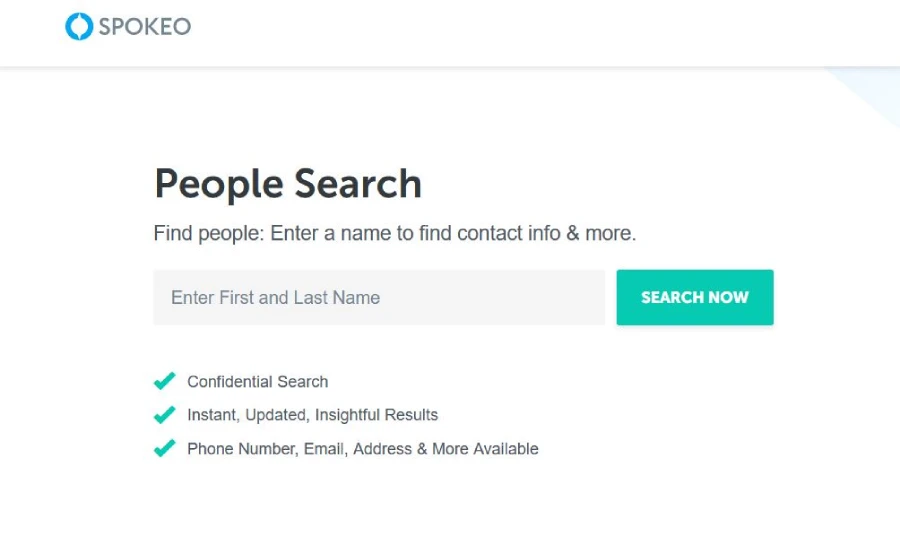 Last but not least on our list is Spokeo. This affordable and popular people search engine is known for accessing vast data. This tool collects data from 130 million property records and 6 billion consumer records. In addition, Spokeo collects information from more than 120 social networks that generate better results for its users.
Spokeo is unquestionably a popular people search tool for reconnecting with old friends, locating a relative, or finding details about online sellers. The platform utilizes proprietary deep web technology and searches billions of records.
How to use it?
Visit official webpage and use the First and Last Name of the individual you want to search about. Once you click on SEARCH NOW, the tool will soon enough display the result.
Price and Subscription
Spokeo has both free and paid versions. To use the Paid version, click on the Get Full Results tab after performing a search. Or, Sign Up and navigate to purchase. To complete a subscription purchase, Spokeo asks for a 16-digit credit or debit card number, Card holder's name, card expiration date, security code, billing zip code, and Email address.
1-Month Membership – $19.95 per month
3-Month Membership – $14.95 per month
Pros and Cons
Pros
Best for connecting with people
US-based searches
Basic results for free
Easy to use
Downloads PDF reports
Affordable
Automatic updates on searches
Cons
Available in the US only
Reliant on social media for information
Limited scans of government records
Bottom Line
All in all, these are the best five deep people search tools to easily track someone online. However, these services have some drawbacks, such as privacy concerns and getting outdated information. Deep people search tools can be handy but use them responsibly.