Music has now evolved tremendously over several platforms. Music streaming is now the new normal among several millennials out there. As music streaming lets you access millions of trending songs with just a monthly subscription. You no more have to worry about buying individual albums to get in the groove of your favorite song.
Spotify has taken the music streaming to a whole different level. It is now recognized as one of the best music streaming services for music lovers out there. Listening to music has always been a great option. Gone are the days when you prepared your savings for CDS or Cassette Tapes.
Now the era is different, choices and preferences are different too. You don't even need digital downloads. These days, you need to sign to your favorite Spotify services and there you have unlimited access to your favorite music.
What's New Few Spotify Admirers?
Spotify has now come up with the option of converting music. Yes, you heard that right. DRmare Spotify Music Converter is now available for not only Mac but also for Windows.
You can get the best music converter for Spotify for downloading and converting more than 50 million Spotify songs, albums, playlists, audiobooks, and podcasts to FLAC, WAF, AAC, MP3, etc., with an option of playing it offline on any device without taking a premium subscription. Isn't it incredible?
DRmare Spotify Music Converter For Windows
Spotify music converter is now available for windows as well. The best thing about the converting feature is that it will allow you to record songs 5 times faster, maintaining the accuracy with 100% quality intact. It will keep the ID3 tags, including the title, album, and several other features after conversion. Not only this, you can upload and share music to OneDrive directly. These features will support the Windows 10 store version of Spotify.
With quite a professional audio interface, it will help the Windows users in converting Spotify playlist, song, podcast, and radio to the normal format that includes MP3, AAC, and more. Soon after the conversion, you shall be allowed to upload the Spotify music to OneDrive or iTunes.
Through this, the users will also be able to get rid of subscription limitations and enjoy Spotify music on any of the devices offline, like car player, MP3 player, AAC compatible player, iPhone, etc.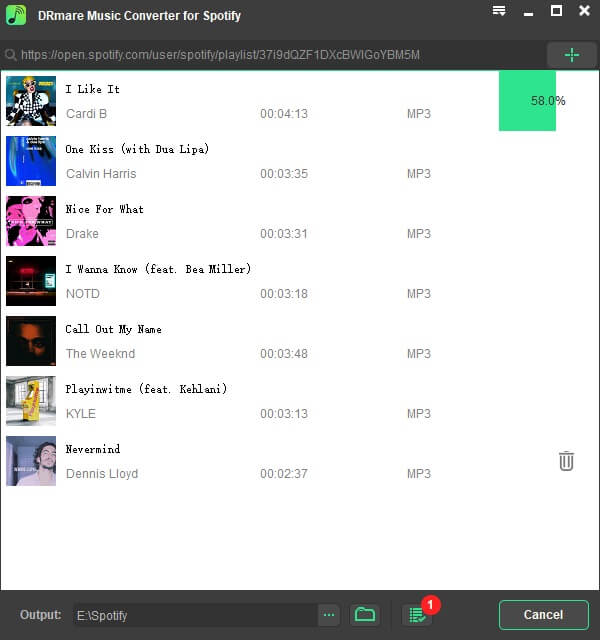 It also comes with music features of encryption that prevents users with free accounts from getting access to downloading Spotify songs to any device offline. With access to DRmare Spotify Music Downloader for Windows, users can completely decode the restriction from the Spotify music streams.
The users can have full control over the Spotify offline playback, even though you are not a premium account holder. Spotify music converter for windows is one of the most comprehensive and specialized downloading and converting features. With the inclusion of automatic downloading technology, it can save your time from plenty of downloads and conversion.
Also, the best part is you don't need to sit in front of your computer to wait for the download to complete. All thanks to Spotify Playlist Downloader for windows, it really doesn't matter whether you have a free or premium Spotify account. You are allowed to freely save any of the Spotify playlists or songs into any device and play them offline at your convenience.
How To Download Spotify Music as MP3 on Windows?
You need to drag your Spotify songs to the Spotify music converter. The next step involves double-clicking the shortcut icon from the desktop to the Spotify music converter for windows that will automatically download the Spotify app for you.
Then you need to choose the output format along with the output path. Next, you can click on the settings button and choose the format of your choice(MP3, AAC, WAV) with output quality like (Medium/High/Low). Next, select the convert button and the playlist you aspire to have in the first place. This will let the conversion process take place on your local computer.
When the conversion is completed, click on the converted button on the left corner and then check all the converted songs successfully. Now you are good to explore your Spotify songs offline. Play them on Windows Media Player, or you can also transfer them to any other device or PC at your convenience.
DRmare Spotify Converter for Windows also supports the unique feature of removing the encryption from the Spotify songs and helps to convert the music files to some common formats so that it can be preferable to several devices.
These unique features will allow users to choose their favorite songs and play them offline on windows. In addition, no matter what the platform is with a Spotify converter, you control all your favorite songs with a simple converting process.
Reviews for the same have been positive as, according to users, it has simplified their lives in many ways. Accessibility is a crucial factor when it comes to the free-flowing of music. Spotify seems to be the favorite streaming service that works best online, and the converter seems to be the cherry on the cake. It goes without interruption, maintaining the quality intact.
As compared to other software, it is easy to download and convert. Just imagine the number of downloads you can have along with the quality of conversion. So what else do you want?
Also read