We now live in a digital world where an immense amount of time is spent online through various digital devices. From working to connecting with friends, a lot of our time passes in front of a screen. And following this lifestyle, the pattern of storage has shifted from customary paper documents to digital files. Screenshots and screen capture videos constitute a large part of this data capturing and storage process.
One can not overlook the importance of a good screen recorder or a screenshot capturing application that has reliable editing features. It is of high relevance at both residential and enterprise levels. Some of its benefits include spontaneous capturing of feedback from clients and customers. It is also helpful in monitoring the performance of employees and providing training to them efficiently.
There are many online tools available online that help capture precise and clear screenshots. A lot of these have applications come with many added features that help edit these screenshots and videos. One such excellent tool loaded with many great features is Snap 12 from Ashampoo. Today we will share with you why you need the Snap 12 application in your life.
What is Ashampoo Snap 12?
Snap 12 is the latest edition of the popular screenshot and recording software from Ashampoo. This software has many advanced-level features that enable the users to capture better images and videos on your computer. The Ashampoo Snap 12 is a revolutionary multipurpose capture tool along with high-quality voice recording features. The Ashampoo Snap has a better and improved user interface along with an extended settings box. It also has the latest recording area with a new layout and improved features. The Snap 12 also has text recognition support for multiple languages.
Features of Ashampoo Snap 12
Now that you have a better understanding of what Snap 12 is and how it works. These are some of the top features of the versatile application
Capture screenshots with ease
With Snap 12, you can click all kinds of screenshots on your computer, varying from full screen to a specified section or paragraph. The application also comes with a timed capture feature to capture clear and sharp screenshots.
Quick and easy video editing
Edit your videos with just a few clicks with the improvised editor on the Snap 12. Add texts, images, watermarks to make your videos more customizable. Remove unwanted elements and include live audio and video properties to make them more engaging.
Share your screenshots with a click
Now you can capture excellent quality captures from your computer but also share them with the world. The Snap 12 has an option that allows you to send your captured file across any platform such as Google Drive, OneDrive, and Dropbox, including social media websites.
Compatible for up to 3 devices
The Ashampoo Snap 12 has a permissible use on up to three devices in a house. It means three different devices in a single household can use the application with a single subscription. It will save you money, increasing your efficiency at a reducing cost.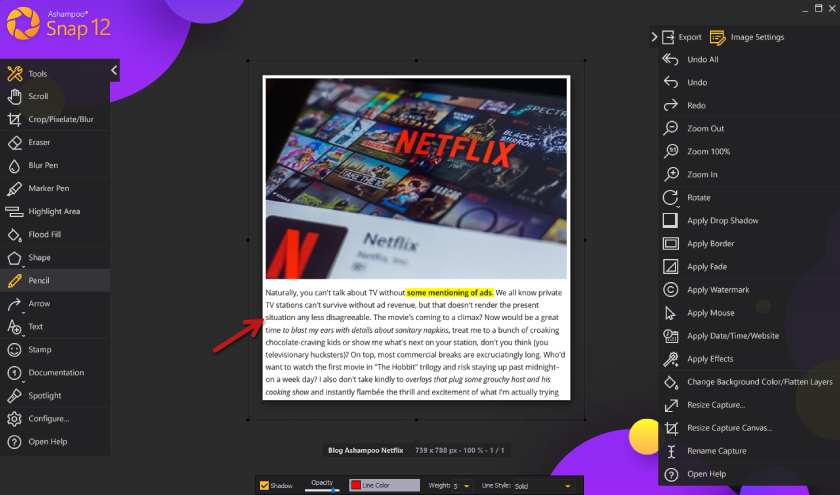 Make Gifs from any video instantly
The Snap 12 has a built-in converter that will easily capture gifs from any videos. You need to select the starting and endpoints, and you are good to go. Whether you are creating a gif for a work project or your social media account, the Snap 12 got your back.
Produce highly customizable videos
Another feature of the Snap 12 is its video editing and cutting. You can edit any screen-captured videos to add more information to them. Similarly, the remove function lets you delete any ads, glitches, and banners present in your video.
Compatible with multiple screen resolutions
The multiple screens compatibility of the Snap 12 makes it even more versatile. This application can capture photos and videos on computers of all resolutions. It means that you will always get pixel-clear files irrespective of your computer's resolution.
Edit all your photos with the editor
The Snap 12 is more than just a regular photo editor. By adding texts, drawings, and symbols, you can modify any images easily. Similarly, there is also an option to blur or highlight any desired sections of your screenshot.
Resize images and videos
With the Ashampoo Snap 12, you can resize both videos and images to increase the resolution. There is also an automatic-resize function that will automatically resize pictures before sending them. The resolution and clarity of your videos will enhance with this new feature.
Click high-resolution screenshots for your games
The high-resolution screenshots and recordings are not limited to work files but can extend to your high graphics video games. By using Snap 12, you can easily take clear snapshots from your games. From simple 2D resolution to 4K clarity, the choices are endless.
Improved user interface
The new Snap 12 comes with an improved interface that is easy to navigate. With it, users will be able to find their desired functions easily. The interface is now animated and well-arranged, and the settings dialog is also well expanded.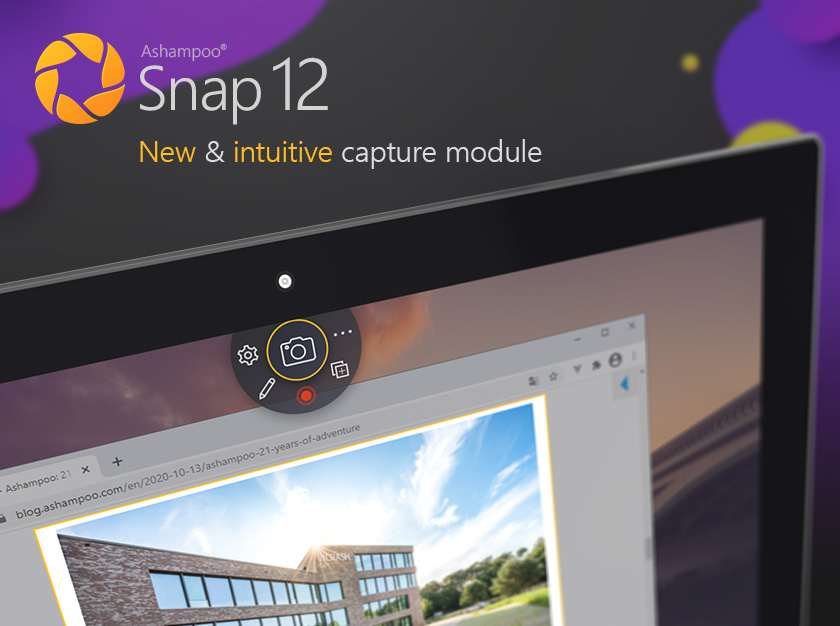 Requirements for running Ashampoo Snap 12
Now that you know the top features of the Snap 12, here are technical requirements. To successfully run Ashampoo Snap 12 on your device, you will need the following system requirements:
Operating System: Windows 8(64bit), Windows 10 (64bit).
Computer: Computers with the above-mentioned operating systems are required. This application is not available on Mac OS.
Internet Connection: A good internet running connection is needed to verify the program license at different levels.
Who is Ashampoo?
Ashampoo is a digital software development company that has designed multiple multimedia, security, and utility applications. With these easy-to-use and highly innovative applications, they strive to provide a hassle-free and efficient experience for their users.
Conclusion
If you are looking for a comprehensive screenshot and recording app, then Ashampoo Snap 12 is the best solution for you. It has marvelous features for photo and video files, allowing you to edit and customize instantly. Available in more than 25 languages and supporting up to 3 systems in a home, you don't have any reason for not choosing it.