Instagram is the best multi-media-based social network, and therefore, you need to pay special attention to visualization when working on it. It also has great marketing potential, particularly for small businesses that want to build a brand identity. One of the best means of improving your social presence on this platform and attract more followers is by using feed themes.
You must have seen many accounts that use themes to impress visitors on the first visit. There are lots of styles for these themes, and in this article, we're going to inform you of some different themes that might be of use to some small businesses.
This way, you can make your account stand out among other competitors' accounts and get the most out of Instagram marketing. In addition, social Tradia claims that the accounts that use a different style and theme are highly likely to be accepted by the buyers who want to acquire Instagram accounts. So this is also helpful if you want to make money by selling your Instagram account.
Top Instagram Theme Ideas
First, you need to become familiar with different types of Instagram feed themes. Although Instagram feed themes don't abide by any rules, we try to categorize them into 3 main groups:
Color Themes
These themes are created by changing the color of the photos or specific parts of them using different tools. Here are several Instagram popular themes in this type:
Clean Background Theme
Color-coordinated Theme
Same Filter Theme
Monochrome Theme
Color Splash Theme
Dark Theme
Rainbow Theme
Layout Themes
These themes are created by rearranging the posts so that your feed has a better overall appearance. Here are several tricks with which you can improve the arrangement of your feed:
White/black Border Theme
Alternating Border Theme
Vertical Lines Theme
Horizontal Lines Theme
Puzzle Theme
Tiles Theme
Landscape Theme
Niche & Style Themes
These themes are about the content of the photos or even the style of taking them. But, of course, both the content and style of the photos need to be related to your niche.
In fact, you need to include a constant niche-related subject in all your photos so that the visitors find out your niche with a glance at your feed. The thing is that you can always combine these themes with both two previous types of themes to make your feed more attractive.
Here are several types of using such a theme:
Love Theme
Fashion Theme
Baby Theme
Travel Theme
Seasonal Theme
Food Theme
Animal Theme
Fitness and Lifestyle Theme
Minimalist Theme
There are lots of different brands that use these themes to make an outstanding feed. If you want to find out which Instagram theme is better for your small business account, keep reading this article.
Dark Theme
Although it might be mistaken for the black & white theme, the dark theme is different. You don't have to use a lot of white colors in the background or anywhere else.
This is one of the heaviest themes, and there are not many accounts with such a style. However, accounts related to movies, sports cars, bodybuilding, and some mysterious concepts usually use this theme.
Here is a perfect example of using the dark theme on Instagram:
Tiles Theme
This is another simple Instagram theme that everyone can use. The most sought-after way to use the tiles feed layout is by alternating between a photo and a quote or even a product/service.
This will make your feed like a chessboard. Here is an example of the Instagram tiles theme: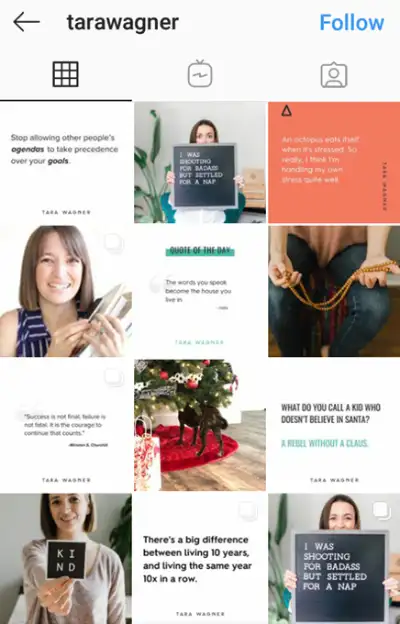 Landscape Theme
This is another simple theme that can give an overall mood to your feed. You need to generate landscape photos using a framing feature in a photo editing app. You can use colorful horizontal borders to create such a theme.
Here is an example of using the landscape theme on Instagram: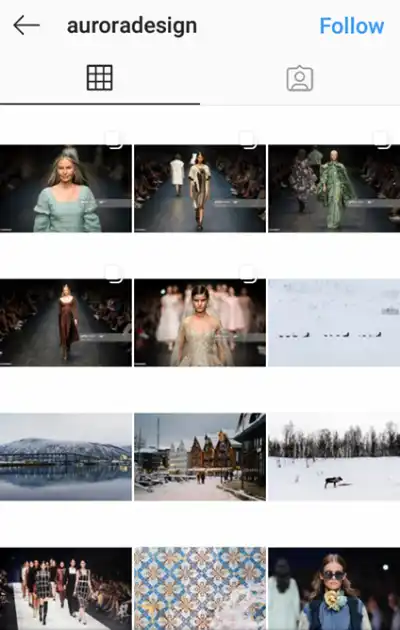 Love Theme
One of the most repetitive themes on Instagram feeds is the love theme. As it can be understood from the name, you have to use elements related to love in all your photos in the love theme. Kissing and hugging, for example, are good choices in this theme.
As a successful practice of using this theme, we can mention Murad and Natalia, who invented a theme of this type. They took many pictures in which Natalia was taking Murad to a beautiful natural scenery while she was pulling Murad's hand and he was taking pictures. Look at this theme and learn how to attract followers: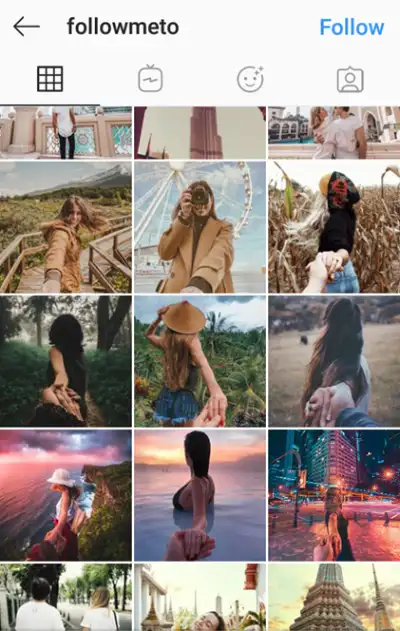 Fashion Theme
Fashion and Modeling are among the most profitable niches on Instagram. Numerous influencers are active in this field, collaborating with famous brands.
If you want your feed to stand out as a fashion account and impress Instagram users, you need to use this theme skillfully.
Try to determine your style and repeat it in all your posts. Keep in mind that only with consistency can you gain fame in this competitive field. Here is a good example of using the fashion theme:
Kid Theme
Many young mothers seek baby clothes on social media, especially on Instagram. Therefore, baby themes can significantly excellent help your feed to stand out and gain more niche followers.
Beautiful infants, pregnant women, and toys are constant elements in this theme. Here is an example:
Travel Theme
Travelling is also the niche of numerous Instagram users. Travel themes are, therefore, common on Instagram. Using photos containing natural views, people with backpacks, fire, tents, and many other touristic elements are common in this theme.
Here is a good example of using the travel theme that can make visitors instantly understand that the niche of this account is traveling: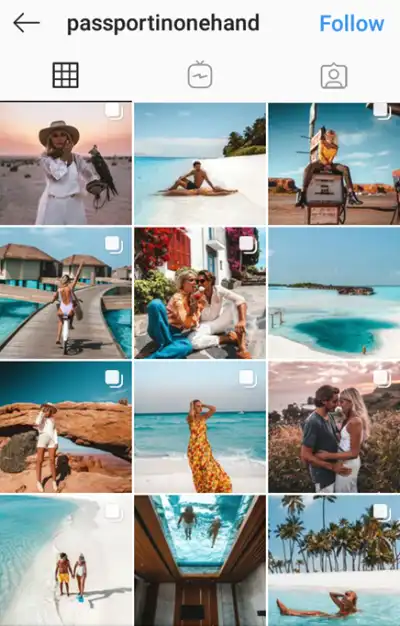 Seasonal Theme
This theme might seem similar to the previous one. In the seasonal theme, you need to make a feed containing the color of your favorite season's color. Summer, fall, winter, and spring's colors are usually constant among all cultures.
So, you can easily convey the feeling of a specific season by using this theme. The seasonal theme can be combined with color themes to have more contrast and impressions. Here is an example of a fall theme:
Food Theme
The food industry is another lucrative niche on Instagram. As a result, many brand owners seek professional and highly engaged food influencers to promote their eCommerce business.
If you want to impress fans in this field and encourage them to follow you, your feed needs to be full of food and dishes. The food theme can vary by color and type of food. Here is an example of using this theme on Instagram:
Animal Theme
It's another trending theme that appeals to pet lovers and environmentalists. Many big accounts on Instagram are using the animal theme.
It's so easy if you want to create an animal theme. Try to put an animal in each of your pictures. So, your feed will be full of animals and impress niche users on Instagram. Look at this good example: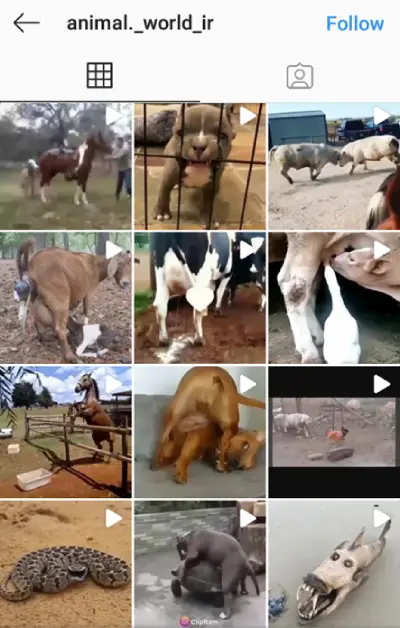 Fitness and Lifestyle Theme
Using the fitness theme is a perfect way to get the attention of sports fans and encourage regular users to stay fit.
Try to use attractive pictures and videos from workouts and figures. Try to include everything related to the body along with informative content to appear like a coach. Here is an example of using the fitness theme on Instagram:
Pattern Theme
Patterns are one of the most attractive and creative means of making your feed stand out. But, first, you need to find some elements constantly repeated in all your photos based on a regular pattern.
Vertical, horizontal, circular, and rectangular patterns are very popular on Instagram. The accounts related to art, architecture, and design are using this theme more than others.
Here is a beautiful example of using patterns on Instagram: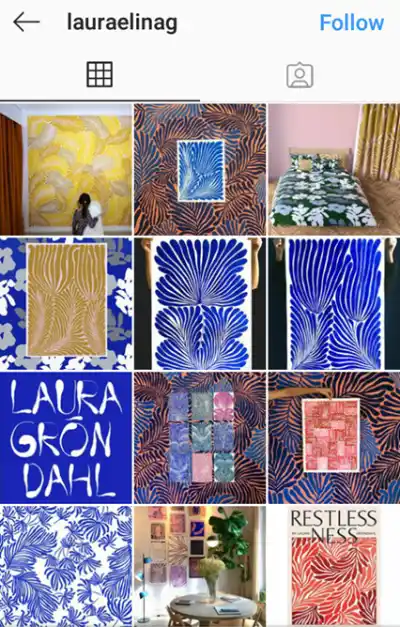 Minimalist Theme
Minimalism is a trend in sculpture and painting which focuses on a massive but straightforward form. Minimalist themes on Instagram are another artistic appearance you can choose for your feed to make it stand out.
If you're interested in modern art, poems, quotes, design, etc., and want to target the audience with these kinds of thoughts, this is a perfect choice. The minimalist theme will bold your product or anything else you want to emphasize.
The subjects, in this theme, are usually at the core of the pictures, and the background is usually simple. So, your feed will instantly draw the attention of every visitor.
Creating such themes needs the expertise to put everything in place and avoid covering any distractions in the pictures. You can also add some filters to bold your purpose in the pictures. Combining this theme with other themes, such as the color splash theme, can work miracles.
Here is an example of combining this theme with the vertical line theme: