The iOS users fall short of finding the perfect writing tool for them. The use of Microsoft Word is common. People are looking for better alternatives to serve the need. Ulysses is a powerful writing tool that assists users working on apple devices like Mac, iPad, or an iPhone. You can use this tool that is an effective way for writing and note-making. It is an easy-to-use tool that sets the tone right and helps you save time and effort.
Anyone can write better when there are no distractions around. Ulysses hits right in such cases. It eliminates distractions and does not skimp on the features.
Here is an honest review of the tool to help you decide whether to put money into it or not.
Importance of Productive Note-Taking Apps
Note-taking involves getting one's hands-on information through any source or event. The notes can be written, paraphrased, outlined, underlining, labeled, jotted, and recorded. Note-taking apps like Ulysses help users type, write, and draw on their Apple devices. The users have a similar impression of taking notes on papers. The note-taking apps are of different kinds. All have features for storage, organization and offer immense sharing capabilities.
Hence, note-taking apps have greater productivity to offer. The importance of the note-taking applications is as follows:
The students can store all the notes and other information in a notable format. This tool is for Apple users. So, the information finds its place in a cloud-based storage system.
Taking notes using such applications is as easy and convenient as penning them down in your notebooks or blank pages.
These applications use various features for the benefit of the users. The users can add files, live recordings, and other multimedia features. It helps enrich the text's meaning and use it better.
These applications support collaborations and simplify the process of sharing notes. The students can do all these things in real-time.
How can Ulysses be considered the best note-taking app for Apple Devices?
Ulysses is an application designed for modern writing projects. It is a sister concern of word processors and manages to give a tough competition to them, though. This tool promises quickness. So, the user can compose it and send it for publication without exceeding the timelines.
One of the main reasons that restrain people from going for Apple products is that shareability is within the set limits. However, Ulysses is the best note-taking app for Apple devices because of the following reasons:
Endless cloud support – Ulysses dissolves the barrier of Apple products that restraints them from sharing notes and other information. You can use iCloud or Dropbox to upload the text or paste it from any other source. The text editor makes the process smooth. The application supports syncing throughout the iOS devices. It makes the users rely on this application for all future needs.
Proper export flow is common for users who rely on notes to share it in formats like PDF and word documents. Google documents and sheets are emerging as the preferred ways. The tool renders support to ePub as well. The users can save the notes as an eBook while working on Markdown or HTML. These are incredible tools in the digitally-equipped millennial world. The writers swear by this tool in the 21st century.
Supports live previewing – The tool has an interesting feature of live streaming and previewing. The users have a fair chance of knowing how their content will emerge and how the target audience will react. You can go for changes till you have the perfect piece in front of you. You can convert your texts into ebooks or word manuscripts for publishing.
Helps you meet your writing goals and objectives – This tool allows users to set work and character limits. The users can also opt for choosing their writing goals and expected tones. The birth of artificial intelligence adds to the feathers of the writers' caps. The two of you are working to bring out excellence in the writing projects.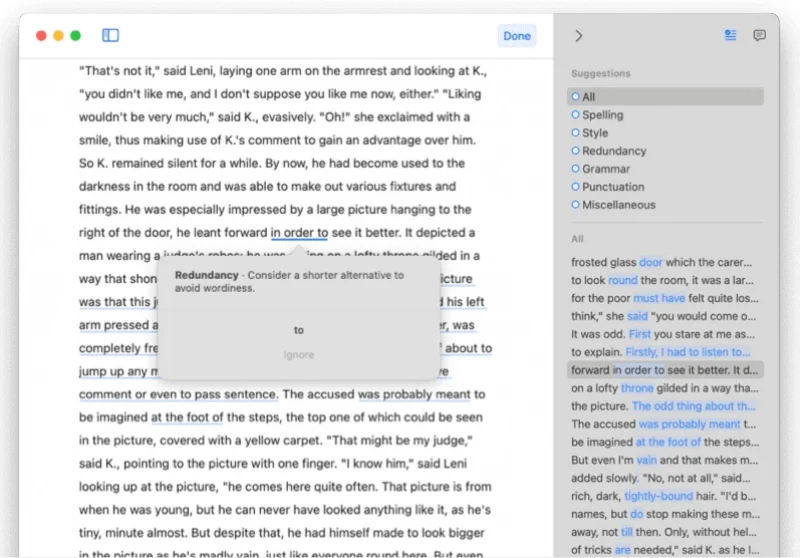 Features of Ulysses
Ulysses is a note-taking app that promises great integration and creativity. The features of this tool are as follows:
Modern projects are a cakewalk with this tool
Ulysses enables you to have a personal library of curated documents through various sources. You can do customizations and opt for inspirational images that act as a piece of background information at hand. The modern world supports multi-taskers. So, if the writers have different projects, they can store them in separate folders. You can check your writing behavior without lifting your hands from the keyboard. It is possible with the help of the text editor and other additions.
It offers great ease of use
Ulysses scores a 5/5 for presenting ease of use to the users. The writers have an option to auto-save. So, if there is a power cut in the middle of your work or you forget to plug in your device's charger, your hard work is safe with this tool. The pitch-perfect interface wins to add to the application's credibility.
Wide-range of support
The most reliable feature of Ulysses is that it has a wide range of support in store for its users. For example, you can break it into nesting groups that promise a more accessible and more manageable workflow if you write a thesis. You can never go wrong with tenses and grammar. The built-in proofreader and editing assistant help you sail through smoothly. It supports keyword-based search. So, the days when you need to punish your head are gone to learn specific writing and searching ways.
Pricing of Ulysses
While thinking of going for Ulysses, make sure that you are not missing out on important information about its subscription model. The trial version of the tool is free. However, once the period for the trial version ends, the user has to pay a monthly bill of $5.99. The user can choose the second option. It is a yearly plan of $50.
The market amplifies the use of free writing and note-taking apps. But, you have to choose what you want and set similar priorities. It is the best way to skip whether to invest in it or go for the free ones.
Platform support of Ulysses
The android users have to brace themselves as Ulysses is for Apple users and devices only. It will work well for both HTML coding and drawing word maps using the directions of the user's brain. The android users can try and hang in there until the tool makes it to the Google PlayStore.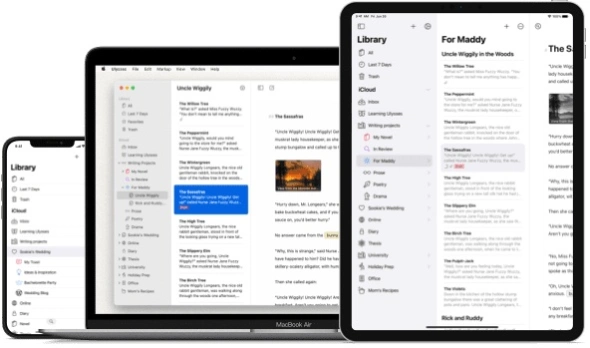 Conclusion
The award-winning design of Ulysses supports tickling the creative minds of bloggers. Ulysses gets a heads up when it comes to project enhancement and management. It is an excellent writing assistant who won't leave your side, especially when needed. Most of the writers swear by it. So, go for this great choice and let it be your writing guide.