Managing a business in this digital world is not simple as most people imagine. Working digitally, you are responsible for all the operations and processes simultaneously. As a result, keeping track of all the activities within your organization can sometimes get quite chaotic.
Thankfully, there are quite a few online tools that can help you stay productive and constantly evaluate the different aspects related to your business. But the problem with these so-called digital solutions is that they cater to only one or two functions. So if you rely on online apps and trackers, you will waste all your time juggling between hundreds of apps and software.
However, today we will share an all-inclusive productivity tracker tool that will get everything done using just one app. In this article, we will share everything you need to know about Satiurn. Everything from its features to pricing, we discuss all the essential information you need about this platform to help you decide whether you need it in your life or not.
What is Satiurn?
Satiurn is an online platform that combines your productivity tracker and CRM tool into one. With Satiurn, you can create boards with tasks and assignments for all the members of your team. You can also design new proposals for your clients and share them with them by exporting the document or directly from the Satiurn dashboard.
Satiurn allows you to measure the productivity of each team member with timeline and task views. You can also share your feedback with any employees by adding notes to their project tasks. Of course, Satiurn also has to keep an eye on your payments receipts and pending balances. Integration with Stripe allows you to receive any cash transfer without a third-party gateway.
Top Features of Satiurn
We know after reading the introduction about Satiurn, you are curious to learn more about this app. So below are the top features of Satiurn that make it the ultimate productivity tracker and planner for everyone.
Create sales pipelines to manage your complete sales progress
Manage your sales funnel efficiently with Satiurn's sales pipelines. Initiate this process whenever you present your proposal to a new client and track the progress based on whether it got accepted or rejected. You have ultimate control to optimize each stage with the automatic success of failure tracking. Keep a measure of all your efforts for each sales pipeline. Satiurn also shares the reasons for a proposal failure with you.
Receive and track your incomes and payments with categorization
Satiurn also helps you keep track of your payments and receipts for a given month. This tool will create a simplified and readable classification for all your cash flows. You can also apply any filter to identify any transactions and even budget all your monetary exchanges. Satiurn also integrates with Stripe to create one-click payments without using a third-party payment gateway.
Design impressive proposals for your clients and share them directly
Along with the above-shared features, Satiurn also helps you compose impressive proposals for all your potential clients. Click on the 'Create a Proposal' tab and choose any template design. Fill in the required details along with the proposed price for your services, and your proposal is ready to share. You can export the document as a PDF to your device or share it directly from your Satiurn dashboard.
Build the project and task boards to track the progress your progress
Creating tasks and activities for your team is now a cakewalk with Satiurn. You can choose between Kanban boards, task views, and project timelines to monitor the overall progress. These will also help you measure the individual contribution of each employee and share your feedback with them by adding notes. Add deadlines and priority status to your tasks to share their superiority.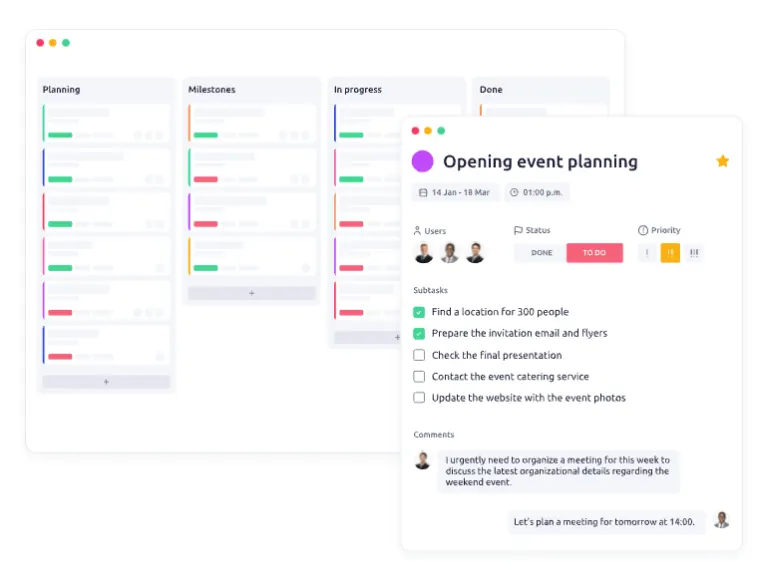 Store all your clients, customers, and suppliers details efficiently
With Satiurn, you are free from the task of manually storing the contact details of each customer, supplier, and client. This CRM-powered productivity tool will save all your contacts for you. Satiurn also adds tags to your contacts to keep them categorized and even offers a budget summary. In addition, it will help you identify any balance payments receivable from the person. Share your contacts with anyone using one click.
Who is Satiurn Most Suitable for?
Till now, we have shared what Satiurn is and its top features that will help you be more productive. Now it's time to see the different individuals and groups that benefit from using this productivity platform. Here are the various parties that can derive the maximum usage from using Satiurn:
Businesses: Satiurn will help all businesses stay track of their employee's day-to-day progress. It will also guide you to allocate various tasks among your team using different planning boards.
Marketers: Similar to companies, Satiurn is also the ideal CRM solution for marketing agencies. This comprehensive tool will help your agencies keep track of your customer queries.
Developers: Satiurn will guide you in creating customer proposals and effective time management plans for developers. Keep focused on your work and meet your deadlines with Satiurn.
Startups: Satiurn will help you get started on building your business management plans. Design the best schedule, task boards, and organization schedules using Satiurn and always stay productive.
Entrepreneurs: Identical to startups and developers, Satiurn will help you keep track of your current and future tasks. You can also stay connected with customers and clients with this tool.
Pricing of Satiurn
If you want to use Satiurn for your business, you can choose between two price plans. First, make a pick between the Basic or the Pro plan option that bills monthly or annually, depending on your preference. Before committing to the product full time, you can also try their trial, which allows you to use the service for fourteen days for free.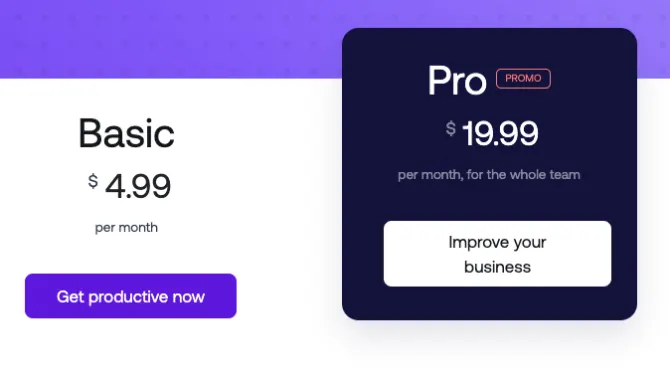 The Basic plan allows only one user and will cost you $4.99 per month or $49.99 for the entire year. Similarly, the Pro option provides 30 users and will cost you $19.99 for every month, or $199.99 annually. When you purchase any annual plans, you get two months of free subscription to Satiurn. Suppose your team is more than 30, no need to worry. Satiurn offers custom upgrades that you can avail of by contacting them directly.
Conclusion
We hope this article introduced you to a comprehensive productivity tool that will help you get more work done without the hassle of managing several apps. Satiurn offers you and your team members access to efficient tools for your CRM, planning, book-keeping, and so much more. Using Satiurn, you will never have to navigate between multiple websites saving tons of your precious time.
Using this multifunctional tool, you can always stay on top of your activities and customer management. However, if you use automation tools like Zapier, please note that the Zapier integration for Satiurn is not available now. However, it will be included in the future. So get Satiurn today and start managing your business effectively.