The most popular messaging application WhatsApp is updating its services with more and more features and security things each day. Regarding Group privacy and security, the company has recently done so many modifications, which includes giving admins more privilege to manage the group.
Remove Yourself as the Admin of a Group
Now, an admin can restrict a group in which he can control how the messages are sent. In addition, he can restrict the privileges of the group members. Unlike the old feature of adding a new member and assigning a member as admin, the admin can now dismiss another admin and convert him as a normal member. This option is directly available in the Group Settings option, whereas one admin can dismiss another admin without removing him from the group.
(Also see: How to Activate Animated Stickers on Whatsapp[Latest Update])
Even though this feature is available, there is another big feature missing in the application: we cannot remove ourselves as an admin from a group.
Let us see the matter in detail. If we are added to a group and assigned as the Admin of that group, we cannot delete the admin role. The only option available is to exit our-self from the group and ask the other admin to add again to the same group as a member. Or you can ask another admin to dismiss you as admin from the group. In both cases, you need the help of another admin to do so.
(Also see: Is it possible to remove a member from a WhatsApp group without notifying them ?)
But now, we have a trick by which we can remove our-self as admin and be part of the same group as a normal member even without the help of any other admin.
As we mentioned earlier, in some situations, we need to change our role from admin to normal users because in some cases, we are assigned as the admin without our approval too. Any admin of the group can assign you as the admin. It doesn't need your approval. Also, if an existing admin left the group, the admin role is automatically assigned to a random member. This also, we cannot stop. In all these cases, we need to change our admin role.
Now let see the actual trick here.
Step 1: If you are a group admin, then within the group chat window, click the 3 dots (settings) on the right top corner.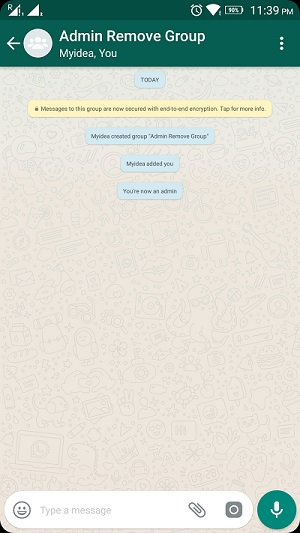 Step 2: You can see an option called Group Info in the available option. Click on that.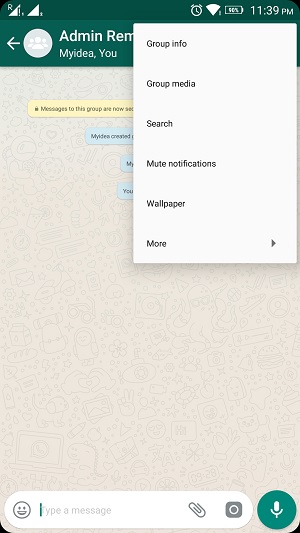 Step 3: Now, the next screen will show you the group details such as the participants, settings option, etc.
Step 4: In that page, you can see an option called "Invite via link". Click on that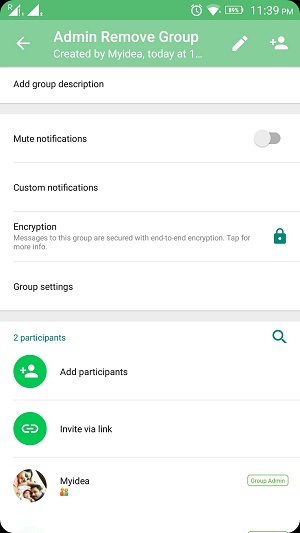 Step 5: Now, in the new screen, you may see an invite link generated with options such as Send via WhatsApp, Copy Link, etc.
Step 6: Click on the 'Copy Link' option, now the link is copied.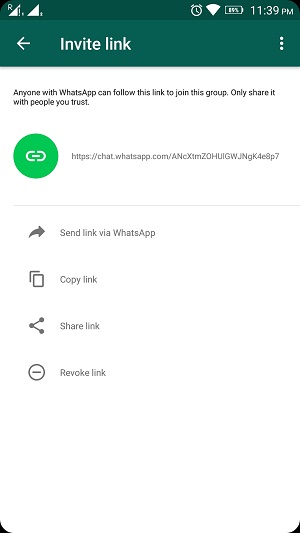 Step 7: Now, please keep the copied link somewhere else, in a notepad, or anywhere you can.
Step 8: Now come back to the Group Info page, scroll to the bottom, you can see an option called 'Exit Group'. Click on that.
Step 9: A confirmation window will come up and ask you to exit or not. Click on 'Exit'.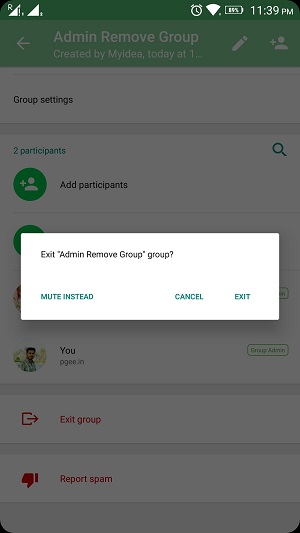 (Also see: How to Fix the Contacts Mix Up Issue in Android ?)
Step 10: Now, you are removed from the group. The last step is to take the previously copied invite link and click on that, and Now it will ask you to join the group or not. Click on 'Join Group'. Done, now you are part of the same group as a normal member.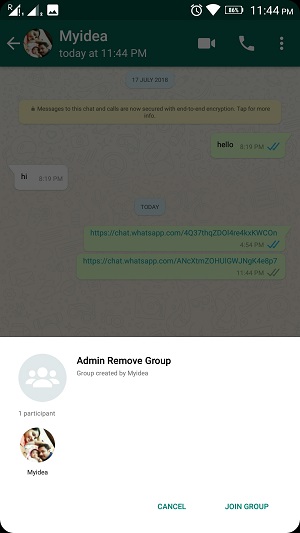 In this way, you can remove your role as the admin from a group without any other's help and be a part of it as a normal member.