Whether you are a businessman, a webmaster, or a YouTube channel starter, a proper logo, like Starbucks logo, will be must-have. The dilemma is that many of us are not qualified graphic designer for this task, while hiring a professional designer will be costly, not speaking of the costly price on the subscription of PhotoShop or Adobe Illustrator. To solve such a headache and get a brand logo, blog, website or new product, we suggest you considering DesignEvo – an online, straightforward logo maker with resourceful functions.
How Does DesignEvo Work to Get You An Effective Logo?
DesignEvo is the product from the works from a group of art undergraduates holding a designer certificate. They work with another group of software developer and bring logo design extremely easy to render to all level netizens. DesignEvo is such a "dummy" logo maker that allows its users to follow their instincts to customize their own logo. Here is how it works:
Start with 10,000 + Logo Templates & Inspirations
Pick a category and a sample for your logo. Either by searching the available logo templates, or by choosing from the popular templates demonstrated on DesignEvo Logo Maker, you will get tens of inspirations. In this step, if you are a free registered user, you will be happy with DesignEvo favor icon, which only keeps your favorite templates. These logo inspirations are off-the-peg templates with everything needed, which free you from picking a font, finding a right color scheme, or importing practical icons from icon makers.
Customize Your Logo Easily
Once a logo template is chosen, you will see the logo design canvas, where you can select anything on the canvas and change the settings. You will be asked to input your company name along with a hype slogan, which you can make from some slogan generators. Also, it allows you to replace a shape, a font, choose a different font, utilize another font style, change a color, background, etc. The embedded easy-to-use logo editor allows you to modify all the things on the canvas within fingertips.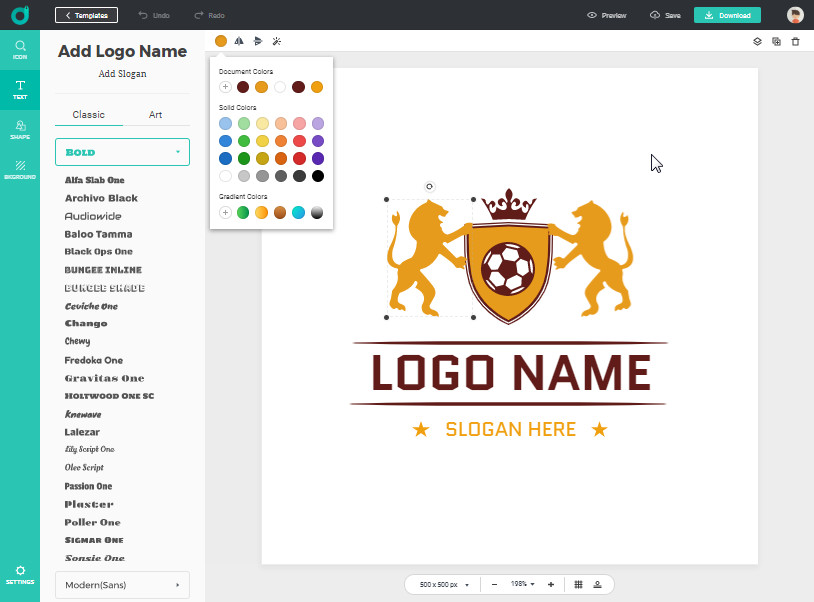 Preview Your Logo Design In Action
As long as you finished a logo, the [Preview] button on the top functional bar will render you 6 scenarios at a time. You can browse the design when the logo generated printed on a business card, a document header, company notebook, a website, T-shirt and a presentation wall.
Download Your Logo Design for Free or Inexpensively
If you are fine with a digital logo in a size of 500 x 500, you may go with the [Free] package. Without any requirement to register an account, you can grab the logo design in normal PNG and JPG formats at no cost. For a higher demand, you may find yourself satisfied with a high-resolution plan – the [BASIC] package rendering 5000×5000 PNG, JPG and PNG-transparent. If you are seeking for royalty-free logos or vectorized logo solution, DesignEvo [PLUS] package gets you there. All these packages are no expensive than $50, more cost-effective than hiring a designer or purchasing from the similar products.
Words Finally
DesignEvo is the simplest logo maker online that we've tested so far. What makes us love it most is its easiness and the free logo download option.