Everyone needs video editing software for different purposes. Some people require it for work, while others have it for personal use. However, finding the right video editing software can be difficult, especially if you don't know what you're looking for. There are many things to consider when choosing video editing software. You first need to decide what you'll be using the software for. Are you going to be editing videos for work or personal use? If you're using the software for work, you'll need to ensure it has all the necessary features.
Why Consider Movavi Video Editor?
If you're only using the software for personal use, you can probably get away with a less feature-rich program. If not, you may have to focus on features. Another thing to consider is the price. Video editing software can range in price from a few hundred dollars to several thousand dollars. If you're on a budget, you'll need to ensure that you find affordable software. However, if you have the money to spend, you can get a more feature-rich program.
Once you've decided what you need the software for and how much you're willing to spend, you can start looking at different programs. Different video editing software programs are available, so you'll need to take your time and find the right one.
When you're looking at different video editing software programs, make sure to read reviews. It will give you an idea of what other people think of the program.
On that note, Movavi Video Editor would be a perfect choice.
Quick Look at Movavi Video Editor
The top video editing tools must be used by influencers who upload videos to social media and other video streaming services. Users of both Windows and Mac can easily edit videos with one such tool, Movavi Video Editor. This program makes it simple for video editors to become experts. Before spending money on more expensive tools, familiarize yourself with the fundamentals of video editing with Movavi.
The video editing tool is also free for download during the first week. After that, you may make a captivating and unforgettable video by utilizing Movavi Video Editor's various features. Movavi makes video editing incredibly simple. You can master video editing with just a little effort and edit videos like a pro.
Accessing, editing, and distributing media has always been a top priority for Movavi. Anybody has the opportunity to work with audio and video on a professional level, thanks to their robust software and user-friendly interface. Among the most popular video editors is Movavi Video Editor.
Because of its simplicity and sophisticated functionality, have always been the favored software among experienced video editors. Recently, a new edition of Movavi Video Editor 2023 was released, sparking a lot of buzz.
The most recent addition to Movavi Video Editor 2023, this powerful editing program makes it simple to create engaging videos. You can use it to edit and improve your home videos while maintaining complete control over the result. In addition, with the new timeline position tools, you can move a clip around your video.
Finally, everything has been made to effortlessly assist you through video editing, including the updated interface, the new multi-track timeline, and the improved project management features. The following article may find a thorough analysis of Movavi Video Editor 2023.
Movavi Video Editor's workspace initially resembles many of its modern competitors. The typical container for accessing project assets includes:
Audio and video clips.
A timeline for organizing the clips.
A viewer to show the altered material as your program develops.
The non-linear video editing app Movavi offers all the bells and whistles you'd expect, including the option to add titles and transitions to give your work a polished post-production finish.
With its creative effects, animation transitions, and gorgeous titles, you can make your movie appear more lovely. Picture-in-picture, zoom, pan, and stylization are some of the other capabilities. In addition, these added features set it apart from competing video editors on the market.
Features Of Movavi Video Editor
Video editing tools include splitting, rotating, cropping, adjusting colors, combining, stabilizing, panning and zooming, slow motion, chroma key, scene detection, overlaying, animating, highlighting and hiding, and adding logos.
Video property editing (volume, speed, reverse, fade in or out)
Record both audio and video
Use filters
Include transitions
Add headings
Include stickers
Upload videos to Vimeo, Google Drive, and YouTube.
Exporting videos in different audio or video formats
Benefits of Movavi Video Editor
There are several benefits available in Movavi Video Editor 2023. Highlights of Video Editor 2023 include Object Animation, Video Creation, and other built-in media.
Interface: You can find the toolbar or tab at the top or on the left of the interface's upper portion, and when a tab is selected, those areas will expand to reveal the tools. You can see samples of films, transitions, titles, and other elements using the player on the right. You may add video, music, and photos to the timeline at the bottom and edit dozens, even hundreds, of tracks all at once to make your video.
Exchange and production: This tool might be helpful unless you regularly watch videos on video streaming services. After logging in, direct video uploading to YouTube, YouTube Video, and Google Drive is possible.
Tutorials: Unlike other chores, editing videos is difficult. You can learn a lot about how to utilize a video editor and carry out certain video editing tasks by watching an online video tutorial.
Easy Video Production: This video editor's best feature is this. With the aid of the video creation wizard, a video may be easily created by uploading a video, picking a template, and then bringing in some royalty-free audios.
Editing Software: You can use all the editing tools available to customize your films, including rotating your video, trimming it to your favorite part, cropping unnecessary objects, and making adjustments in the stabilization, coloring, and so on. If you plan to do some vlogs, this tool with animation effects and seen work could be the best you can look for.
First Mode: For consistency, the software lets you pre-set transitions, visuals, and sequences for the beginning of your videos. If you're a YouTuber or Vlogger, this tool is fantastic.
Render in 4K: The processing of 4K videos is made considerably faster thanks to this function.
Windows 7 or later: Software for Microsoft Windows 7 and later is supported. The software is also compatible with Apple's macOS.
Intuitive: For those with no prior experience with video editing, Movavi makes it incredibly simple.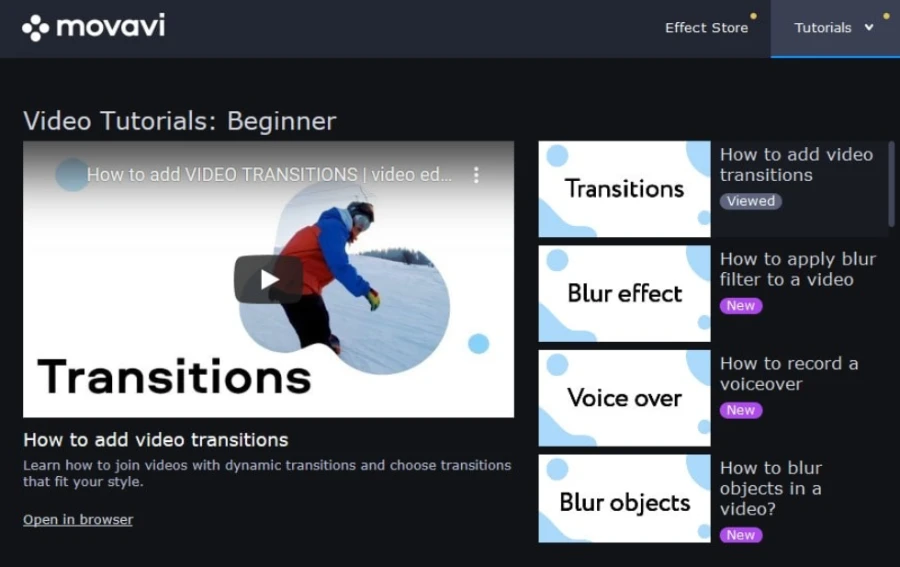 Pricing
Movavi Video Editor is available for both Windows and Mac and is priced in two options. One is a 1-year license, and the other one is a lifetime license. Both options are available for 1 PC or Mac.
For $50.95, get Movavi Video Editor for a 1-year subscription.
Then, for $74.95, you'll get Movavi Video Editor For Lifetime usage.
If you're lucky, you'll get some random discount if you purchase Movavi Video Editor from the official website.
Who Should Use It?
Generally, anyone who wants to edit a video should use video editing software. It includes people who want to create family movies, as well as those who want to edit videos for work or school projects. Additionally, many businesses use video editing software to create marketing videos and product demonstrations. Movavi has developed a reputation as a top-notch video editing program suited for all users, including those with little prior knowledge.
With the help of video-editing software by Movavi, one can now produce fascinating videos of the highest caliber. You can create a simple concept, then utilize the fantastic built-in capabilities to transform it into a complete multimedia experience quickly.
Without an internet connection, try this video editor available as a free download to edit videos anywhere you are—at home, in a coffee shop, or on the beach. It's not simply a video editor, either. It's a simple software for making videos. Make use of several video editing possibilities to increase your creative output. If all these things are needed, then One should use them.
Is it Necessary?
Movavi's editor is trustworthy and worth purchasing compared to other video editing apps. It offers an astonishingly broad range of built-in effects, audio, graphics, text, etc., and a straightforward, user-friendly interface. Moreover, it is available for a very reasonable price and is simple for beginners. Therefore, you should try it.
Conclusion
With the help of the video editing program Movavi Video Editor 2023, you can easily make stunning videos. With this video editor, you can record voiceovers, add effects, transitions, and titles, draw on films, change the colors and graphics, and do much more. Movavi Video Editor is a wonderful option if you're seeking an economical yet feature-rich video editor for your personal films or using it in your small business.
Additionally, it has a timeline with many tracks that allow you to add text or video to each separately. With the program's editing features, you can effortlessly animate 3D extrusions that you may add to images and films using Movavi Video Editor.
With its built-in video editing templates, it's simple to dazzle your loved ones with great slideshows, bullet videos, wedding movies, outdoor experiences, or gigantic time-lapses that you can post on social media.