Projectors today are widely used because people love watching films and images in them at home or any place with a great setup. Projectors are basically more comfortable than TV and are used widely now a day's. They are less straining to the eyes and comfortable to watch on a bigger screen.
And one such projector is short throw projectors that are generally 3 to 8 feet away from the projector to screen and best for viewing images and films at home. They are used because they create greater images at a much shorter distance and are suitable for small areas. They are best for smaller meetings and theatres.
How Does A Short Projector Work
Short projectors can easily be placed in any area as it takes less space. It easily fits at any place and eliminates shadow and eye glare as it perfectly suits your eye level. It generally works in the area where the projector is placed on the wall, ceiling nearer to the wall, or in a short table. It works easily and is beneficial for short spaces and far better than TV because you can view it in a larger space.
Advantages Of Short Throw Projector
Short projector work has many benefits such as:
As it is shorter there is very less that someone can ruin your shot or view while watching.
It can fit into any place due to its size.
You get a closer view of the film or image you are watching.
Such projectors reflect light and so they are less straining to the eyes.
Disadvantages Of Short Throw Projectors
Some of the disadvantages are:
It is not suitable for bigger size areas.
It can generate quite a lot of heat that is not good.
One disadvantage is that the ventilator can be noisy at times.
Most of the short throw projectors don't have an autofocus feature.
Features To Consider While Looking For A Short Throw Projector
Brightness: It must not be something that strains your eyes. The outside light of the area must be light to let the projector shine bright. The brightness must be measured with lumens on a projector.
Resolution: Many projectors have a resolution and you can see the difference in a projector than on the physical screen. You can see the equivalent resolution to make it easier to quantify.
Contrast Ratio: If the contrast is low it will result in a bad appearance. If the contrast is high the picture quality will be far better.
Inputs: You need to make sure that what you are expecting from hardware and then compare accordingly to purchase easily.
Price: Before spending you need to see that it is comfortable or not based on where it is placed and your budget and if it suits your needs.
Some Of The Short Throw Projectors For 2021 Are
1. Optoma GT5600 Ultra Short Throw
It has great specifications when related to price. It has a perfect contrast ratio and the best image quality. It is best to use in smaller areas and conveniently placed anywhere. It has a 16-watt speaker with a 100inch projection size. You can easily connect it with USB display connectivity and show anything from IOS and Android.
Features:
16-watt speaker.
Best contrast ratio.
HD image quality.
100-inch projector size.
2. Ricoh PJ WX4130 Ultra Short Throw Projector
It has a wide range of inputs including USB, HDMI, and many more. It has a great contrast ratio of 2500 lumens. It is sturdy and can be set up easily with a 40 to 80-inch screen size.
Features:
The screen size is 40 to 80 inches.
2500 lumens.
Best projector if compared to price.
3. LG HF85JA Ultra Short Throw Laser Smart Home Theater Projector
It has an amazing contrast ratio of 1,50,000:1 and in this price range, it is the best projector. It has a 100-inch screen from just 4.7 inches away and requires very little space to keep and store. It has an amazing feature that is it runs LG smart TV Platform and you can easily access apps with already had Wi-Fi connection and no other connectivity.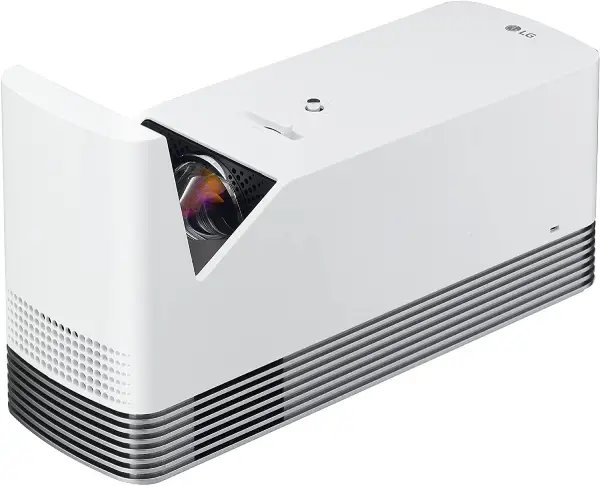 Features:
Contrast ratio 1,50,000:1.
Screen size 100 inches.
It has a Wi-Fi connection.
4. ViewSonic Lumens Short Projector
If you are looking for a projector that is compact and can be stored and placed easily at any place then there is nothing better than this projector. It is very much bright and vibrant and is accessible even in daylight. This projector has longevity and is amazing in its price. It has the best lamp life and lasts for 30,000 hours.
It has the best contrast ratio of 1,00,000:1 and brightness of 5200 lumens. It has a dual 10W speaker facility. It has a perfect cable connection including HDMI, USB, and audio out.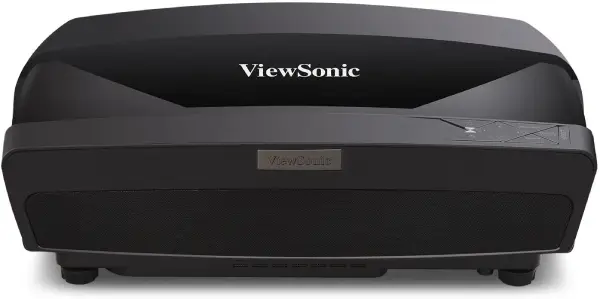 Features:
Contrast ratio 1,00,000:1
Compatibility with IOS, phones, or any device.
Lamp life of 30,000 hours.
Dual speaker facility
5. Epson Home Cinema Ultra Short Throw Projector
This projector has the best brightness and illumination feature. You get 4000 lumens of brightness and a contrast ratio of 2,500,000:1. You can enjoy it in HD resolution and it also has a remote control to operate it. Its viewing size is 120 inches with a weight of around 24 pounds. It is perfectly compatible with laptops, phones, gaming devices,s and much more.
Features:
1080 HD resolution.
Remote control.
A viewing size of 120 inches is quite nice.
It has been voted to be the number one projector with the best image quality.
4200 lumens.
6. VAVA Short Throw Projector
If you are someone who wants an ultra-short throw projector then this projector is the best in its price range with the best quality. It has a perfect contrast ratio with the best image quality.
Features:
It has 6000 lumens of brightness.
It has included a Bluetooth remote.
4k image resolution.
It weighs 24 pounds.
It has a viewing size of 100 inches.
Conclusion
If you are looking for a short-throw projector then you must always check its contrast ratio, size, resolution, and many more factors and choose accordingly as per your budget. Above are some of the projectors that you can choose from and enjoy watching films and images.