Kotak Mahindra is one of the fast-growing banks in India, and they are constantly upgrading their services to serve the customers better. As per the growing requirements and changing technologies, the bank always comes up with new generation banking services. Like other banks, Kotak Mahindra Bank also offers Online banking, Mobile Banking, Phone Banking, etc. But now, they came with a new idea called WhatsApp Banking.
Kotak Mahindra WhatsApp Banking
In the current world, most of us spent the most time on WhatsApp while using our mobile phones. And WhatsApp is also introducing more and more features from time to time. The company introduced WhatsApp business last year with some additional features than the normal WhatsApp Account. It is mainly meant for business purposes, and now the company, banks, etc. are using the feature for their services.
Using the possibility, Kotak Mahindra Bank has now come up with an innovative idea called WhatsApp Banking. As the name says, the new feature will give you control of your Bank Account from within your WhatsApp Account even though the service is not a full-fledged one with all the control as in the Mobile Banking Applications, but with some limited frequently used features.
(Also see: Get Free Instant International Debit Card From Kotak 811)
It makes your job simple too, since if you need to check the balance of your account, then no need to login to your Mobile Banking Applications, go to the Whatsapp and type Help and then type the corresponding key to get the balance instantly.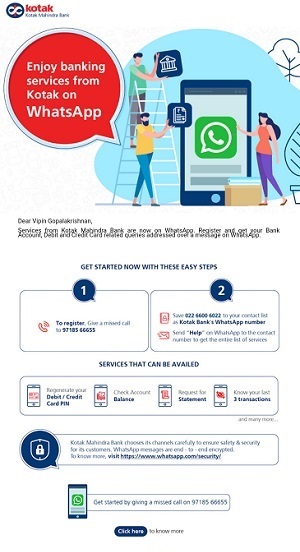 How to Activate WhatsApp Banking for your Kotak Mahindra Bank Account
The service is free, and you don't need to pay any amount or don't have to fill any application form. Follow the steps below.
Step 1: To Register, Give a miss call to the number '+91-97185 66655'. (Note, you have to give miss call from the mobile number registered with your bank account and also make sure that you own your WhatsApp account with the same mobile number)
Step 2: That's it, once you made the miss call, you will get a message from Kotak Bank saying 'You are now registered for Kotak Services on WhatsApp. Add 022-66006022 to your contact list & start messaging us on WhatsApp.'
(Also see: List of Indian Bank Cards which Support International Transaction)
Step 3: Done, But as like the message says, it is not necessary to save that number in your Contacts. Once the registration is done, Kotak Mahindra Bank will send you a welcome message from their Whatsapp Banking Account to your WhatsApp number. Since it was a Business Account, you can contact them even without saving the number. (Saving the number will help you to get them again if you deleted the chats at any time)
Now, you are good to go, and you can follow the instruction provided in the chat to get started. Type 'Help,' and you will get all the available service list.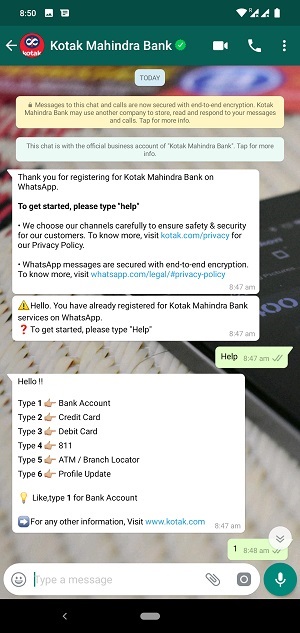 Services Offered Currently
Balance Check
Debit/Credit card PIN generation
Request for account statement
Get details of last 3 transactions
It will also give you some additional options where you will get all the instructions to use each service with Kotak Mahindra Bank.
Note: When you type 'Help' in the chat, you will get several options with sub-options that are useful, but as I mentioned before, most of the options will give you instructions and not the complete result. You might have to go to the website or mobile app to get it done. But in the primary feature case, it's much useful in balance query, last transactions, etc.