Magento platform is one of the most reliable e-commerce content management systems with an open code, rich functionality, and flexibility. Due to its powerful functions, the platform perfectly suits the needs of small, medium, and even large e-commerce businesses.
There are two main editions of Magento – Open Source and Commerce. Magento Open Source is free and provides flexible digital solutions for small businesses to sell online successfully. On the other hand, Magento Commerce better meets the business requirements of large e-commerce enterprises. For example, Olympus, ASUS, Land Rover, Ford, Burger King, Moschino, Helly Hansen, Zadig & Voltaire, Barbour, Lindt, Liverpool FC, and other well-known companies choose the Magento Commerce version for their e-commerce purposes nowadays.
Starting your e-commerce business with Magento, you have to remember these simple, but important tips:
Identify your niche and unique value proposition (UVP)
Conduct a competitive analysis to make sure your offering will engage the market easily
Choose a professional Magento development company with relevant experience in the industry
Carefully select suppliers and partners
Make sure you have a plan for support of your e-commerce
The Secret of Magento Popularity
Statistics predict that e-retail revenues are projected to grow to 5.4 trillion US dollars in 2022. As online shopping became one of the most popular online activities worldwide, merchants take the choice of e-commerce platforms very seriously.
Magento takes one of the leading places among the top platforms for e-commerce nowadays. However, there are few strong advantages of Magento that make it very popular to create an e-commerce store. Let's talk about them in more detail.
1. Ease of Management
A clear and user-friendly interface allows merchants and store administrators to quickly and efficiently manage content, update stock levels, review analytics and reports, edit product attributes, assign up-sell and cross-sell products, and change prices. In addition, Magento offers an adaptive layout that allows users to view the website on different devices and screen sizes. The platform also easily integrates with PIM (Product Information Management), CRM (Customer Relation Management), and ERP (Enterprise Resource Planning) systems.
2. Wide Marketing Opportunities
Magento enables merchants to set shopping cart and catalog pricing rules, manage discounts and special offers, edit banners, automate email campaigns, set abandoned cart notifications, set up-sells and cross-sells, get and analyze information in real-time, and complete other marketing tasks on the go.
3. Rich SEO
Organic traffic is considered the most important for website search optimization. Magento has built-in SEO features that allow administrators to manage metadata, generate sitemap, create SEO-friendly URLs for products and categories, set canonical URLs, optimize images, and more.
4. Navigation and Aearch
Magento platform offers powerful search options to configure catalog search options, suggestions, and recommendations.

Source: Magento
It also offers structured layered navigation for categories and subcategories, making it easy for customers to find the required product.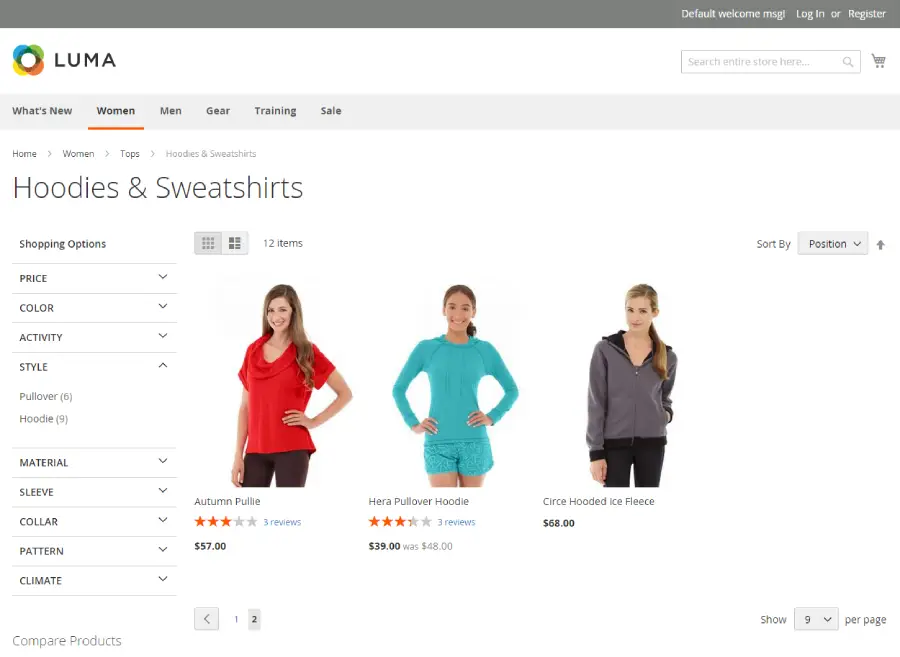 Source: Magento
5. Scalability
The platform is stable and provides smooth operation even with large product catalogs and sudden orders increase. Magento has largely built-in functions but can also be extended with different extensions available in the Magento marketplace. Thanks to the platform architecture, it is also possible to develop custom Magento extensions tailored to the specific needs of your business.
6. Flexible Architecture
As mentioned in the previous point, Magento architecture allows developers and companies to create custom extensions for marketing, SEO, logistics, and other purposes.
7. Possibility to Integrate with 3rd Party Solutions
If a store is built with Magento, you can integrate it almost with every system and solution available on the market. Payment gateways, analytics systems, delivery methods, CRM, PIM, ERP systems, and more.
8. Enhanced Security
Magento provides high security and data protection standards. For these purposes, the company regularly releases security patches and platform updates. In addition, Magento also provides a Domain-Validated Let's Encrypt SSL/TLS certificate to serve secure HTTPS traffic. All these actions are aimed at protecting customer's personal data and make fraud impossible.
9. Marketplace Support
Magento also allows merchants to use it as a platform for e-commerce marketplaces development. It supports high loads, large numbers of users, and product SKUs. In addition, the platform structure can be extended by Magento Marketplace extension and adjusted to meet all your business requirements.
Magento and M-commerce
M-commerce, or mobile commerce, is growing at a scale never seen before. By 2021 the worldwide M-commerce share in e-commerce is expected to reach 72.9% globally.
That is why large e-commerce players focused their efforts on the development of mobile apps for their stores. In addition, consumers spend much time using their mobile devices conducting research, comparing product prices, and making purchase decisions.
Magento company adjusted its business strategy for the new reality adopting a mobile-first approach for all its e-commerce solutions.
1. Magento PWA
Progressive Web Application (PWA) is an application software that uses modern technologies and design patterns to provide an app-like experience when browsing websites. Magento PWA studio offers tools that allow developers to develop and maintain mobile storefronts on top of Magento websites. As a result, using PWA significantly increases customer engagement and conversion rates.
2. Responsive Themes
Magento offers built-in responsive templates that can be utilized to provide an exceptional mobile experience for customers. In addition, Magento Marketplace is also rich in paid responsive templates, so you can choose the one that perfectly suits your brand identity.
3. Mobile Friendly Checkout
With the rise of mobile traffic, smooth mobile checkout is still the bottleneck of e-commerce. Magento helps eliminate this problem by streamlining the checkout flow, utilizing Instant Purchase that allows using information saved in customer's accounts, and integrating mobile-friendly and popular payment gateways like PayPal and Braintree.
Final Thoughts
Magento is a great choice for the creation of scalable and powerful e-commerce stores. It provides rich functionality that ready Magento extensions can extend. It has a clear and user-friendly interface and can be integrated with third-party platforms and services that automate back-office processes. Following the rise of mobile commerce, Magento modifies the platform capabilities to become the best instrument for providing exceptional omnichannel experience, increasing clients' trust and loyalty, and improving merchants efficiency.