Are you looking for a platform where you can seamlessly publish your articles? Then, you can quickly establish yourself and enhance your presence online with effective content creation. With content creation, you can easily connect with more audiences and promote your brand more. But for this, you have to post quality content.
Due to the low budget, you cannot afford to purchase a good content writer, and the ones available on a low budget may not provide quality content as per your requirement. Hence, to solve this problem, you can use a content creation platform to efficiently handle various aspects of content creation, from brainstorming to writing and editing.
What is Brick.do?
Brick.do is a popular writing and content creation platform. It is a super lightweight blogging platform that enables you to create small sites easily and thus publish your content seamlessly and hassle-free.In addition, the platform is super easy to use due to its efficient user interface. With brick.do, you can design your small sites as per your requirements and vision and launch the websites without requiring any custom code.
Brick revolutionized the global content creation landscape in the best possible manner by melding humans with technology. Brick fulfills the ever-increasing content needs across boundaries, genres, and domains. At Brick, you can get the strategic partnership to deliver various online content solutions to match the requirements of today's retail landscape. Brick enables your customers to discover and get inspiration from your catalogs online. You can quickly get your subdomain with your desired name and title, and thus you can create the website of your dream.
Features of Brick
To provide you with an insight into the features of Brick. Below we have mentioned different brick features and what makes them stand out from the rest.
Instant Publishing
You can publish your content instantly. The edits you make are synchronized immediately, and you can share the pages simply by copying the link from the address bar at the bottom.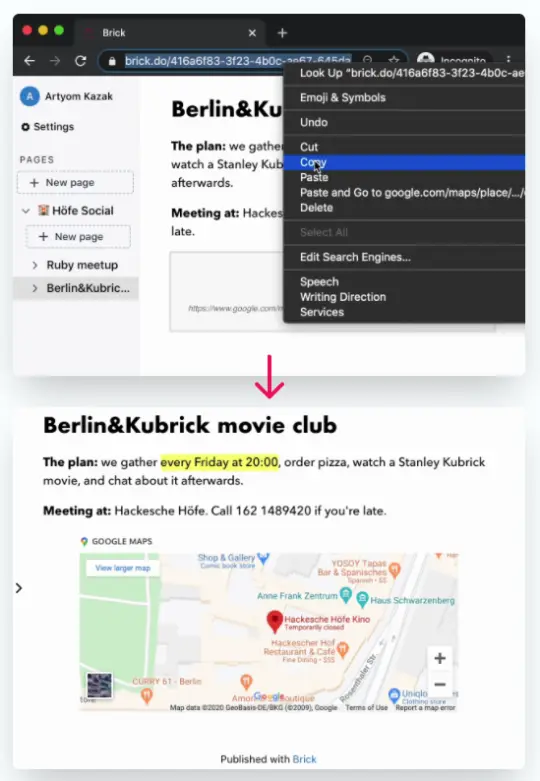 WYSIWYG Editing
Another fantastic feature of the brick platform is its WYSIWYG editing feature. It is the most advanced editing feature for a content creation platform. This editing feature enables you to add media, text, tables, custom JS/CSS/HTML, and social embeds. With this advanced editor, you get complete control over the content, and you do not have to worry about the static site builders or the markdown.
Use Your Domain or Sub Domain
You can easily host your website with brick as a subdomain, or you have the flexibility to add your domain to publish your website. In addition, you can use the subdomain provided by brick.do for free. Whereas, if you are using your domain, you need to pay some fees.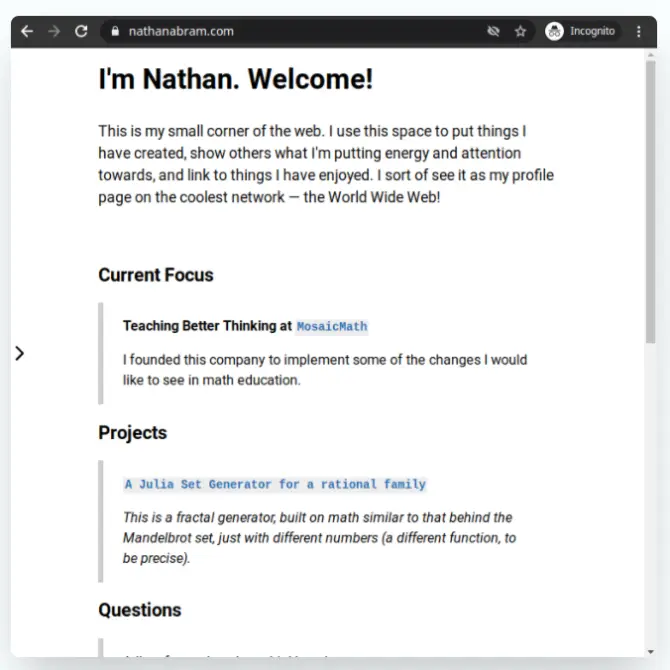 Effective Styling
You can easily create your dream website by customizing your pages or the whole application effectively using the CSS provided by brick.
More New Upcoming Features of Brick
Above are only some of the existing features of brick. But shortly, the brick will introduce some new features in its function that can make content creation more convenient and hassle-free. They are as below:
WorkSpaces
You can also group the pages into the workspace and thus get more utilization and enhance the convenience of your work.
Collaboration
With this upcoming feature by brick, you can collaborate with your teams with new and exciting sharing tools.
Private Encrypted Pages
You can also mark the pages as accessible by public or public encrypted. If you do not want your content to be visible to the people, mark it as private encrypted and lock it.
Social Features
With this upcoming feature, when you upload your content next time, you can also chat with your audience through comments and enhance your content's growth with likes by the audience.
Integration
With this integration feature, you can easily more embedded content for your new website.
Page Subscription
You can add this page subscription button on your website where your friends and audience can click on it to get updated notifications instantly when you post something new content next time. Thus, you can strengthen your brand's presence more online in this way.
Pricing Plan of Brick
Suppose you want to know about the subscription plan of Brick. Then below, we have mentioned the different pricing plans for Brick.
Free Plan
One of the plans, Brick, is the free plan. The users do not have to pay anything to create their domain and publish their website. One can do everything for free of cost. In this plan, users can upload unlimited pages. And they will get two domains in a year free of charge.
Paid Plan
The paid plan is the premium plan of Brick. The users must pay a fee of $19.99 per month to use this plan. In this plan, users will get unlimited pages and other enhanced features like ten subdomains and two custom domains. Furthermore, users can also use the weekly backup of data from the website.
If they have any queries, they can solve them instantly with the priority customer support service. Similarly, users will also get the flexibility to use their desired front for their website and use collaborative editing. And the most fantastic aspect of this plan is that users will have the freedom to run their websites, and there will be no third-party interference anytime.
Bottom Line
We have discussed Brick is and its features. We have also discussed the new upcoming features of Brick and how they can benefit you. Furthermore, we have also mentioned the different pricing plans of Brick and the benefits of each plan. Thus, you can now easily decide whether to use the services of Brick.do or not. And hence we can conclude that Brick is a seamless content creation that helps you create the website of your choice at an affordable price.