Most people are worried of using their bank cards for online payment because of the security issues, in some case some people are not able to use their card for international transaction due to security feature in their card. The best example is Indian Debit card, most of the Indian Debit Cards cannot be used for International transaction. It was a big problem for most of the people now, because these card even cannot be used for Google Payment too.
For this issue, we have a good and safe solution. Entropay, which is a prepaid virtual visa card, whcih is known as Entropay Virtual Credit Card. It is easy to create a free entropay card and we can use that card for all Online International transactions, including Google Wallet Payment, Play store etc. It is free to create an account and they will charge you a fee for loading amount to the card, which is comparatively higher, but for our needs we can accept it.
Checkout the steps to create an account and to get a free Virtual Prepaid Card.
Step 1. Go to Entropay Website : https://www.entropay.com/
Step 2. Click on the Sign Up Now button and create an account, by entering your details.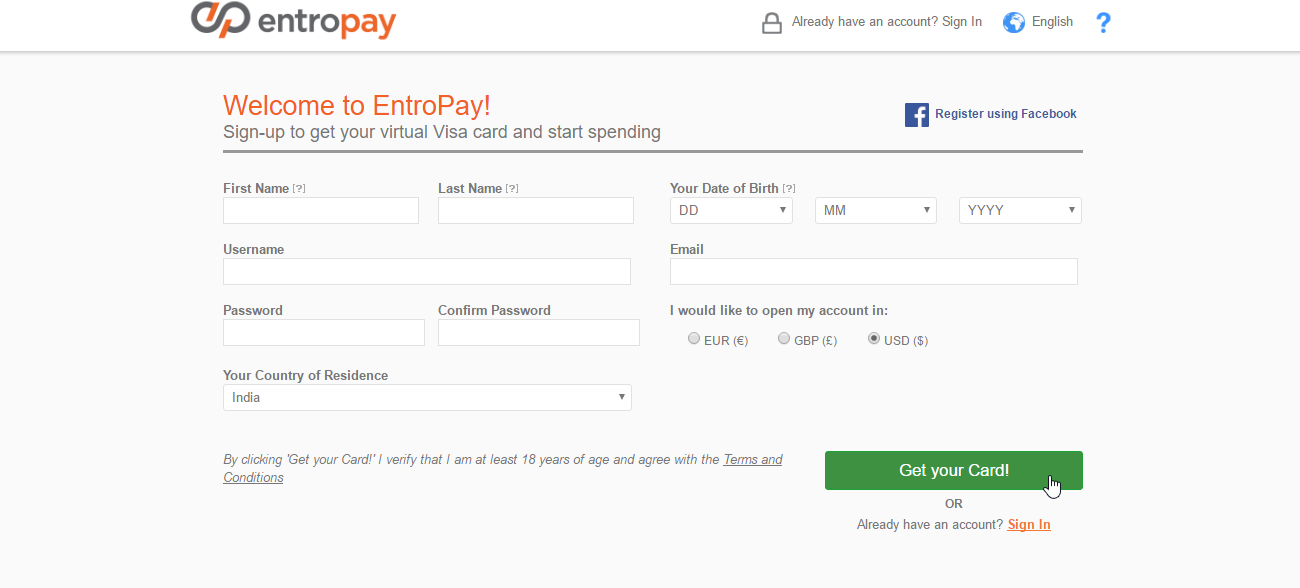 Step 3. After signup process, you can reach to the dashboard where you can see a Tab named Create Virtual Card, click on that and create a card for you with a name. Note that, after you created a card, you can view the card but you cannot see card number and details.
The card number, CVV code and expiry details only visible after you load money into the card. Also note that in a free account you can create only one card, if you need more cards you have to upgrade your plan. You can change the card name at any time.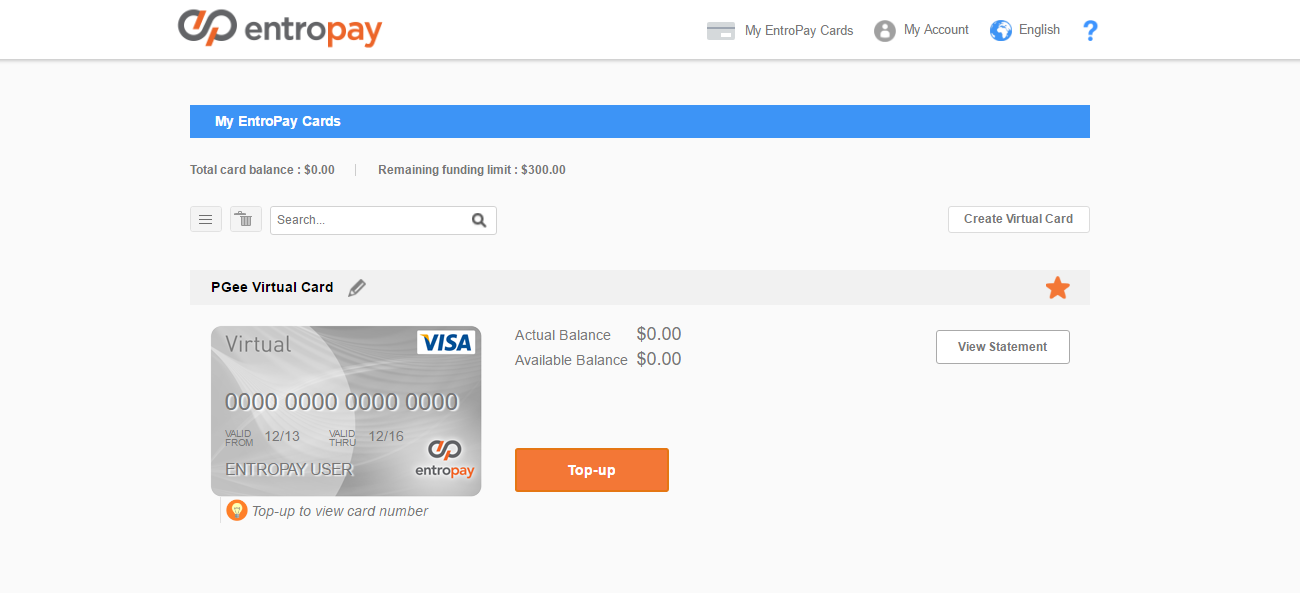 Step 4. Now, you have to load money into your card, so that you can start using the card for your Online Transactions. For that you have to add a debit or credit card to the account. Click on the Topup card option and select Debit/Credit card option, you can also use direct bank transfer if needed. But the easiest way is card payment. Here you can use your valid local debit or creidt card. eg : Any Indian Debit cards.
Now you need to enter details such as card number, expiry date and CVC/CVV code. You can pay $5 to $300 at a time, enter the amount you would like to use. Please note as it is an International card, by default it uses dollar as curreny, if you would like to change, you can change the currency but since it is not dedicated for India, you cannot choose INR, so better to leave it as Dollar.
After entering the details, Click on Confirm Details button.
Step 5.
Now you will see the Final confirmation page, where you can see details, your amount and fee etc. As we told earlier, they will charge you 4.95% of your topup amount as fee. ie if you are doing a topup of $5, they will charge you 4.95% of $5 which is $0.25. So you have to pay a total of $5.25.
If you verified the details, you can click on Top-up virtual Card button, so that your card will be active now. You also note that since you are using a different currency holding card for a card in dollar, there will be a currency conversion charge from your bank, it may vary with banks.
Now you can use the Virtual Prepaid Card for Payments including Google etc.