Unlocking YouTube's audio treasures for offline enjoyment is a breeze with the finest free YouTube to MP3 converters. But remember, the creator's nod makes this musical journey legal. Downloading without permission is a no-go in YouTube's rulebook, and we stand firmly against copyright infringement.
However, if you've got that green light from the creator, the stage is yours. Use a free YouTube to MP3 converter and groove to your favorite tunes offline. We've made things easier for you by crafting a lineup you can trust.
How To Download YouTube MP3 With PPTube YouTube Downloader
In the vast sea of online YouTube video download tools, it's easy to feel lost. Many promise the moon but often fall short in format options, compatibility, and speed, and worst of all, they can leave your precious videos looking far from their best. But, if you're after a game-changer, a tool that doesn't just meet expectations but exceeds them, then look no further than PPTube YouTube Downloader.
Features Stunning Video Quality
Enjoy exceptional video quality with resolutions ranging from HD 720p to remarkable 8K.
Versatile Format Options
PPTube supports conversion to MP3, M4A, WAV, AAC, FLAC, OGG, and more. Enjoy YouTube audio content offline in your preferred format.
Effortless Playlist Downloads
PPTube's playlist analysis function lets you easily download YouTube playlists and channels.
Livestreams and Beyond
Download livestream videos from YouTube without compromising quality. Also, download from Twitch, TikTok, Twitcasting, AfreecaTV, and other popular platforms.
Easy Video Editing
Trim, crop, and share your favorite parts of YouTube videos online using the built-in YouTube Cutter.
Subtitles Included
Access subtitles in over 50 languages and obtain SRT files for your preferred movies.
Batch Downloading Made Simple
Supports batch download of TV shows, games, music, cartoons, and more to help save your precious time.
Turbo-Fast Download
Activate Turbo-fast Mode for up to 10x faster download speeds when fetching YouTube videos and audio.
Steps To Convert Youtube to MP3 Using PPTube YouTube to MP3 Downloader
Discover two simple methods to download YouTube content effortlessly using PPTube YouTube Downloader, ensuring uninterrupted entertainment. Just follow these straightforward steps:
1: Downloading a Single YouTube File
If you wish to download an individual YouTube audio, follow these steps:
Step 1: Copy the YouTube URL
Visit YouTube and copy the audio file URL you want to download.
Step 2: Determine The Output Quality & Format
Click "Download and Convert to" and choose your preferred output format. Adjust audio settings as needed.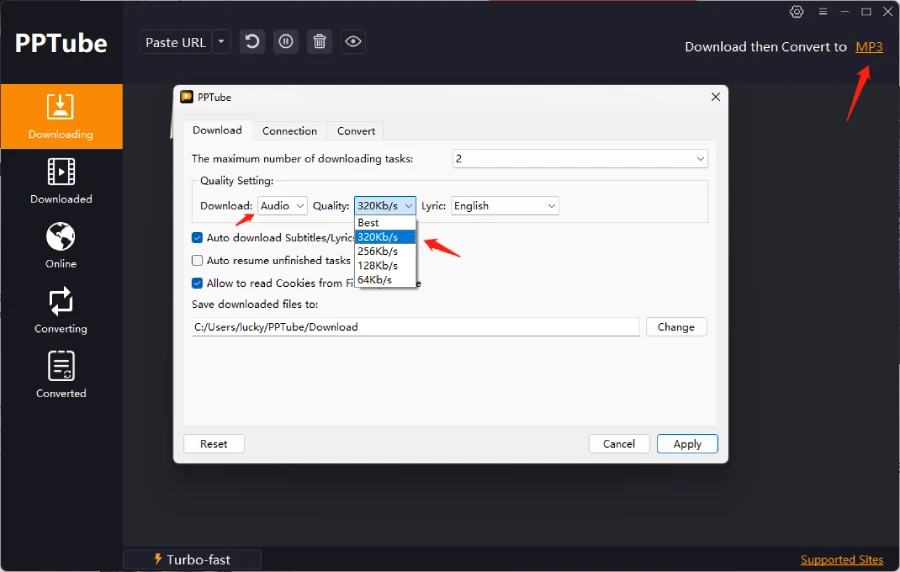 Step 3: Paste the URL
Open the PPTube YouTube Downloader, then click "Paste URL" to initiate the download process.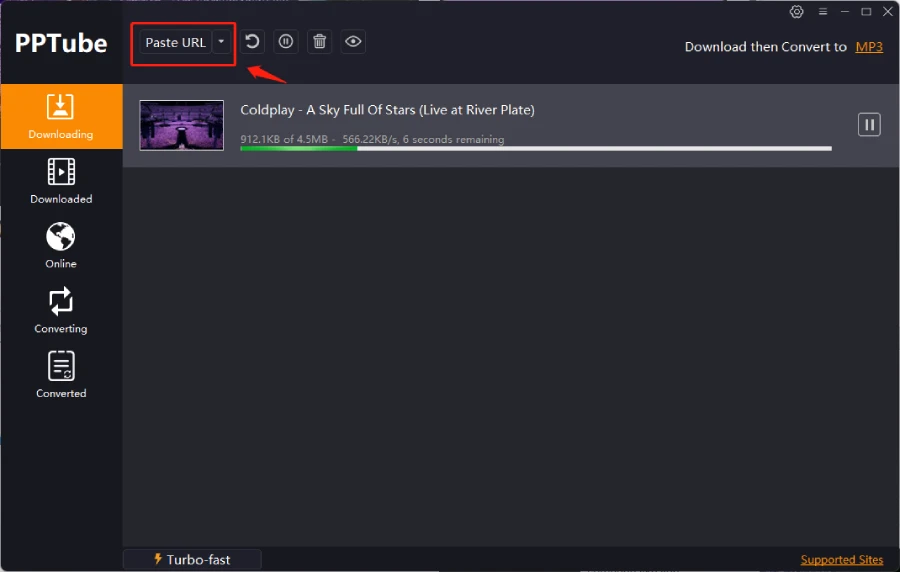 Step 4: View Your Download
Your YouTube audio is now securely stored on your device. Find it in the "Downloaded" section within the program and enjoy it without restrictions.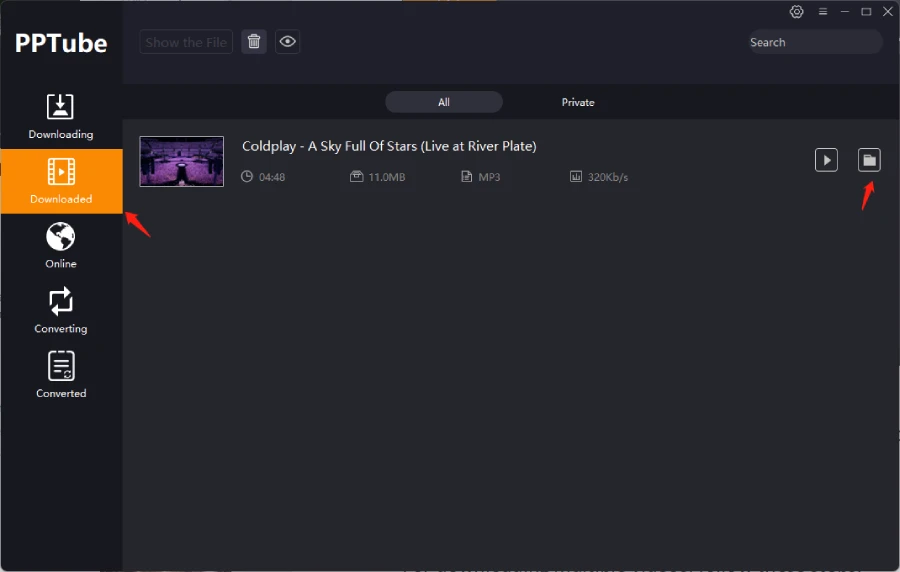 2: Downloading Multiple YouTube Files
To download multiple YouTube audio files simultaneously, follow these steps:
Step 1: Choose "Multiple URLs"
From the menu, choose the "Multiple URLs" feature.
Step 2: Paste The YouTube URLs
Paste the URLs of the YouTube audio you want into the provided black box.
Step 3: Initiate the Download
Click the "Download" button, and within seconds, all your selected files will be downloaded for your enjoyment.
How To Use An Online Utility To Convert Youtube to MP3
YouTube.com, the Internet's giant video-sharing hub, boasts millions of daily uploads spanning every category imaginable. Yet, it doesn't offer a straightforward, free download option for these captivating videos.
Enter YTMP3, your ultimate web app for hassle-free YouTube downloads. Whether you fancy MP3 audio or MP4 video files, it guarantees an efficient conversion process. The best part? It works seamlessly on your desktop, tablet, or mobile device without extra software or apps.
YTMP3 downloader is perfect for non-copyrighted content, delivering speedy YouTube video downloads within 2-5 seconds.
Features
High-speed servers foster lightning-fast conversion of YouTube videos to MP3,
YTMP3 offers unlimited MP3 downloads from YouTube, all for free.
The YouTube to MP3 downloader boasts an intuitive interface for easy MP3 audio downloads.
Ytmp3's browser-based converter is compatible with all devices, including laptops, Android phones, and PCs, ensuring accessibility for everyone.
This YouTube to MP3 downloader is free, with no quality limitations or hidden fees.
No registration, login, or third-party software installations are needed for the YTmp3 converter tool.
Steps To Convert Youtube To MP3 Using YTMP3
Step 1: Navigate to YouTube
Open your web browser and go to YouTube.com. Once on the YouTube website, search for the file you wish to download.
Step 2: Find and Prepare the File
After locating the desired file, click on it to initiate playback. Allow it to start playing, and when it does, copy the URL from your web browser's address bar.
Step 3: Access The YTMP3 Web-App
Now, open the web application. Once you're in, paste the URL you copied from YouTube into the converter. At this point, you will have the option to select the download format. Here, you can take your pick between MP3 or MP4. If no format is selected, the file will default to being converted into an MP3 file.
Step 4: Initiate the Conversion
Click on the "Convert" button. This action will kickstart the conversion process, which may take a few minutes. Although YTMP3 strives to ensure the file is converted to the best available quality, video downloads are limited to videos up to 90 minutes in duration to ensure a swift conversion.
Step 5: Download Your File
Once the conversion is completed, a "Download" button will become visible. Click on this button, and the download will commence immediately.
Comparison between Desktop Tool and Online Tool
| Points of Difference | Desktop Tool | Online Tool |
| --- | --- | --- |
| Installation | Required | Not required |
| User interface | Clutter-free | Comparatively cluttered |
| Ads | Don't have ads | Users complain of frequent pop-ups and redirects to malicious websites. |
| Internet connection | Only required while accessing YouTube. | Crucial for accessing the online utility |
| Compatibility | Have different versions for different operating systems. | Comparatively limited |
| Download limit | Usually, we don't have any upper ceiling on downloads. | Have a maximum cap on the number of videos or the duration of each video. |
| Download Quality | Up to Full Ultra HD | Up to full HD |
| Speed | Faster | Comparatively slower |
Conclusion
When seeking a free YouTube to MP3 converter, consider your conversion frequency. For occasional use, online tools suffice. However, frequent users benefit from dedicated desktop software such as PPTube YouTube to MP3 Downloader for speed and efficiency.
Rest assured, the tools in this guide are thoroughly tested and recommended for safe usage. So, what are you waiting for? Get the party started today, and let the downloads flow!