Some people may find that, Drag and Drop in Photoshop is not Working once they start editing files. We also get emails from our readers saying that Photoshop won't let me drag and drop, forcing them to open a new image using the Photoshop menu option. So let's see how the Photoshop Fix for the drag and drop problem work.
For the issue of importing images into Photoshop not working, you don't have to reinstall your Photoshop. By making a slight change in the system registry file, we can fix it. The problem was there for a long time, and you can see it even in the photoshop's official websites feedback section a large number of users are asking the solution for the drag and drop issue in photoshop.
Fix Photoshop Drag and Drop Not Working Issue
If your Photoshop won't open any images and you can't drag and drop Photoshop files, you can fix it quickly. To quickly fix the drag and drop problem within the Photoshop software, you can follow the steps below. Before proceeding, please note that the solution is for Windows machines running on Windows 7, Windows 10, or the latest Windows 11. The below Photoshop drag and drop issue fix won't work for Mac and Linux as the file system differs entirely from Windows. However, you can follow the steps below to fix Photoshop drag and drop issues.
Step 1: Goto your search section on the Windows and type regedit. You will see regedit Run command item. Click on it. (Windows search can be found within the Taskbar)
Step 2: In the Regedit window, double click on HKEY_LOCAL_MACHINE
Step 3: Then, double click on SOFTWARE.
Step 4: Then you will see a big list, find MICROSOFT and double click on that.
Step 5: Then find WINDOWS and double click to open it.
Step 6: Then double click on CurrentVersion.
Step 7: Then find Policies and double click on that.
Step 8: Then double click on System
Step 9: Now, you reached the main menu area. Look into the items available in the right side portion.
You will see EnableLUA. Double-click on that.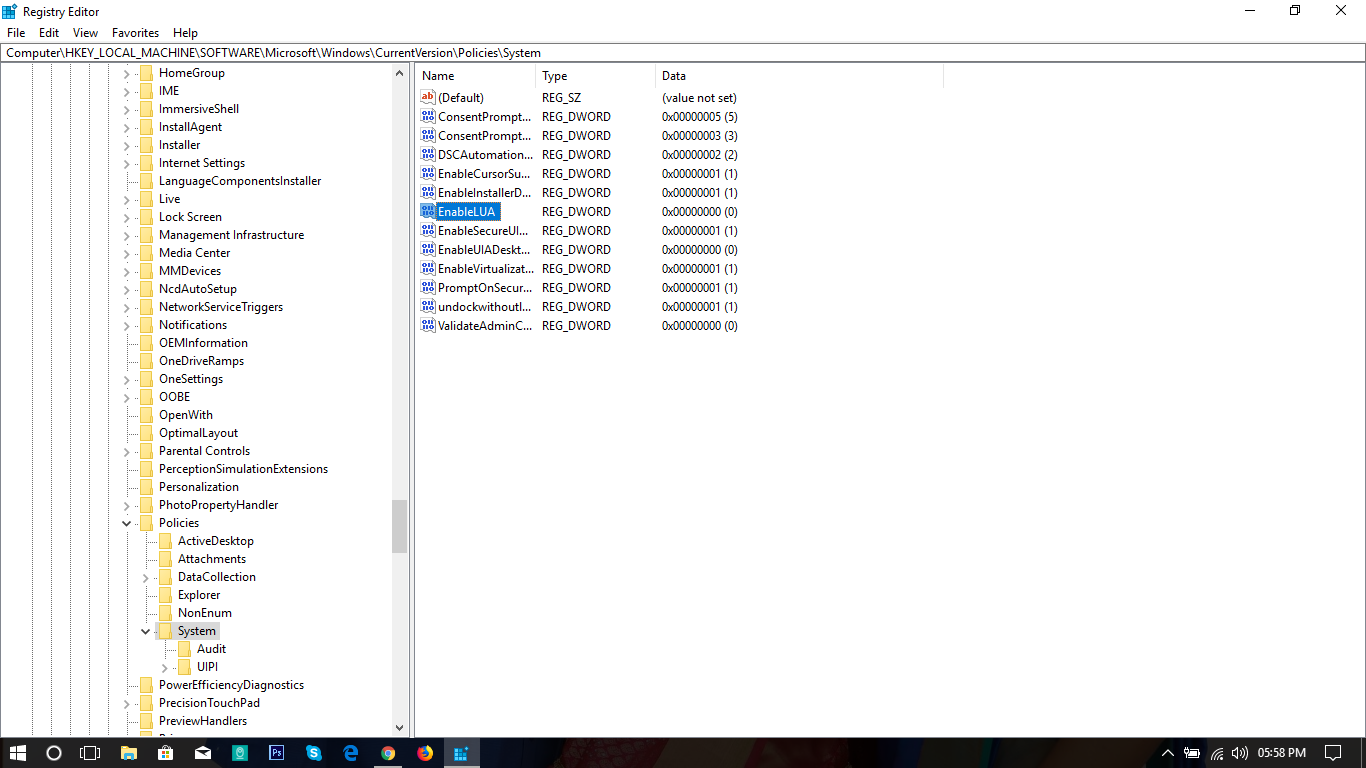 Step 10: Now, a small window will open with the value of that item. You may see it by default; the Value data set is 1. You need to change it to 0 and do not change any other value (keep base as Hexadecimal)
Step 11: Now click, Ok. It is now updated. Now please restart your PC. After that, try on Photoshop and see whether the drag and drop photoshop option is working or not.
This was the simple and working fix for the Photoshop drag and drop not working issue on most Windows PC. Unfortunately, as the software gets updated, the fix may not work on some newer versions, and we will find a way to fix them too.
We hope the issue is now fixed for you. Please let us know if you still face any problems in the comment section below. If it is working fine, then you can start editing with some good textures and presets on photoshop.
How to Fix the Photoshop Drag and Drop Problem without Registry Edit?
If you think the system registry edit is tricky and too much to do, you can also do a straightforward step.
Step 1: Open the control panel of your Windows machine.
Step 2: From the Control Panel, go to the Action Center.
Step 3: Change the User Control Settings from the Action Center.
Step 4: Move the slider and change the value to the lowest available, showing Never Notify then.
Step 5: Done. Restart the computer and launch the Photoshop application to check whether the issue is resolved.
This solution is a quick fix and might not work for all PCs. If it is not working, it is recommended to try the registry mentioned above and edit the solution.
Is these Steps Fix Photoshop Drag and Drop Issue on Mac?
Unfortunately, the tricks mentioned above only work on Windows machines. The steps to fix the Fix Photoshop issue are the same for Windows 10 and 11. However, you can't use it to fix Photoshop Issues on Mac. Being a completely different operating system, the file system and types are entirely different in the case of Mac.
Can't Drag Photos into Photoshop CS6
Since the Photoshop files system is identical in almost all versions, you can use the same fix to solve the drag photos issue on Photoshop CS6.
Why does Photoshop wont open Image Files While Dragging by working from the menu ?
This is the same drag and drop issue with the Photoshop application. Since the drag and drop need a special registry update, the option may sometimes not work. But the file open from the menu might work without any issue. So until the Photoshop drag issue gets fixed, you can use the open file option to open Photoshop images.
Does this Photoshop Fix for Drag and Drop Work for the Latest Photoshop CC version
This solution mentioned above should work for all the versions. We have checked with our readers regarding the same, and we can see that the fix works for Photoshop CC 18, Photoshop CC 20, etc. So, in short, it will work on all the versions.
Does Administrator Privilege is Needed to RUN the Program
You can try the same with and without the administrator privilege. You can use it if everything is working fine without the admin privilege. In rare cases, the issue might not get resolved without administrator privilege. In such a scenario, you can try again with admin privilege.
Is it Safe to EnableLUA on Windows For this Issue?
EnableLUA is a security control that gives users a Limited User Account privilege. In that stage, the system will show additional popups and dialogs before you install any software so that the system can notify you about the action. The notification won't always be shown once the LUA is set to zero.
It doesn't mean that this action will make your system vulnerable or your system will get affected. It only hides the notification popup which appears during each software installation. If you are using a good antivirus and not going to install third-party cracked software on your PC, there won't be any serious issues regarding this.
Conversely, some professionals recommend not disabling the LUA due to this issue. But it is subjective, and you will not install untrusted software from any third-party website, no problem. However, always ensure everything is safe and trustworthy before installing any new software on the PC.
Does it work for Portable Photoshop Version?
Portable Photoshop is not an official legal software; hence we never recommend the same. However, since portable Photoshop is also based on the original software, it should work technically, and the Photoshop won't open issues should be fixed. Still, it is not 100% guaranteed, and we never recommend portable Photoshop.
Does this Photoshop Drag and Drop Issue Fix Work on Windows 11?
Yes, the fix mentioned above for the photoshop drag and drop will work for Windows 11 too. Since the registry tools used in all the Windows versions are almost the same, the same solution will work on Windows 11, Windows 10, Windows 8, etc.