Some people may find that, Drag and Drop in Photoshop is not Working once they start editing files. We are also getting emails from our readers saying that photoshop won't let me drag and drop, forcing them to open a new image using the Photoshop menu option.
For this issue, you don't have to reinstall your photoshop. By doing a small change in the system registry file, we can fix it. The issue was there for a long time, and you can see even in the photoshop's official websites feedback section a large number of users are asking the solution for the drag and drop issue in photoshop.
Fix Photoshop Drag and Drop Issue
So please do the following steps to fix drag and drop issues in photoshop.
Step 1: Goto your search section on the Windows and type regedit. You will see regedit Run command item. Click on it.
Step 2: In the Regedit window, double click on HKEY_LOCAL_MACHINE
Step 3: Then, double click on SOFTWARE.
Step 4: Then you will see a big list, find MICROSOFT and double click on that.
Step 5: Then find WINDOWS and double click to open it.
(Also see: SMS Organizer From Microsoft – The Best Application to Filter SMS)
Step 6: Then double click on CurrentVersion.
Step 7: Then find Policies and double click on that.
Step 8: Then double click on System
(Also see: Yi Home Camera – Best Affordable Home Monitoring IP Camera)
Step 9: Now, you reached the main menu area. Look into the items available in the right side portion.
From that, you will see an item named EnableLUA. Double click on that.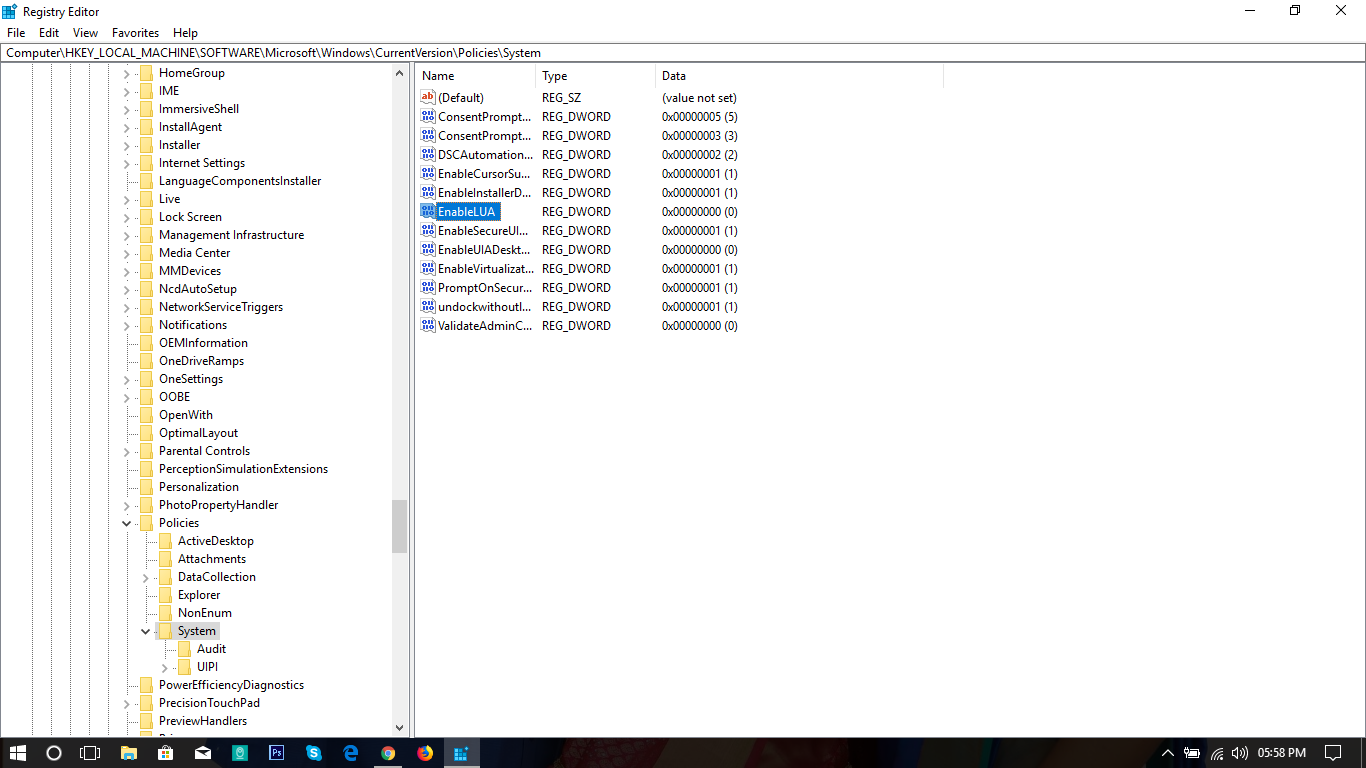 Step 10: Now, a small window will open with the value of that item. You may see it by default; the Value data set is 1. You need to change it to 0 and do not change any other value (keep base as Hexadecimal)
Step 11: Now click, Ok. It is now updated. Now please restart your PC. After that, try on Photoshop and see whether the drag and drop photoshop option is working or not.
I hope the issue is now fixed for you. Please let us know if you still face any problems in the comment section below. If it is working fine, then you can start editing with some good textures and presets on photoshop.
Is this Steps Fix Photoshop Drag and Drop Issue on Mac?
Unfortunately, the tricks mentioned above only work on Windows machines. The steps to fix the Fix Photoshop issue are the same for Windows 10 and Windows 11. However, you can't use it for Fixing Photoshop Issues on Mac. Being a completely different operating system, the file system and types are entirely different in the case of Mac.
Can't Drag Photos into Photoshop cs6
Since the Photoshop files system is identical in almost all the versions, you can use the same fix to solve the drag photos issue on Photoshop CS6 also.