Digital devices like computers, tablets, and smartphones have irreplaceable significance in our everyday lives. We use these devices for a list of purposes, including working, studying, shopping, communication, entertainment, among several others. But since we use these devices excessively, taking good care of them and ensuring that they are free from harmful files like viruses or malware is also our responsibility.
Along with protection against unwanted files, data thefts, and attacks, the optimum performance of your computer is also essential for the interruption-free and continuous functioning of your device. We know you might be thinking. These steps require time, effort, and money to keep your computer working in its best condition. Through this article, we will introduce you to an all-inclusive tool that will perform all the required functions to keep your computer working at its best.
What is Advanced SystemCare?
Advanced SystemCare is a PC optimization, performance booster, and protection software developed by IObit. This tool has many advanced features that will work simultaneously to keep your device protected from viruses, malware, spyware, phishing attacks, cryptocurrency mining scams, and more. Advanced SystemCare also has several helpful features that clean and speed up your computer to work at higher speeds.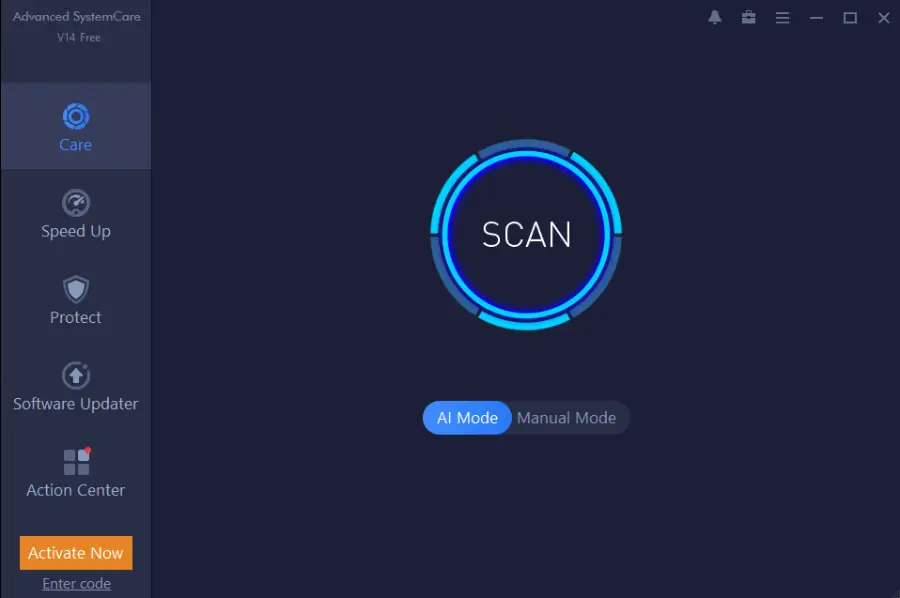 With tools like Smart RAM, Internet Booster, Win Fix, Large File Finder, Disk Cleaner, Registry Cleaner, File Shredder, Undelete, FaceID, and DNS Protector, your device will be free from unwanted files, logs, caches, and more. Advanced SystemCare will work proactively to protect your privacy and security to ensure that your precious data never falls into the wrong hands. This best PC cleaning software also has a Junk File Clean tool that will remove unwanted files on your device, whereas the Privacy Sweep will remove any traceable data related to you.
Importance of PC Cleaning and Privacy
Now that we have shared with you what Advanced SystemCare is, it's critical to understand why you need this tool to safeguard your computer. Here are the top reasons you need a reliable PC cleaning tool.
Devices carrying your financial transactions require protection against cyber-attacks and data thefts. Frequent cleanups will guard your money and financial data against theft or hacking.
Viruses, malware, and other unwanted programs on your computer will slow down your performance. It can include faster battery draining, slow program loading, and spam pop-ups.
When you get strong antivirus protection on your device, all the data on your computer remains protected from hackers and cyber thieves. It will prevent the stealing of your personal data.
Regular PC cleanups will also allow you to detect and delete any unwanted files or programs on your device. You can also put an effective transmission of these from your device to others.
A powerful antivirus will build firewall protection for all the data on your computer. With protection against phishing attacks, your social accounts stay safe from the malicious hands of hackers.
Features of Advanced SystemCare
After reading the importance of a good PC cleanup and security tool, you will understand why you need a powerful antivirus. Below are the top features of Advanced SystemCare that prove why it is the best system cleaning software, and you should get it for the optimum performance of your computer.
Advanced SystemCare has an AI Mode to clean and speed up PC: The Advanced SystemCare will intelligently clean your computer of junk, caches, unwanted logs, and other unwanted files on your system. This tool will also identify any issues on your device and fix them, boosting your speed and performance.
Get a more intuitive interactive experience with the new UI: The latest version of this best PC cleaning software offers you an interactive experience, thanks to the new UI. It showcases easily identifiable features that are simple and quick to navigate.
Advanced Software Health updates programs with just one click: This comprehensive PC protection and optimization tool has a Software Updater feature that updates the outdated programs on your device with a single click. Now save time while enjoying updated apps with Advanced SystemCare.
Detect and enable the antivirus and firewall status for a safer device: Advanced SystemCare will automatically detect the status of the antivirus and firewall on your device and activate them for you. Advanced SystemCare also has added support for Microsoft Edge (Chromium) for increased protection.
Detect and enable the antivirus and firewall status for a safer device: Advanced SystemCare will automatically detect the status of the antivirus and firewall on your device and activate them for you. Advanced SystemCare also has added support for Microsoft Edge (Chromium) for increased protection.
Performance Monitor tool lets you monitor everything in real-time: The Performance Monitor will closely observe the RAM and disk usage, along with device temperature and fan speed, to determine which programs and processes to shut down for faster performance, making it the best system cleaning software.
Faster program launch and response with the optimized algorithm: Advanced SystemCare has optimized launching and scanning algorithms that enable quicker opening and response from apps and programs. Also, this multitasking tool is available in 37 localized languages.
Detect and fix disk errors with only one click with Disk Check: The Advanced SystemCare will allow you to identify and restore any errors in your disk. With a single click, find and fix any errors on the disks of your device with the Disk Check feature.
Clean up your computer to recover disk space and privacy of data: With advanced features like Enhanced Junk File Clean, you can get rid of every junk file from your device. The Privacy Sweep will help you maintain the privacy and security of your sensitive data.
The new Registry Clean will clean up 10% more invalid entries: The new and improved Registry Clean tool will efficiently remove all the invalid entries from your device. It will help your device perform at high speed with the enhanced cleanup that gets rid of 10% more unwanted entries.
Difference Between Advanced SystemCare Free and Pro
Advanced SystemCare, the best system cleaning software, is available in two different versions. You can choose between Advanced SystemCare Free or Advanced SystemCare Pro. But to determine which model is more suitable for your device, we will compare the two plan options below.
The Advanced SystemCare Pro offers a 300 percent faster internet connectivity and speed than the basic free version.
The performance speed for your device will boost up to 200 percent with the Advanced SystemCare Pro, while it remains the same for Advanced SystemCare Free.
With Advanced SystemCare Pro, you can perform a thorough PC cleanup to get rid of trackable and unwanted files, another option lacking in the free version.
Advanced SystemCare Pro will offer you complete protection and privacy on your device, safeguarding you against multiple threats.
Lastly, the Advanced SystemCare Pro will offer you premium technical support enabling you to reach out to experts to address your queries and concerns.
Pricing of Advanced SystemCare Pro
Now that we have discussed the features of Advanced SystemCare from IObit, it is time to go over the price of this best PC cleaning software.
The basic version of Advanced SystemCare is available without paying any cost. The Advanced SystemCare Pro, on the other hand, offers two different plans. Anyone can avail of this plan of one or three devices, depending on their preferences. The single-device plan will cost you $16.77 per year, and the three-device option is available at $19.99 annually. After buying any priced versions, you get a 60-day money-back guarantee if you aren't satisfied with your purchase.
System Requirements and Installation of Advanced SystemCare
You can install the Advanced SystemCare on any computer or laptop running on the Windows Vista, XP, 7, 8, 10, and 11 operating systems. The application will require a tiny disk space of 48 MB. The installation process is straightforward and requires almost no time to get started on this comprehensive PC protection and performance optimization tool.
Conclusion
We hope this article helped you find a comprehensive tool that will clean your computer of viruses, malware, and other harmful files. Advanced SystemCare also has multiple features that will help boost the performance of your device while keeping the hardware and software components running in their best condition.
If you are looking for inclusive software to address all the issues related to your computer, then the Advanced SystemCare from IObit is the perfect solution for your needs. This tool is loaded with exceptional features and is available in two variants, one for free and a priced one. Depending on your requirements and budget, you can choose any of these plan options. Irrespective of which version you pick, you can assure that you select the complete protection for your device.