Are you getting worried about the risks of losing your database's privacy or the slow data speed of your internet system and looking for an accessible way to get rid of this problem? If so, you must go with the VPN services to remove all the threats to your system. However, when it comes to VPN deals, the first thing to consider is whether it protects privacy, is secure to use, or is cost-effective.
If you are also searching for VPN services with these considerations, we suggest you go with AtlasVPN. The AtlasVPN will undoubtedly secure the database privacy of your networks and boost the internet speed; plus, it saves your money as it is a very cost-effective software. And the best thing is you can regularly use the Atlas VPN services on the computer or mobile phone without losing speed, so now enjoy high-speed data without facing the trouble of decreasing data speed.
For further information, continue reading this review of AtlasVPN to explore more about it. Here you will get to know all about the Atlas VPN software, including its overview, features, and pricing; plus, we will also let you know how to download it. So, let's take a look at this review.
VPN Overview
The full name of VPN is a Virtual Private Network that mainly represents the prospect of establishing a shielded network link when utilizing public networks. VPN software makes it difficult for others to track the online activities of the user by encrypting the online networks, plus it protects the data from stealing.
Furthermore, it rescues you from general Wi-Fi dangers, snooping, and intrusive tracking and obscures your IP address (internet protocol address). In addition, the VPN helps to combat censorship, so accessing ordinary services or apps becomes easy with a VPN service. Plus. VPN makes browsing private by restricting tracking and stopping other networks from monitoring your moves.
In addition, it protects you from unsafe websites, packet sniffing, the dangers of free Wi-Fi, and other related online threats. Moreover, VPN encryption will let you enjoy access to anything on online networks safely.
Overview of Atlas VPN
The Atlas VPN is an incredible software to aid VPN services in the most accessible ways to every user. The Atlas VPN is well-known software in the list of the fastest VPNs trading on demand. It was first launched in the year 2020, in January. The ultimate aim of AtlasVPN is to provide positively secure services with the intent to assemble safe and unrestricted internet access for every user.
Consequently, this VPN service will protect users' privacy with incognito browsing and provide powerful encryption to protect the data from cyberpunks. In addition, the AtlasVPN software lets you securely link to available Wi-Fi in your range. Therefore, you can pick AtlasVPN to use as a shield against menaces online, plus it will work as a bridge for you to access colossal internet borders without any restrictions.
Moreover, with AtlasVPN, you can enjoy web browsing without any interruptions. So why wait? Let's get amazing VPN deals with atlas VPN and begin with available free trial recommendations.
Features of Atlas VPN
Atlas VPN delivers a complete safety and security package with many privacy benefits and features. The most significant features of Atlas VPN include private DNS, data tunneling, Kill Switch, a tracker blocker, advanced encryption, wire guard protocol, and many more. However, to inform you about Altas VPN's features in detail, we have prepared a list of a few. So let's continue to read to explore the features of this fantastic VPN software.
Block Unwanted Ads And Malware
None of us like the disturbance created by unwanted ads during web scrolling or browsing. So now you can avoid such issues with this AtlasVPN as it blocks ads and websites that host offensive content like malware, phishing, and virus-distributing sites. So now, with this AtlasVPN software, say goodbye to bothersome pop-ups, flags, and other online publicity and concentrate on such content that counts to you.
Wireguard VPN Protocol
A VPN protocol is a must for an ideal VPN because it makes a protected connection between the gadget and VPN servers, secreting your moves from snooping eyes on online networks. Atlas VPN uses a top-class WireGuard protocol that guarantees fast and secured gaming, streaming content from different locations, and all-around browsing experience.
Tracker Blocker
The Atlas VPN encloses an outstanding feature known as Tracker Blocker that helps prevent mediator trackers from collecting insights and information regarding your online moves. In addition, with the help of this tracker blocker, you can discover which partaker is tracking you. Tracker Blocker itemizes third-party stalkers you steer into on the net to inform you about the person tracking you.
Split Tunneling
The Atlas VPN holds a stunning split tunneling feature making this software more effective and valuable. This split tunneling feature allows the users to send a stake of their internet traffic via an encrypted VPN underpass while the other traffic transits outside VPN. Moreover, split tunneling enables you to protect essential data without forfeiting credentials to local services and networks.
Private DNS
Atlas VPN features private DNS and has its secluded internet oration book. So now, with this Atlas VPN, the users can visit all their most likely websites without fretting about someone recording their queries.
Pricing Of Atlas VPN
If you just made up your mind to switch on the Atlas VPN, then there must be something that you are still curious to know about. Yes! You guessed it right. We are talking about the pricing and its subscriptions. Don't sweat out! We are here to inform you everything about it.
First, we will let you know what you will get by subscribing to Atlas VPN. Atlas VPN subscription provides you access to all the server locations available. Furthermore, it offers different server types for its users looking to raise their security more and more and increase their streaming quality.
In addition, it provides numerous other attributes and possibilities to browse the internet comfortably and enables you to access all its premium services on several devices with one subscription. Besides, Atlas VPN subscription provides its users with 24/7 live chat support, so you can contact them anytime if you have trouble using it.
Well, let's get back on track! You are now very much aware of what benefits you can get with just one subscription to Atlas VPN. Now explore the pricing of the Atlas VPN premium subscription and let yourself decide if it is worth it or not. We will describe the pricing information for the premium subscription of Atlas VPN, so you can easily find all of our deals and pick the best one according to your preference.
The premium subscription service of Atlas VPN costs between 10.99 USD for a monthly subscription and charges 71.49 USD for a three-year subscription. To get full access to all Atlas VPN features, pick up a plan you are comfortable with. Have a look below!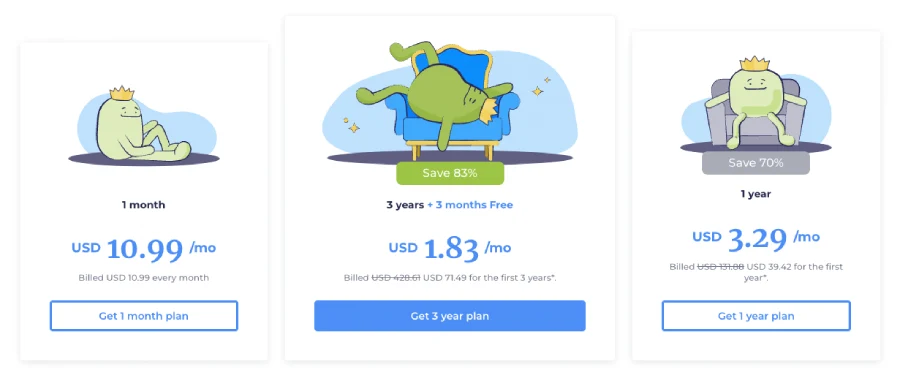 1-month subscription – 10.99 USD/month
You have to pay 10.99 USD monthly to get the premium subscription.
1 Year Subscription – 3.29 USD/mo
Pay 39.42 USD for the first year to get the subscription and save up to 70%.
3 Years Subscription – 1.83 USD/mo
Pay 71.49 USD for the first three years, get three months free, and save up to 83%.
Moreover, if you still have doubts about the Atlas VPN subscription, you can try out the accessible version of Atlas VPN to come up with your experience of whether it is worth it. You can do so just by clicking on the Atlas VPN application from this website and quickly connecting to one of the available locations.
Download (Platform)
You don't have to go through a complicated procedure to get all the fantastic benefits of Atlas VPN. You only have three hassle-free steps to set up the Atlas VPN on Android.
Download And Install
Download the Atlas VPN on your device, then install it. Once you install it, you can use the free Android version provided by VPN.
Connect And Relish
Open the Atlas VPN app on your device and pick the preferable or click on the Power button that appears on the screen to select the optimal server. Now you are ready to relish a safe and open internet without interrupting your usual speed.
Upgrade Anytime
You can upgrade your Atlas VPN services by signing up for the VPN's premium subscription whenever possible. By getting a subscription, you can catch more than 750 servers. Also, you will be able to boost performance even more by getting a membership in the Atlas VPN premium family.
Conclusion
Moreover, Atlas VPN is known as one of the most satisfactory VPN services vending in the software market. The services of this VPN are fast and efficient, plus it does not bother users with irrelevant promos or ads. Moreover, the premium version of this software is relatively affordable and has impressive features.
In addition, the Atlas VPN lets you stream various platforms like BBC iPlayer, Hulu, US Netflix, and many streaming courtesies. Plus, this fantastic software keeps its speeds fast in all areas, providing the best networks for streaming and scrolling. So if you need an extra coating of security to your database, we recommend you use this risk-free Atlas VPN software to ensure your privacy and safety.
Atlas VPN Black Friday Deal
In 2022, Black Friday and the Cyber Sale, Atlas VPN is offering a whopping 85% discount with 6 months of free VPN for all new users. So, it is the right time for a good VPN connection. With Atlas VPN Cyber Sale, you get a considerable discount with the Atlas VPN Black Friday deal.
With the 85% discount and the 6 months free offer, you need to pay only $1.64 per month to get the Atlas VPN. Since the discount is applicable for the 2 year pack, the total amount that needs to be paid is $49.19, making it $1.64 per month for the whole 24+6 months. So, get the Atlas VPN Black Friday Deal before it gets expires.
Atlas VPN black Friday and cyber sale deals will be available till 31st December 2022.