What is a ROXi? The name might be new; it might not be the case for the rest. However, today we will see ROXi and what that offers in detail. ROXi is a British music streaming service that uniquely provides music services with feature-rich options. ROXi, free with ads, provides access to music videos, albums, personal songs, concerts, and music games. In addition, the company is offering one million ROXi karaoke microphones for free to customers of the new ROXi TV music app, rewarding the company's transition to Freemium.
Unlike other music streaming services like Spotify Apple Music, ROXi offers something more. You not only enjoy music with ROXi. On the other side, it provides an interactive experience in music. For example, you can sing the song by selecting your favorite Karaoke using the ROXi app and the ROXi Mic that the company is offering.
The Key Features Of ROXi
ROXi Standard and Premium are the two plans the company offers to its users. The standard plan is free forever, whereas the premium plan provides the service without ads and limits. First, let's see about some features.
Stream Music Videos
ROXi is licensed by significant music rights holders Sony Music Entertainment, Universal Music Group, and Warner Music Group, and MERLIN offers a list of 55 million songs to stream on ROXi. The music catalog is updated weekly with new releases from music rights holders.
Karaoke
Roxy has over 60,000 concert-style singles. Roxy's Sing With The Stars Singalong feature provides original artist recordings with on-screen scrolling lyrics. Roxy also features classic concert tracks that do not have a leading voice. The wireless controller of the ROXi music system has a built-in microphone for karaoke singalong.
Music Game
Interactive Name That Song game covers various genres. Games Category is the name of the song. You highlight it because it's not the best game, but it's the only one you can find. The concept behind the game is straightforward. First, choose a title that you feel is listening to and playing a song – you will lose one in three if you make a mistake. Name That Song has a wide range to choose from, meaning you can select the style of music you enjoy the most and test your knowledge or challenge yourself to the lesser-known.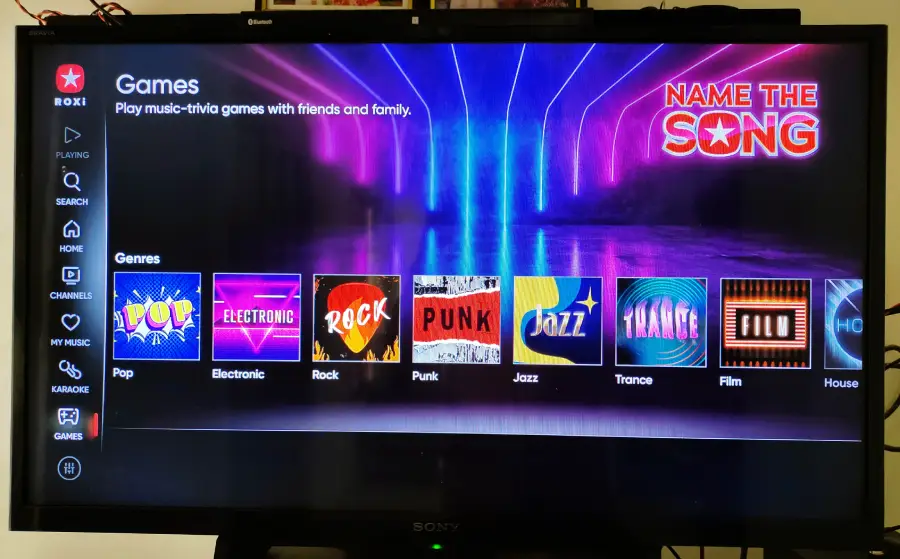 It can be hard to tell which album you choose because all four pictures will flash when you play the game, leading to silly mistakes. However, this is an easy and fun party game, and by adding a scoreboard show, you quickly challenge friends and family to claim the top spot in your account.
Exclusive Music Channels
One of ROXi's most prominent sales outlets is its built-in karaoke service. The app allows you to search and sing with ROXi Karaoke Mice from an extensive list of 140,000 songs and listen to many extensive music channels.
ROXi Music Console
The ROXi music system is a console or set-top box that connects to a TV via HDMI and receives its data (audio and visual music streams) from an Internet router over a Wi-Fi or Ethernet connection. The ROXi streaming device has a Wiki-style gesture-based wireless controller with voice commands and a built-in microphone for voice search and singing Karaoke. The ROXi music system plays through the TV but can be connected to the soundbar, sound base, home theater system, or any other speaker via a 3.5mm auxiliary or Bluetooth. Data is output to the TV via the HDMI connector.
ROXi Karaoke Mic
ROXi Karaoke Mic is the major highlight of the ROXi Service, in which you can plan any Karaoke from your ROXi App on your TV and sing the song aloud using the ROXi Karaoke Mic. It makes the ROXi super interactive, especially for Music lovers. The mic cost £29.99.
However, ROXi is offering the Mic for free for limited users. You can sign up to claim your free Mic. However, a minor shipping charge will be applicable, only £1. You also get offered the opportunity to purchase an additional microphone or upgrade to express delivery. In these cases, they may be an extra, optional fee.
Using the ROXi Karaoke Mic is fun too. Since it doesn't need any complicated pairing and connection. The standalone feature makes the device entirely usable for any age person. On the other side, you can use the mic as a standalone mic for small announcements, which means you can also use the same for another purpose. While operating with the ROXi app on your TV, you need to select any Karaoke as per your choice and use the mic to sing along. ROXi App on your TV will show the song's lyrics accordingly, making it easy to sing along. The pause and stops during the songs are also indicated correctly, which help you sing without affecting the mood.
How To Claim A Free Karaoke Mic
As mentioned above, the ROXi set gives the real concert apart from other music apps and makes the service look like a real concert. You can get the microphone free with the ROXi subscription until the stocks run out. The Mic is wireless and has a built-in amplifier and speaker, so it does not need to be paired with your TV or another smart device. This also means using multiple mics simultaneously for duets or group performances.
They will cost you £29.99 in addition to the pop (£14.99 if you buy them with a trial), and for various reasons, they will not consider that amount worth it. It is not the most powerful microphone. You have to speak straight up because you are relatively quiet to get any natural effect. You keep the TV volume at a balanced level, there will be enough noise to use the Mic, but increase the volume, and there is a risk of the backing track sinking.
For this reason, you do not recommend Mic to do anything as loud as a party. However, it is perfect for a chill concert session with your family at home. The Mic has a built-in echo effect and a small slider to adjust it. You can hear it ten times when it's strong, and the Mic does not work when it is weak. I recommend setting it to around 25%.
The battery in the Mic comes with a micro USB charger in the box for up to 2.5 hours, so do not expect it to last all night. Overall, the ROXi karaoke mic is newer than the practical addition to ROXi's concert feature. Using it as a prop is fun, and you enjoyed the confusion with the echo, but do not expect it to receive your voice in a crowded room or stick with you all night.
ROXi Standard Plan
ROXi Standard Plan is free forever, and you can signup now without any commitment. You will get all the essential features like Unlimited Music videos, Music Karaoke, Music channels in the free plan. The main limitation of the free plan is that it comes with TV ads. If you wish to remove the ads, you can choose the Premium Plan.
ROXi Premium Plan
ROXi is available on Sky Q for free or as a premium subscription. You can find ROXi in the Music section of your Apps. After you add your details and complete your sign-up, you will receive an email to complete your account and generate your password. Once you have completed the initial sign-up, Roxy will be immediately available in your box.
You can sign in to 4 additional boxes. After that, you can sign up for a premium membership. If you upgrade to a premium subscription, you may need to restart the ROXi app to activate it. Then, manage memberships to change your card details or cancel your membership. You can cancel the membership at any time if you want, and in that case, it will continue until your current billing period expires. Likewise, your access to the ROXi features will continue until your subscription expires.
Roxy Premium Plan: They offer the ROXi Premium Plan, which includes all content and features without any restrictions with a monthly fee. If you use this service, you may cancel at any time, which will then reimburse you for the free ROXi Standard Plan.
Console Music Service Plans: Whether you purchase or activate the console, you will find that it comes with a one-year premium music pass that provides ad-free access to all the critical features of the premium plan without ads. Eligibility starts from the Music Pass's date is activated in the Music Service.
Platform Support Of ROXi
ROXi Premium is the cheapest way to get Karaoke and a microphone in your living room. Unfortunately, the Mic is not particularly powerful and limited game selection. Still, there is an extensive list of songs and music videos, and with over 140,000 concert tracks to sing along to, you will find the tune you like.
Hundreds of TV channels will receive 1 million TV commercials and over 500 million TV commercials by launching ROXi's new Music TV app. In addition, ROXi offers the ROXi console and microphone controller that works on any TV to ensure that customers with older TVs can still enjoy the service.
The TV music app has been launched on set-top boxes including Sky Q, Fire TV, Android TV, and Google TV compatible Sony Bravia, Panasonic, Philips, Toshiba TCL, HI Sense, Shield smart TVs, Samsung TVs, and more. You can Get the ROXi app on your TV today and enjoy music videos, concerts, and games for free. It exists feature of Sing Now. You can readily see ROXi is an excellent all-in-one box device for those who love streaming music. Its easy setup and intuitive user interface make it easy for people of all ages.
How To Access ROXi From TV
There are two systems to access ROXi. If your TV supports the ROXi app, you can download it from the App Store in the case of Fire TV and Play Store for Android TV. If you do not have a compatible TV, you should select the ROXi Music Console. Once the app is installed, it is straightforward to navigate.
The interface is dark, with headers on every tab, album, and playlist. On the left are tabs like Playing, Search, Home, Channels, My Music, Karaoke, and Games. Most things like playing, exploring, concerts, and games are self-explanatory. For example, the home offers music videos and channels, but channels contain organized playlists of specific artists and topics.
Meanwhile, My Music is where you can find your playlists and favorite songs. When it comes to navigation, although you have not seen you're using it from all tabs like the Games tab, you have found that it is very intuitive, and everything is easy to find. You add them to the My Music tab or hover them over your remote and add them to a specific playlist by clicking the 'OK' button.
ROXi Premium Multiple Editions: This button also shows you variations of a particular song available in different versions of popular tracks such as Bohemian Rhapsody. You can click OK on the channel to watch all the songs in that playlist.
Roxy Premium Voice Search: Finally, there is the Search tab, which you can use to search for specific songs, albums, and concert tracks. ROXi also offers voice search, so you can use it to find hands-free content. You used voice search with the Fire TV Stick and found that the results were faster and more accurate than typing.
Conclusion
ROXi's music streaming service offers features you may not find from things like Spotify and Apple Music – Karaoke. Although the ROXi karaoke mic is not the most powerful microphone in the market, it supports a massive catalog of concert tracks and a comprehensive selection of songs, music videos, and background channels.
You want the cheapest and easiest way to get thousands of concert tracks on your TV; the app is a way for you to use ROXi to listen to music and watch videos and access more than 140,000 karaoke tracks with a premium subscription. There is also the economic path at the cost of just £6.99 per month. However, for the offerings from ROXi, you are not going to pay more, and hence we can say that it is worth it.