If you're in the market for an e-reader right now, it's nearly guaranteed that you'll be looking at Amazon's Kindle line.
Kindle is a rock-solid e-reader app, especially for anyone who is already involved in the Amazon ecosystem, thanks to features like Send to Kindle and Shelfari integration. This article is all about Kindle and its features you need to know about and it also includes a step-by-step guide for installation.
Kindle Overview: In a Nutshell
Kindle for Android has several visual customization choices, as well as Shelfari integration, a built-in dictionary, and other features. You can utilize the Send to Kindle option to save stuff from the web in a similar way to Instapaper.
Full-text searching, locking, screen orientation, and the ability to edit, delete, and add notes and highlights have all been introduced by Amazon. Kindle for Android is a capable e-reader app with several notable features.
What makes Kindle stand out?
Small details like the ability to display the current time on the page while reading makes Kindle stand out. In the Display settings, you can even select left alignment rather than auto.
A new section called "About This Book" has been added to the app to help you discover more about the book you're now reading. The hamburger menu (three horizontal lines) in the top-left corner must be tapped for access.
The built-in dictionary can be used to look up the definition of words. Long-press a word to bring up a box containing the word's definition.
The Word Wise feature assists readers in swiftly comprehending difficult novels. Short and straightforward descriptions of difficult words and phrases are displayed in this feature. It will be beneficial to a wide range of users, particularly children who are working to improve their reading skills.
The updated Kindle app now features a new search bar at the top. This is accessible from any location within the app.
At the bottom of the app, there is a new navigation bar with a button that allows you to swiftly return to your current book. The one-tap access function displays a symbol for the book you're reading right now.
The navigation bar has buttons for Home, Library, Store, and More.
Two additional themes are included in the app: dark and light. The first makes the app's background black, while the second makes it white. When you open a book, the background remains white to provide a relaxing reading experience.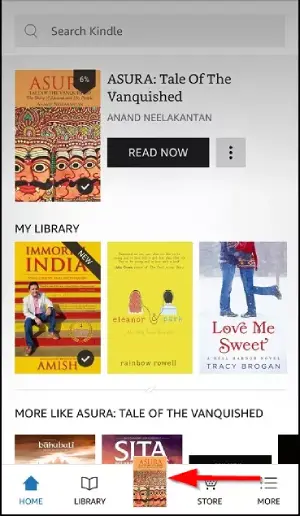 How to download the app on a PC (Windows)?
You can install the PC app version only on Windows 8 or higher. Versions older than Windows 8 have been discontinued.
Step 1: Visit the Amazon site and click on "Add to Cart"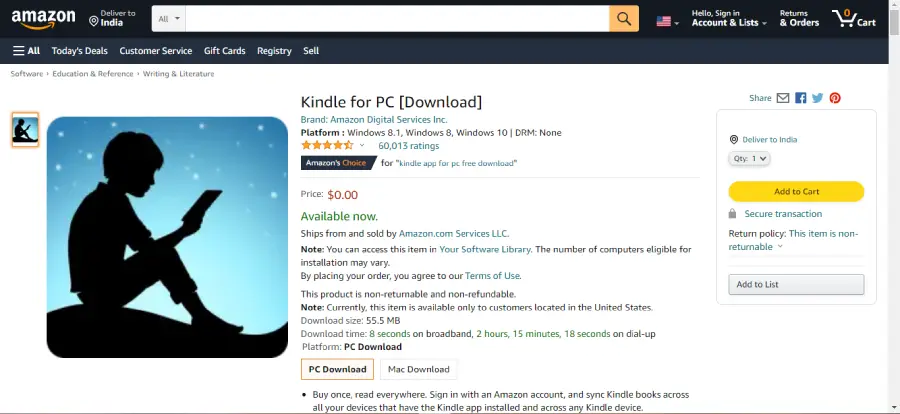 Step 2: Click on "Proceed to Checkout"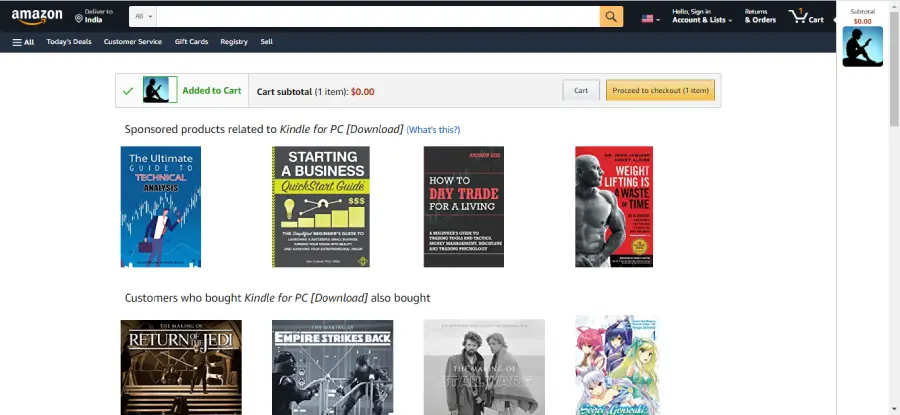 Step 3: On the next page, tap on "Your Digital Items"
Step 4: Select "Kindle for PC" and start your download
Step 5: Kindle PC appears on the desktop or in the Amazon folder's programs list. When you open it, you'll be asked to enter your Amazon account's email address and password.
How to download the app on iPhone/Mac?
For iPhone
Step 1: Open the App Store and search for "Amazon Kindle".
Step 2: Click on "Get" or the Cloud-based icon to start the download.
Step 3: After installation, log in or create an Amazon account and start reading.
As for Mac, you can follow the same process as for Windows. Simply head onto the Kindle for PC webpage and click on "Add to cart". Tap on "Your Digital Items" to start installing. After installation, sign in/sign up with your credentials and start reading.
5 Best Alternatives for Kindle
Following are the 5 best alternatives for Kindle.
1. Google PlayBooks
The ability to read a dictionary both offline and online is useful. Aside from that, you may switch between different themes, sync your books across many devices, and read PDF files. There's also a section dedicated to audiobooks.
2. FBReader
The read mode is activated by default in this ebook app, just like it is in Google Play Books. FBReader's main feature is its large open network of eBooks. You can also use Google Drive to store all of your books. You can download it from any trusted third-party site.
3. Kobo Book Reader
The user interface is simple and uncluttered. The language is easy to read, and the best part is that it can be customized to your liking. The built-in dictionary is the icing on the cake. There are approximately 5 million titles available on this fascinating alternative.
4. Aldiko Book Reader
This software can also be used as a book store, with its selection of free and paid titles. It has basic functions like translate, defines, search, bookmark, and so on. All of these options are visible with just a single tap.
5. KYBook 3(iOS only)
You may import your collection from iCloud Drive onto this Kindle alternative. You can also explore and download public domain content from Project Gutenberg, which is one of its more interesting features.
Conclusion
All in one, Amazon Kindle is a worthy competitor to all its alternatives. It has all the essential features you would look into an e-reader for. Besides, Amazon keeps updating it to make it stand out, so it could be the one you are looking for.
Please let us know your thoughts about the same in the comment section below.