Spending a considerable portion of our time online, we deal with vast amounts of online data. This online data includes documents, files, photos, videos, presentations, and modes of storing information. However, by trading, sharing, and storing massive amounts of personal and financial data every day, we put our privacy at potential risk.
Online data storage is a big concern for the safety of your data. Despite all the technological advancements in the digital world, there is still lacks a reliable solution that protects your data without violating your privacy. Famous cloud storage solutions like Google Drive, DropBox, One Drive get the permission to access your data and even have found to trade them to giant advertising companies.
So what should you do now? Because storing your data on a device presents accessibility and theft issues, online cloud storage services are either not reliable or too expensive. However, if you struggle with the same dilemma, we have the perfect solution for you. In this article, we are introducing Internxt, an encryption-based cloud solution offering maximum data security.
What is Internxt Cloud Storage?
Internxt is a zero-knowledge cloud storage solution that will protect your sensitive and precious data without violating your privacy. Unlike other storage options, Internxt has no access to your data, assuring that it is safe and isolated for however long you prefer. In addition, data encryption ensures that your information stays protected from hackers and data thieves. This intelligent cloud storage comes with powerful features to sync, backup, and share your data.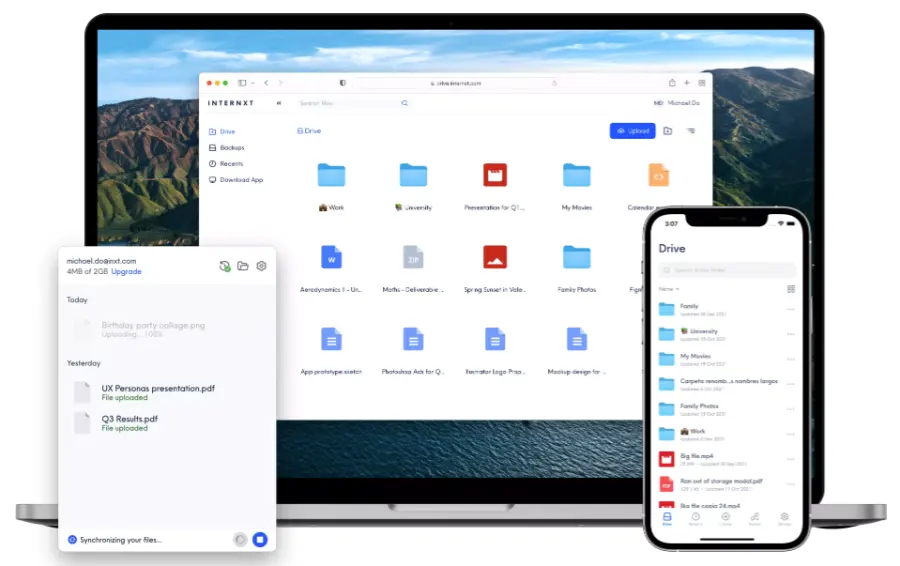 Benefits of using a Safe and Reliable Cloud Storage Solution
But before we dive into the features of Internxt, let us understand the various benefits you can enjoy by using protected cloud storage. Below are the top five advantages you avail when you opt for an encrypted storage solution.
Enhanced accessibility from various devices allows you to access your data from anywhere and anytime.
It is a cost-effective storage solution compared to physical storage options like hard drives, pen drives, etc.
The chances of data loss on the cloud are significantly less with quick and effortless backup creation options.
Avail the freedom to share one or more files with anyone using varied options like email and link sharing.
Ensure the security of your data with military-grade encryption with maximum protection against hackers.
Features of Internxt
We hope you have understood how you can benefit from switching to cloud storage. Now allow us to share why Internxt is the perfect cloud storage service for you. Below are the top features of Internxt that make it a lifesaver for anyone looking for a reliable storage service.
Zero-knowledge technology that prevents anyone from accessing your data
The secure encryption technology breaks down your data into shards and stores them on various servers all over the globe. This technique ensures maximum security against any hackers and data thieves.
Military-grade encryption that breaks down and stores your data securely
The secure encryption technology breaks down your data into shards and stores them on various servers all over the globe. This technique ensures maximum security against any hackers and data thieves that offer Military-grade encryption.
Data accessibility from multiple devices for instant access, anywhere, anytime
Internxt is accessible on various devices, including Windows, Mac, Linux-operating computers, and Android and iOS mobiles. You can access your cloud drive from any corner of the world at any hour.
Internxt Photos designed to keep your precious pictures safe and protected
In addition to the cloud drive, Internxt also offers a dedicated photo storage solution for your needs. Upload all your images from your smartphone and access them anywhere with high privacy and security. Internxt Photos is a newly added feature that you can consider as a Google Photos alternative.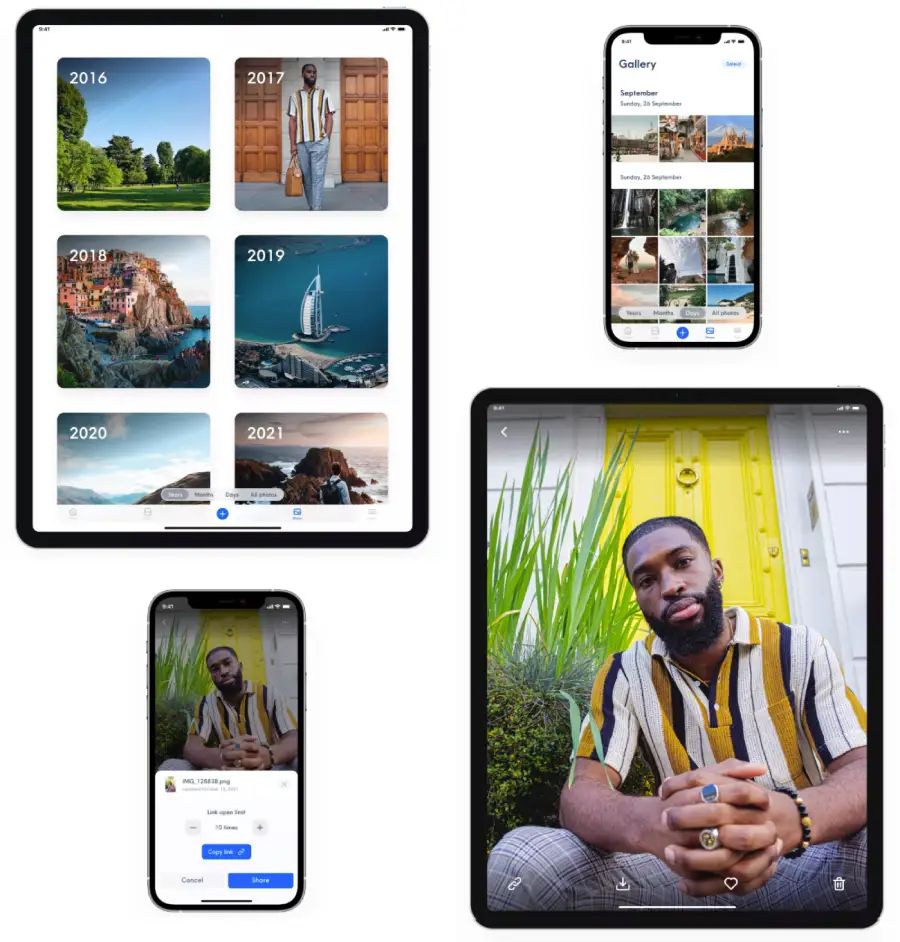 Data sharing is now made easy with secure sharing and limited downloads
With Internxt, you can share your data with anyone without the fear of compromised privacy or data theft. In addition, this service allows you to limit the number of data downloads for all your shared links or files.
Stay systematized with easy organization and filtering tools at your disposal
Internxt allows you to remain organized with their simplified data organization options. For example, create, rename and edit different folders based on file types and perform a search option using filters to save time.
Efficient backup solutions to save your progress and always restore your data
Using Internxt, you can stay assured that your data is will not be lost, thanks to the backup options. Create a backup using a few simple steps and store them anywhere on your drive in your varied folders.
Internxt Pricing
Now that you have understood what Internxt is and the top features of this cloud storage solution, it's time to discuss the pricing of this efficient storage tool. In addition, there are different plan options for individual and business organizations, both of which we will discuss in detail below:
Plans for Individuals
The first option offers you 10 GB of storage space with lifetime access at absolutely no cost.
Opting for a monthly plan, you can get either 20 GB or 200 GB of space at €0.99 and €4.99, respectively.
The annual options are available at €10.68 and €41.88 for the same 20 GB and 200 GB cloud space storage.
Plans for Business Entities
Plans for business organizations are priced based on member usage, starting with a minimum of 2 users and can rise to any number until 200.
The first plan offers 200 GB per user at a monthly cost of €4.99/per user or annually billed at a minimum of €83.76 for two users.
Under the 2 TB storage space per user plan, a monthly subscription will cost you €9.99/per user, or €215.76 for two users annually.
The final plan offering 20 TB per user will cost €95.0/per user, with a minimum billing cost of €2255.76 per annum for two users.
Internxt Coupon Code
TechRounder readers can grab the deal for a 30% discount for a limited time. You can get the Internxt annual plan with a 30% discount using the following coupon code.
Use the coupon code TECHROUNDER at the checkout and get a 30% discount on the annual plan.
Lifetime Deals for Internxt (Not Available)
Please note that the Internxt Lifetime deal is not available now, and new users won't get the deal currently. However, if you grabbed the deal previously, you may continue using the same without any issue. Below are the previously offered lifetime deal, which is not available now.
Under the first option, you will get 1 TB of cloud storage at the cost of €99 for lifetime access.
As per the second option, you can get 5 TB of storage space by paying €299 only.
The final option gives you access to 10 TB of cloud storage space by paying €499 for lifetime access.
Device Support for Using Internxt
Being a multi-platform supporting cloud service, Internxt is available on any device with minimal support requirements. Here is a comprehensive list of devices on which you can download Internxt:
Windows OS-powered computer.
Mac OS-powered computer.
Linus OS-powered computer.
iPhone or iOS operating smartphones.
Android-powered mobile devices.
Android or iOS-based tablets.
Other digital devices with cloud storage support.
Conclusion
Through this article, we have shared everything users need to know about Internxt before they start using this secure and encryption-based cloud storage platform. We hope you have found this information helpful and that we have answered all your pressing questions and concerns about this intelligent cloud storage service. We cover everything from why you need reliable cloud storage to introducing you to this perfect and affordable solution.
Internxt is a safe and reliable cloud storage service that keeps your sensitive and highly confidential data safe from hackers, data thieves, and more. So what more do you want? Download the app on your Windows, Mac, Linux computers, iOS or Android smartphones, or tablets to ensure the best protection for your data, photos, and more with Internxt.