Cloud-to-cloud sync service helps users migrate files from one cloud storage service to another without worrying about running the process manually. To meet the requirements of most users, there are different cloud synchronization methods, such as one-way synchronization, two-way synchronization, etc. With the help of cloud sync services, users can always maintain data consistency in different cloud drives.
What cloud storage services do you use? There are Google Drive, Google Photos, SharePoint, OneDrive, OneDrive for Business, Dropbox, Dropbox Business, Flickr, MEGA, Amazon S3, pCloud, Box, Box for Business, etc., on the market. When using those cloud drives at the same time, you will sync data between each other for various reasons. For example, you might need to sync Dropbox to OneDrive for better collaboration with Office services.
How to Sync from Cloud to Cloud with MultCloud
Having to download data from one cloud drive just to upload them to another storage service manually is a time-wasting and troublesome activity. MultCloud is one of the most reliable and smart cloud sync tools, which is also famous as a cloud-to-cloud management service that allows users to manage and perform cloud-to-cloud sync with multiple cloud storage services in one comprehensive platform. This service has a scheduled feature that allows users to make automatic sync tasks.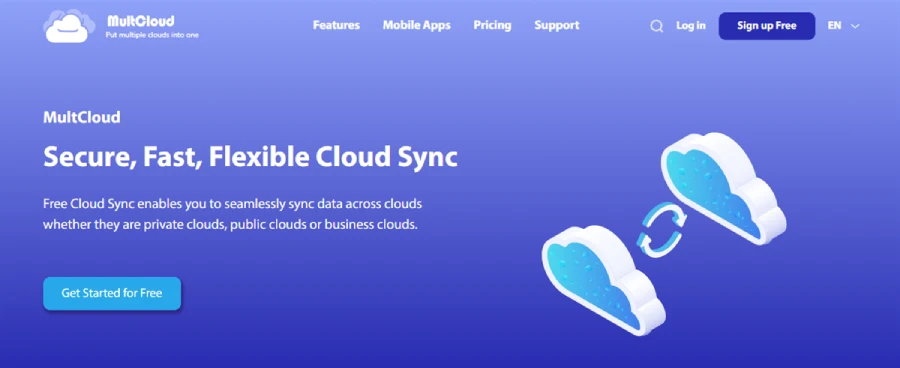 As mentioned, there are 2 kinds of syncing methods, including One-Way sync and Two-Way sync. And we will introduce each one to you respectively.
Cloud-to-Cloud One-Way Sync: means changes in your source cloud drive will lead to changes in your target cloud drive. That's to say; one-way sync will sync any added or updated content in the destination cloud drive.
Cloud-to-Cloud Two-Way Sync: Different from one-way sync, two-way sync will sync whether you update/edit/modify the file in the source or destination cloud drives. In other words, data on both cloud drives will always keep the same.
Thankfully, MultCloud supports two kinds of cloud sync methods, and users can choose the sync method that suits them most. For instance, there is one-way sync like Simple Sync, Mirror Sync, Move Sync, Cumulative Sync, and Update Sync. And there is a two-way sync, such as Real-Time Sync.
Another virtue of this service is that it is free to get started. It doesn't rely on network bandwidth to sync files across clouds. Instead, it consumes data traffic when users sync files across cloud drives. The good thing is that this tool gives users 5GB of free data traffic per month. So, users can use that to sync a small number of files from one cloud to another.
On top of that, if users choose to make automatic sync tasks, they have 4 choices: running at a specific time, daily, weekly, or monthly. After setting, the data can be synced between cloud drives on time.
Now, let's figure out how to use MultCloud to sync Google Photos to Google Drive in detailed steps:
Step 1: If you don't have a MultCloud account, you can sign up for one by your email. Or, you can log in with your Google or Facebook credentials.
Step 2: Navigate to the Add Cloud tab on the left sidebar. Then click on the Google Photos icon to add. Next, perform the same steps to add Google Drive.
Step 3: Press the Cloud Sync tab on the left navigation pane. Then choose Google Photos as the source cloud and Google Drive as the target cloud. Finally, start the task by hitting the Sync Now tab.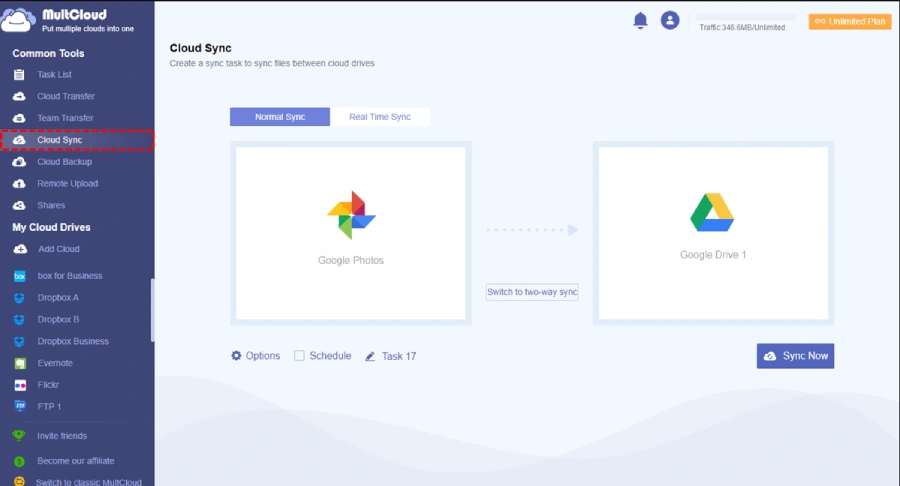 As you can see, the way to sync files from one cloud to another with the help of MultCloud is very simple and easy. In this way, you no longer need to go through a cumbersome download-and-upload process.
Conclusion
That's all about how to easily sync data from one cloud to another. MultCloud is one of the most efficient solutions using an excellent cloud sync service. It not only helps you to combine multiple cloud storage services in one place but also allows you to sync folders across cloud services directly and seamlessly.