The most anticipated Windows 11 is out now, and Microsoft is offering a free upgrade to Windows 11 from Windows 10 for all users. But when we say all users, there is a twist. Even though the Windows 11 upgrade is offered free, Microsoft had put some hardware limitations to the new OS. As a result, many existing Windows 10 laptops and desktops are out of the list and are not offered the free Windows 11 upgrade.
If you are one of the users holding such a device, you can find a message in the Windows update section saying your device is incompatible with the new Windows 11. But no need to worry. We have a simple workaround to let you know the steps to install the official Windows 11 on an unsupported device without any hacking. It is only a simple bypass trick and is 100% safe, and interestingly, you don't even need a bootable USB to Install Windows 11.
Why Windows 11 Update is not available to all devices?
Even though Microsoft is offering the free upgrade, they also put some hardware limits so that some old generation devices are excluded from the upgrade. The hardware limitation, including
A secure Boot enabled device with UEFI
Trusted Platform Module (TPM) 2 is required.
Processor: 64Bit supporting
RAM: 4GB
Here, TPM 2 and secure boot is the most critical requirement which most system fails to satisfy. The most exciting part is that the number of devices excluded is more than the supported devices due to the limitation.
How to Install Windows 11 on Unsupported Windows 10 Devices
The steps to install Windows 11 are straightforward. It doesn't require any programming or technical skill, and hence any casual non-technical user can do it without any help. Also, it is safe since we are using the official ISO to install the same. Since this is the official upgrade process, no data will be deleted from your machine. By following the below steps, you can install Windows 11 on your unsupported Laptop or Desktop.
Before proceeding, make sure that you are on Windows 10 64-bit version so that you can freely upgrade to Windows 11. Unfortunately, Windows 11 only supports 64bit, so upgrading from 32 bit Windows 10 is not possible. In that case, you can install Windows 11 as a fresh copy, and your data might get deleted.
Step 1: Visit Microsoft Windows 10 download page and download the ISO file for Windows 10. Before downloading, make sure to choose the correct language. You should choose the same language version of Windows 10 that you have already installed on your machine.
If you visit the website from a Windows machine, you should note that you might not get the ISO download option. In that case, you can either change the browser's user-agent to ChromeOS, Mac, or Linux OS. If you are not a technical person, you can download the same from your mobile (Android or iOS) or tablet. Then transfer the ISO file to your PC.
Step 2: As did like in the 1st step, Visit Windows 11 download page and download the ISO file of Windows 11. Make sure to download the same language version itself.
Step 3: Now you have both ISO files on your system. Then double click on the Windows 10 ISO file to open it. You can find several files within it. Copy all the files in the folder to a new folder. Just name the folder as you like, say Windows11Install.
Step 4: Now double click Windows 11 ISO file to open it. You can see some files and folders as you saw with Windows 10 folder before. Now within the folder, find a folder named sources. Open it.
Step 5: In the sources folder within Windows 11 ISO, you can find a file named install.wim.
Step 6: Copy the install.wim file and paste it in the sources folder within the newly created Windows11Install folder
So in short, we extracted the Windows 10 ISO file to Windows11Install folder and then replaced the install.wim file in the sources folder with the one from the Windows 11 ISO file.
Step 7: Now close both ISO file and we only need our new Windows11Install folder.
Step 8: From here, we are starting the upgrade. Open the Windows11Install folder and double click on Setup.exe file to start the upgrade.
Step 9: On the Initial screen, you will find an option called Change how Windows Setup downloads updates. Click on it and select Not right now.
We are doing this to disable the update option during the upgrade.
Step 10: Now click Next and then Accept the licence agreement and continue.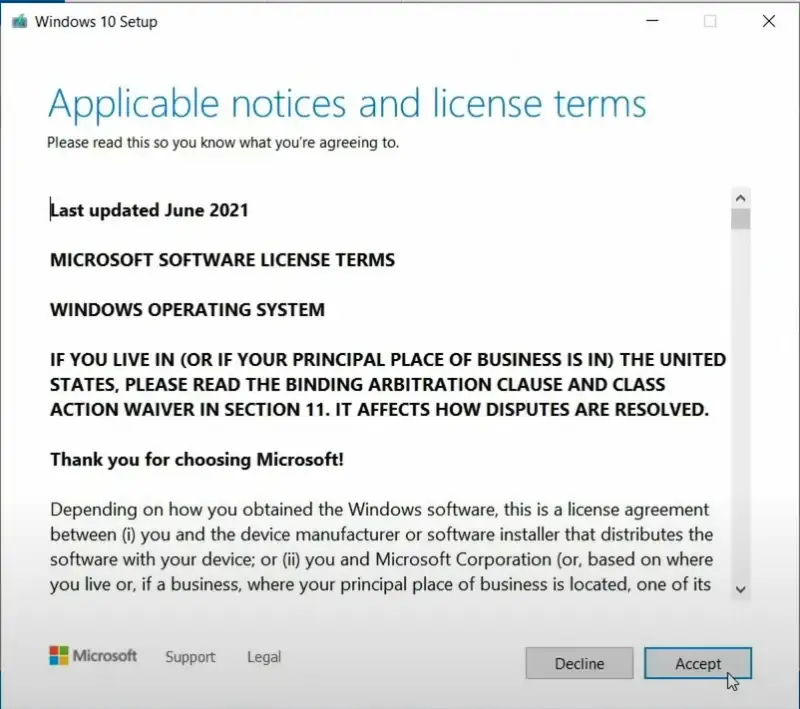 Step 11: Now, you will screen saying Ready to Install, which means everything is fine, and you are about to Install Windows 11 on your system.
Step 12: Finally, click on Install, and there we go. It may take some time to complete the process, and finally, your system will get upgraded to Windows 11.
Please note that, if you choose a different language version of ISO, then you might get another page saying Choose what to keep rather than Ready to Install, so make sure to choose the correct version of the language in Step 1 and 2.
Also, one more thing to be noted, during the upgrade (Step 9 onwards), you will see Windows 10 setup page rather than Windows 11. No need to worry. It was because we used the Windows 10 setup files for the upgrade. We just replaced the Core Windows 11 installation file within Windows 10 folder.
The upgrade can take a few minutes, and your system might restart several times. So please give it some time, and finally, your system will get upgraded to the all-new Windows 11.
Installing Windows 11 on Unsupported device is safe?
There is no issue at all. As you can see, we are not using any third-party tool or service for the upgrade. We downloaded the official ISO files from the Microsoft website and mixed the 10 and 11 files to bypass the system requirement check. No other tools are involved here, and no file alteration was done. So it is 100% safe.
How it possible to Install Windows 11 on Unsupported Devices
Since Windows 10 doesn't have any hardware limitations, we use the Windows 10 setup file to upgrade Windows 11. It will bypass the requirement check and directly forward it to the Windows 11 upgrade.
Do we get updates on the Unsupported Devices
Since we are not using any crack or moded version of the operating system, we will get the updates too. Microsoft is offering the updates, and you can check the same from the system setting.
Why Microsoft is blocking some devices from Windows 11 update?
As per Microsoft, the company is blocking some devices to make sure the performance of the Operating System is excellent. But the fact is that it supports the unsupported device also. So maybe the company is recommending users to buy new higher-end devices. Since most devices are still on the unsupported list, hopefully, they may relax the restriction, and hence more Windows 10 users can install the new Windows 11 on their device in the coming months.