Nowadays, WhatsApp is used as the primary communication for all the means by most of us. As a result, we are getting wanted and unwanted stuff in the same WhatsApp. Since all the chat messages, images, videos, animations, voice messages are saved in the Phone Memory, most users are facing the Out of Storage Issue and Phone Hanging issue. Clearing WhatsApp chat data can save a considerable amount of memory too.
As many users know, WhatsApp introduced a chat data clearing option within the application. Using this feature, you can clear your text messages, videos, images, voice notes from your WhatsApp individually or in bulk for every chat in your account.
(Also see: Find Call Settings Option in Android 6.0 Marshmallow)
Let's check out how to clear WhatsApp Chat Data.
Step 1: Go to the settings page from the WhatsApp menu
Step 2: Click on the Data and storage usage menu
Step 3: Click on the Storage usage menu then
Step 4: After that, it will take some time to load all your chat details. After that, you can see a list of all the personal and group chat you made. Then click on any chat which you want to clear the data.
Step 5: In the next window, you can see all the details regarding that particular chat,
Text Messages
Contacts
Locations
Photos
GIFs
Videos
Audio messages
Documents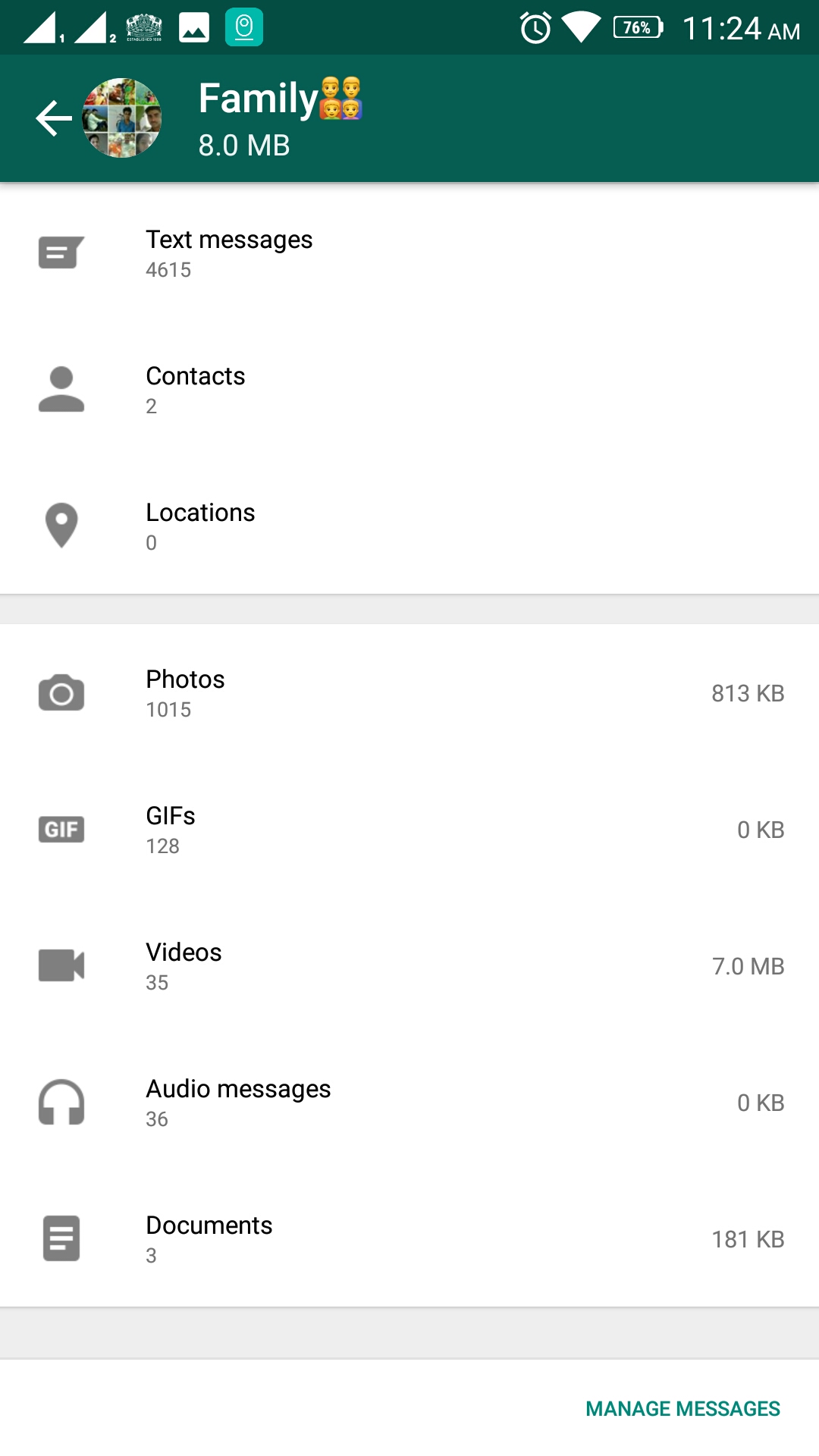 (Also see: How to Install APK File in your Android Mobile)
So here, you can get how many items you have in your phone for that chat, e.g., Text Message 681, which means that you have a total 681 plain text message in that chat.
Also, for Photos, GIFs, Videos, Audio messages, Documents, you can see how much phone memory is consumed for each.
In order to clear data, click on MANAGE MESSAGES option.
Step 6: Now you can see a checkbox appeared to select the item you want to delete. Select the desired options and then click on CLEAR MESSAGES
Now your selected items will be deleted for that particular chat.
Do the same steps for other chats too. The cool feature is excellent to clear off some unwanted group chat messages altogether.