Facebook-owned WhatsApp now started rolling out the animated stickers option to its users. The company currently implemented the WhatsApp animations feature as a part of the beta testing and will soon roll out to public users.
Last time WhatsApp came up with one of the most significant feature updates, the WhatsApp Stickers, the popular stickers feature the WhatsApp Animated Stickers. As mentioned before, the feature is now available to the beta testers, and a public roll-out will happen soon.
Still, you are not ready to wait? Or have the question of why animated stickers are not working? Then no worries. We do have an option to activate WhatsApp animated stickers. So here we are checking how to activate WhatsApp animated stickers. Follow the steps below to enable the feature on your smartphone.
Steps to Enable WhatsApp Animated Stickers
First, check whether you are a WhatsApp beta tester or not. If you are a beta tester, you will have the latest version of the app on your mobile. If not, you can download the latest beta version from the APKMirror website and install the APK file on your android device.
Once done, follow the steps.
Step 1: Open WhatsApp chat and click on the emoji icon.
Step 2: Now, click on the sticker icon within the window.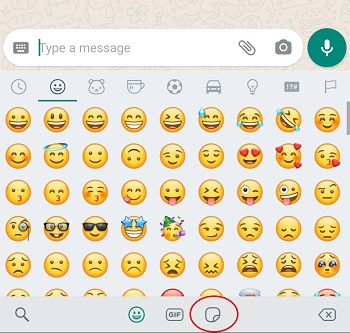 Step 3: In the sticker window, click on the '+' icon.
Step 4: Now, in the new window, you will get the list of all available stickers.
From the sticker list, you can find a new sticker pack named Playful Piyomaru.
Step 5: Click on the download button. Now, the new animated sticker pack is installed on your mobile.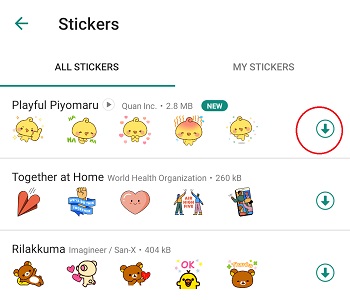 Step 6: Now go back to the chat window, and you can see the new animated stickers there.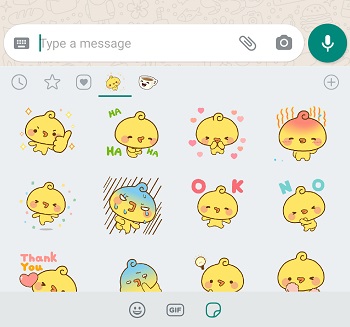 You can now use the new animated emoji for WhatsApp. However, you need to know some facts too.
Since the animated WhatsApp stickers are available only in the latest beta version, they also need to have the latest beta version if you send them to your friends or relatives. Otherwise, the animation will not work on their smartphone.
Currently, there is only one animated sticker pack available on WhatsApp. However, once the new feature rolls out publically, both official and third-party sticker packs will be available.
Update: Now, the Animated Sticker option is officially rolled out to all the users. So, head over to PlayStore and update your WhatsApp, and you can have the animated sticker option on your phone. No need to download the APK file now.
You may also read