If you are using one or more WhatsApp account and, at any point, wish to delete the WhatsApp account, we are giving the steps to deactivate and delete the WhatsApp account properly. Many users delete or uninstall the WhatsApp application from the phone to remove the WhatsApp account.
Simply uninstalling the WhatApp application from the phone will not remove or deactivate the WhatsApp account completely. Instead, it will remove the app from the device only. The downside is that, since your account is still active, other WhatsApp users having your number on their contact can still see you on their WhatsApp contact. And for this reason, they might send you messages on your WhatsApp number, thinking that you might see the message later.
Delete or Deactivate WhatsApp Number
To properly delete the WhatsApp number, you must deactivate the WhatsApp number before uninstalling the app from your phone. By doing this, other users won't find your number in the WhatsApp contact, and thus they get to know that your number is not active on WhatsApp. Also, once you deactivate the account, you will get automatically deleted from each WhatsApp Group too.
Steps to Delete WhatsApp Number
To delete a WhatsApp number properly, follow the below steps.
Step 1: Open WhatsApp on your iOS or Android device.
Step 2: Click on the menu icon and click on Settings.
Step 3: From the settings page, click on Account.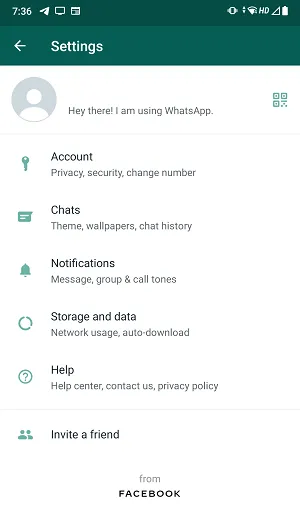 Step 4: In the account section, you can see the last option as Delete my account. Click on that.
Step 5: In the next window, you need to provide some details to delete the WhatsApp account completely. So here, you need to select the country (country where your WhatsApp number belongs) and enter the same WhatsApp number.
This step is for the verification, and WhatsApp is asking for the final confirmation.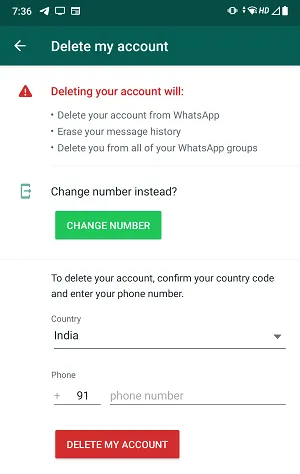 Step 6: Once entered, click on the red button named DELETE MY ACCOUNT
Step 7: Now, another screen will come and ask you for a reason for deleting the account. You can select any reason from the list. Click on DELETE MY ACCOUNT at the bottom of the screen.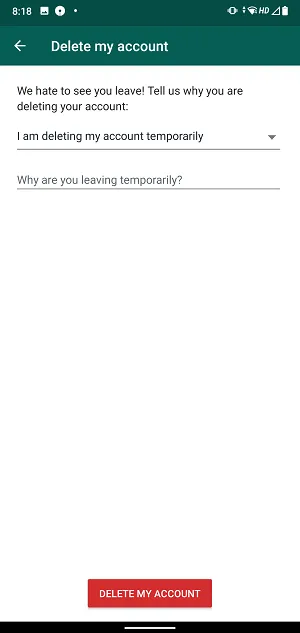 Step 8: Finally, another screen will pop up, informing you that all the data will be removed permanently and cannot be recovered. You need to confirm the same by clicking on the DELETE MY ACCOUNT button.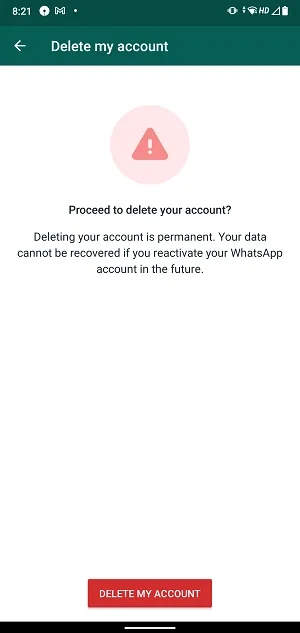 Step 9: Done. Now the account is deactivated, and the WhatsApp account is completely deleted from your number.
Finally, you can uninstall WhatsApp from the phone or can use the same with another number.
The importance of deactivating/deleting the WhatsApp account is that other users can't find your number anymore in WhatsApp. So if you delete the WhatsApp from the phone without deleting the WhatsApp account, other WhatsApp users can still see your contact on the WhatsApp contact list, and they might send you a message thinking that you are still using that number for your WhatsApp.