Facebook got its user base to a massive count in recent time, and we can see that almost all online users hold a Facebook account to communicate with others these days. Although the number of active users has decreased recently, Facebook is still the most used social media platform worldwide. Along with its popularity, the Facebook account's threat also increased. Many users are concerned about Facebook Hacking and think someone can hack their Facebook account, as we can see several options and tools available to hack Facebook accounts. Yes, on the other side, some others used to hack Facebook accounts of others, both for fun and illegal activities.
How to Hack Facebook Account
If you have any questions, how to hack Facebook account without password, or can someone hack Facebook without password and OTP, etc., we will see them all. Here in this artcile, we will see how to hack Facebook without password and software that can be used to access the Facebook account of others. Always remember that anything other than ethical hacking meant for unauthorized activities is not legal. So this is not to promote any Facebook Hacking but to educate what is happening regarding Facebook account hacks etc.
It's hard to hack someone's account without the correct authentication details. People are always asking the same question years after Facebook was launched. You may hack for fun or to view the Facebook profile details of someone, but there are consequences for that.
For others, it's essential because it involves crucial people. What if we introduced you to a way to hack Facebook account without password? In 2023, that is now possible, thanks to apps you can install on targeted phones without any detection.
Here is one that will not need the password to hack Facebook. After hacking, you will receive the results somewhere else. You only need to learn how to use it since it's a simplified process. Also, make sure to check the step taken if the Facebook account is hacked.
How to Hack Facebook Account Without Password
This article will thoroughly check how to hack a Facebook account. There are various ways to approach the Facebook hacking process. For example, Spyier hacking application has a way to reach the targeted account without requiring the password. It's also fantastic because if you want the password, it will get that, too.
Millions of people in more than 190 countries have benefited from its features. There are multiple Facebook hacking tools available. However, here we are, looking into one such tool. There is something in Spyier that most hacking applications lack. First, the power of using the stealth mode feature helps it hide.
So, Spyier will hack in the background after the setup without the targeted user knowing. Second, it hacks FB accounts on both Android and iOS without any rooting or jailbreaking. So, there will be no phone alteration to get the information.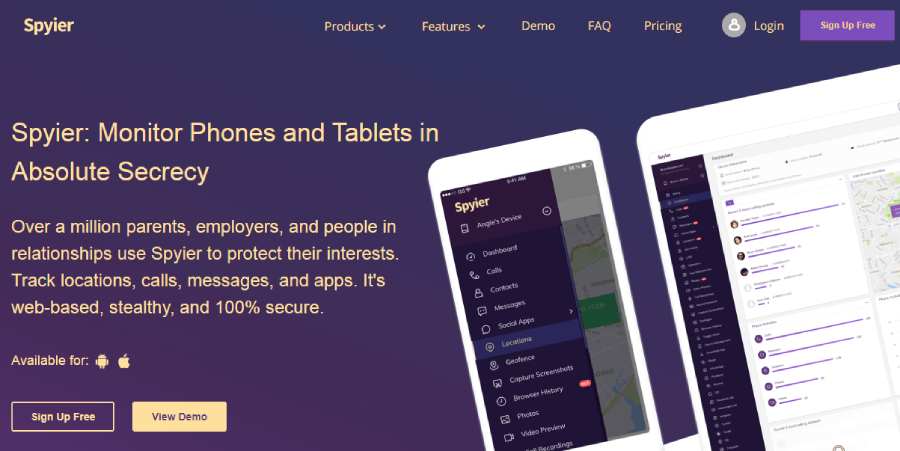 It has cutting-edge technologies that do not need developer tricks for Facebook account hacks. You can also use it to hack the Lite version too. If your target has an Android, Spyier demands a one-time installation on that phone before the remote access.
For iOS, you don't need any download or installation. Instead, Spyier will hack the account using the iPhone's iCloud login details. So, you can hack online for the Apple world if you already have the victim's iCloud ID.
After the setup, which takes less than 5 minutes, you can access the Facebook account online. Spyier gives you an account before acquiring it, which it uses to share the results. There, you will get all the activities that your target is doing.
That includes messages, pictures, contact details, and timestamps. Spyier has the best way to hack an account without password since the data is online. The control panel presenting the results has many other features on it.
It's fully compatible with all browsers. That permits you to log in anywhere using any device as long as there is an internet connection. In addition, the information you hack is synced to the account when you log in instead of storing it.
That way, you are the only one who can access the data. Here is how you can use Spyier to hack a Facebook account without a password.
How to Hack Facebook Account Using Spyier
What You Need
Spyier works with OS version 4.0 and above in Android. Get the phone to install Spyier once
In iOS, the iPhone should have version 7.0 or later. Obtain the iCloud ID of the phone
Internet connection
An email address
Start Facebook Hack Account Process
To start with the Facebook hack account process, follow the below steps.
Step 1: Go to Spyier's website and register an account using your email address and a password. Next, choose the targeted phone's operating system to continue.
Step 2: You will see all the available plans. You can choose the one that fits your objectives and go ahead and make the payment. Later, you will receive an email informing you about the purchase with relevant details. In Android, you will also receive a download link.
Step 3: For Android, use the sent link to install Spyier on the targeted phone. Make sure you activate stealth mode and then finish up the installation.
Step 4: For iOS, after the confirmation email, login to your account and verify the target's iCloud ID. Next, select the device you want to jack and wait for the Spyier and iCloud syncing.
Step 5: When re-accessing your account, the dashboard will be with the phone's summary. It will also have the feature on the left menu.
To hack Facebook on Android, click on Social Apps and see the available options. Then, you can find Facebook or Facebook Lite and click on the target's use.
You will see all the activities from the messages to timestamps. On iOS, go to Applications and look for the FB icon. Click on it to see what your target is up to.
Why Use Spyier to Hack Facebook Account
For the Facebook ID hack, you can use the software easily. As you have seen, Spyier's demands for the FB authentication details are nowhere. Here are other benefits that you will also realize:
Quick hacking: It will take you five minutes at most to set up Spyier and hack the Facebook account.
Safe to use: You don't need any rooting or jailbreaking tricks before the hacking process.
Real-time results: Your online account receives the updates as soon as they are updated on the culprit's phone.
Stealth mode: Spyier hides while hacking. That makes sure the target has no clue about what is happening.
Reliability: Spyier does not cause any battery drain. Android uses less than 2MB of memory space. In iOS, it uses iCloud to hack.
Remote uninstallation: You can get rid of Spyier via the online control panel. So, you can retrieve the app from the targeted phone, still without their knowledge.
Budget-friendly prices: Once you acquire the app, you get more than 30 hacking features. So, you will hack Facebook and other data after the one-time payment.
Password hacking: Apart from hacking the account, Spyier can also get you the authentication details. It uses the keylogger to do that; you can view the details by clicking on it.
Final Note
Only so many tools will work like Spyier and immediately give you results. So, if you get Spyier endorsed somewhere, grab the chance while you can. That does not mean it's going anywhere.
You can visit the website if you need a quick app to hack Facebook without the password. You will get it the moment you register an account.
Other Ways To Hack Facebook Account
With the popularity and the increase in the number of users, the queries related to Facebook hack and ways to hack Facebook account is increasing considerably. Even checking the search chart, we can see that users are asking questions like how to hack Facebook accounts using Url online without a password.
If you are concerned about Facebook security and question how to hack Facebook, you need to know other ways hackers hack a Facebook account. So, to protect the account, you'll need to keep the same in mind.
Hack Facebook Account Using Facebook Spying Apps
Below are some known Facebook spying tools that can be used to hack and monitor the Facebook activity of other users, especially by parents, to keep track of their kid's Facebook activity. Facebook Hack Apps include:
1. Spyic Facebook Messenger Spy App
Spyic is a great Facebook spy app that is primarily targeting to monitor Facebook messages. Spy helps users watch all the activity within the Facebook Messenger app, including all the incoming and outgoing messages, media uploads and shares, chat history, etc. In addition, Spyic helps parents track all their kids' messages on Facebook.
2. mSPy – Facebook Hacking App
mSpy is another Facebook hacking app that helps users to monitor other Facebook account. With the mSpy app, users can directly provide the Facebook URL of the target user to spy on the account. The tool also provides the option to search the Facebook profile using the Name.
3. Eyezy – Facebook Messenger Hack
Eyezy is another Facebook messenger spy app that works similar to the Spyic, Eyezy lets users track all the activities within the Facebook messenger app including the messages, media shares, chat history, etc.
Facebook Account Password Hack
Here is one that will not need a password to hack Facebook. After hacking, you will receive the results somewhere else. You only need to learn to use it since it's a simplified process. Also, make sure to check the step taken if the Facebook account is hacked.
Does Facebook Password Hack Works?
Facebook password hacks can happen by spying and by using some phishing websites. Hackers are used to trick Facebook users by different methods and thus by hacking the user's Facebook passwords. So always beware of such threats and never provide the Facebook password directly to any third-party websites you don't know.
How Hackers Used to Hack Facebook Account Without Password?
In the past, a significant security issue happened with the telecom networks globally, called the SS7 protocol attack. Hackers used to steal user details using some loopholes within the SS7 system. SS7 (Signaling System 7) is a protocol telecom operators use to pass data between operators. Here, hackers used to steal the data transferred between the operators from the SS7 signals.
A vast data leak happened, and hackers managed to access users' Facebook accounts using the data transfer via SS7 protocol. Facebook Hackers used to divert the calls and SMS of Facebook users to their own devices and thereby gain access to the victim's Facebook account. For this Hacking, Hackers don't need a password and can easily hack Facebook without a password.
How do hackers access Facebook account without the passwords the following way? Initially, the hacker will initiate a forgot password process by clicking the Forgot Password option on the Facebook page. Then, using the SS7 protocol, the hackers will redirect the SMS containing the OTP or the rest the link to their device. This process won't notify the real user since the mobile calls and SMS are redirected.
Using the OTP and reset password link, the hacker can change and rester the victim's Facebook password and gain access quickly. But, of course, the owner of the Facebook account won't know about it unless notified by email.
Even though the issue was a big headache to Facebook users those days, the problem was fixed, and currently, hackers can't access or divert the calls and SMS of any user. Hence, there is no need to worry about the Facebook Hack by the SS7 protocol attack.
How to Hack A Facebook Account Using Fake Websites
In the past, we saw that hackers built fake websites on Facebook and somehow managed to direct users to the fake website rather than the original one. Once users enter the login details, including the password, thinking that it is the actual Facebook website, the login details, including username and password, are saved in the fake website. Thus, hackers access your Facebook account to hack your Facebook.
Security Flaws witin the Device
Sometimes, your device to log in to Facebook may be vulnerable to a security threat. For example, it might be an Android, iOS, or Windows device. So, security loopholes may help unauthorized users to access their Facebook accounts. That is why timely updates on mobile and desktop devices are essential.
Facebook Hack Using Moded App
Some people mainly use the moded application version to bypass the ads and get more features. Since it is an unofficial app developed by some third-party developers, we can trust them completely. On the other hand, we can't say that all the third-party moded apps are unsafe; there are good apps, but we can't identify which one is safe to use. For example, if you install a malicious third-party moded app developed for Facebook Hacking, that app can steal your data.
Once such apps are installed, the user details will be transferred to the hacker's server once you log in. Also, the apps can take data from the device, including contacts, photos, videos, etc.
How to Hack a Facebook Account By SMS
Recently, we saw that hackers use many new tricks to get the password of an actual Facebook user. One such method is by using the SMS link. Hackers try to reset the password of the Facebook user and then contact the user through other social media platforms.
Then, they will ask the user for the reset link to convince them about some survey, etc. Once the hacker gets the reset link, they will eventually reset the password and can access the Facebook account. In short, the actual Facebook user will lose access to their Facebook account.
Never share any such link with an unknown person by any means. It can lead to account misuse and can cause a big headache.
Is it Legal to do Facebook Account Hack using Software
If you do the Facebook Account Hack utilizing the software, there won't be any issues. But doing Facebook hacking for bad activities is always illegal. If you are hacking the Facebook account hack for fun and family-based use, like account recovery, prank, etc., there won't be any issue, and it is not illegal.
Can we do any Facebook ID Hack using the software?
No, you can't hack any Facebook ID using this software. It requires authentication and hence can be used to access or monitor your Facebook ID, which you can access to some extent, like family members, friends, etc.
MBC22 Offers Real Facebook Hacking?
If you search for Facebook hacking, you might have heard about the terms mbc222 and mbc222. Enter the First Site. Yes, the name mbc222 has been searched for a long time, and people wonder whether it is a legit way to hack Facebook accounts. So, what we would like to explain about the mbc222 is as follows.
What is MBC222
Mbc222 is a third-party website claiming a free Facebook hacking option. Furthermore, they claim to provide the option to hack a Facebook account even without a password by breaking the encryption.
Is MBC22 Legal?
It is illegal, and there is no legitimate way to prove the authenticity. Those are third-party tools and don't provide a guarantee.
Is it Safe to use Mbc222 Enter the First Site in 2023?
As mentioned above, mbc222 is not a legal way to hack or track any Facebook account. Those are third-party websites claiming to offer Facebook hacking. So, we recommend not using third-party services like mbc222 to track Facebook accounts.
Is the Facebook Login on Other Website Can Cause Facebook Account Hack
Today, many websites and services use social media accounts for login purposes. For example, we can use social media accounts like Facebook, Google, etc., to access certain websites easily. These websites use particular login APIs provided by Facebook, Google, etc., rather than regular passwords.
Therefore, logging in using social media accounts like Facebook won't result in password loss, and those websites won't get your Facebook account hacked. In short, we can say that they can't access or see your Facebook password. Those websites can only get your basic details like Facebook Name, Profile Image, Username, Email, etc.
Does Facebook Hack Works?
It depends and can happen if the user keeps their Facebook account unattended. If the Facebook Password is weak, Using an untrustworthy third-party application to access the Facebook account or log the Facebook account on the Public system without proper logout can increase the vulnerability and may result in a Facebook Hack. So, always take care of the Facebook account with extra security measures.
Why to Hack Someones Facebook
The questions arise from two facts: some users wish to hack other's Facebook accounts. On the other side, some Facebook users want to know the steps involved in Facebook hacking without a password so that they can safeguard their accounts.
Facebook got its user base to a massive count recently, and we can see that almost all online users hold a Facebook account to communicate with others these days. Although active users have recently decreased, Facebook is still the most used social media platform worldwide. So, along with its popularity, the Facebook account's threat also increased.