Communication is the key building block of a successful business. Whether it's a physical workplace or a virtual workspace, employees need to communicate to perform their duties and tasks in a streamlined manner.
With the help of cloud technology, communication has become more versatile, effective, flexible, and affordable. Gradually, more and more companies have started using cloud-based communication tools to handle their business communication.
There are different types of tools available in the market that focuses on team collaboration, project management, and customer service experience. This article will discuss some of the popular cloud communication tools.
What are cloud communication tools?
Cloud communication tools are modern solutions that assist teams in collaborating and communicating at a higher level. However, these tools are backed up in the cloud, and users need an internet connection to access and use them.
Since there are so many channels to communicate in the workplace, employees require various tools to handle internal and external communication.
These tools have different functionalities that are crucial in simplifying the process of business communications. For example, Messaging, phone calls, video meetings, emails, etc., are some communication channels.
Best Cloud communication tools for businesses
Following are the top selected cloud communication tools for businesses.
1. Google Meet
Google Meet is an excellent video-conferencing application. It is available for personal and commercial usage free of cost. In addition, it allows you to turn on video or audio, or both.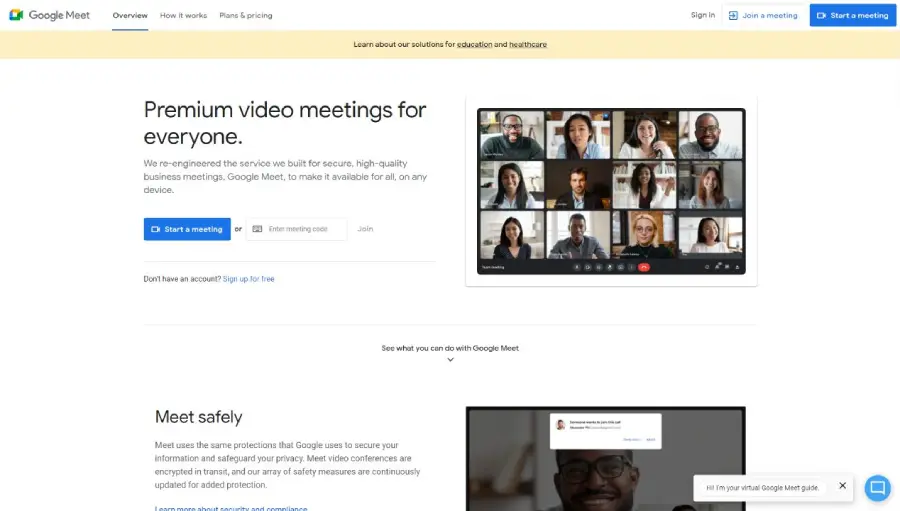 Sharing meeting codes or links generated by Meet enables you to invite friends, teams, or anyone to join meetings. People can join meetings using their web browsers, eliminating installing any programs on their computers. There are other handy features like screen sharing and text chat as well.
2. Zoom
Zoom has grown in popularity as many people were forced to work from home because of the covid outbreak. It's a video-conferencing program that lets you speak with team members from anywhere using your phone or computer.
Users can use Zoom to establish and attend virtual meeting rooms to communicate via video and voice. Participants can also use features like screen sharing, emotes, file sharing, and text chat.
3. KrispCall
KrispCall is a fantastic business phone service integrated with robust call center software. So, it not just lets you own a virtual phone number for personal use but also allows you to operate and manage an extensive call center for your business.
As it caters to solopreneurs, startups, and businesses of all types and sizes, it's one of the most sought-after communication tools in the market right now.
Depending on your business use, you can own different kinds of virtual phone numbers swiftly and conveniently. So, whether it be a local, national, toll-free, vanity, or international phone number, you can get it readily from KrispCall. And talking about the global numbers, there are over 100 countries you can choose from.
Unified callbox, sales automation, Automatic Call Distribution, CRM integration, IVR, and click-to-call are some of the advanced capabilities of KrispCall. Their Unified Callbox is a specialized dashboard that lets you handle communication channels and tools from one centralized location.
4. Slack
Slack is a popular collaboration tool for teams. It allows team members to communicate in real-time. In addition, it allows third-party apps such as Zoom, Skype, G Suite, and others to be integrated so you may access them without leaving the app.
Sharing information and coordinating duties are the common things that employees can do together as a single team using Slack.
Slack offers two ways to connect with others: Channels (group chat) and direct messages (one-to-one chat). The documents shared by team members in the channel are accessible to everyone.
5. Microsoft Teams
Microsoft Teams is a sophisticated chat-based collaboration tool with capabilities such as file sharing, screen sharing, virtual meetings, voice and video conferencing, and more.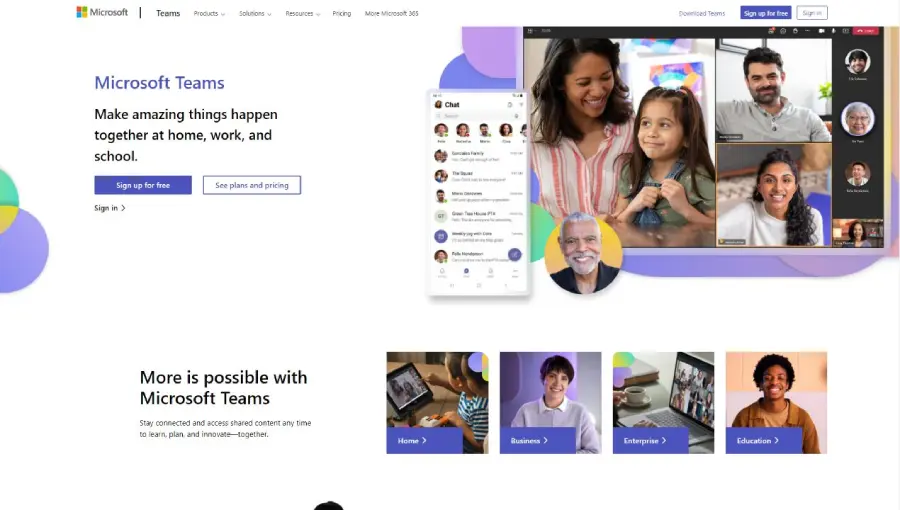 All team members can observe and participate in various talks in the General channel. In addition, you can use the @ function to invite other team members to join in on a chat.
The ability to make outgoing calls is one of its most remarkable capabilities. In addition, it is fully linked with Microsoft 365, allowing you to use Word, Powerpoint, SpreadSheet, and other Microsoft Office applications within the channel. You can also use third-party applications to enhance your experience.
6. Skype
Skype is a free application that enables you to communicate with team members via computer or mobile device. In addition, it allows you to video chat with each other in real-time.
All of this is made possible by a technology known as voice over IP or VoIP, which sends and receives voice information over the Internet. For example, with skype, you can exchange files between your teammates. Also, you can record video conferencing sessions and share them with teammates for future reference.
7. Discord
Discord is a chat application that functions like Skype in terms of simplicity and Slacks for professional communication.
Although it's designed exclusively for video game players, small businesses can utilize it for communicating with team members. It allows users to communicate in various ways, including video calls, audio chat, and text.
This application makes chatting a fun experience. In addition, it has search functions that assist you in adding new employees to your team list for quick interaction.
8. Viber
Viber is one of the widely used messaging apps today, with over a billion regular users worldwide.
Viber helps businesses connect with employees and easily target customers via text messages. It is one of the most professional methods to communicate with your audience effectively.
Viber also allows you to create groups to add team members for exchanging text messages, phone calls, and video meetings.
9. WhatsApp Business
WhatsApp Business is a free application designed specifically for businesses. The app facilitates communication with your customers personally, emphasizes your products and services, and responds to their inquiries on an excellent customer experience.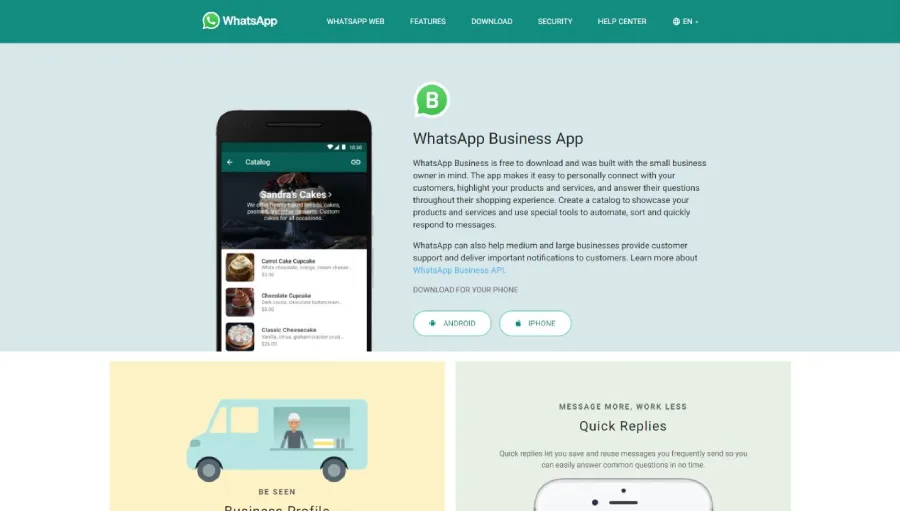 It assists in creating catalogs to exhibit products and services. It uses distinct features to automate, sort, and answer messages.
Medium-scale and large-scale businesses can use WhatsApp to offer customer service and send essential notifications to their customers.
10. 800.com
800.com is a cloud-based telecommunication company that specializes in toll-free and vanity numbers. This is great for prospective businesses as they can utilize a vanity number to help drive sales.
800.com also provides a suite of marketing tools to help you get the best out of your number. Advanced features such as call tracking, keyword spotting, and Geo-routing make it easy to scale your business anywhere in the world.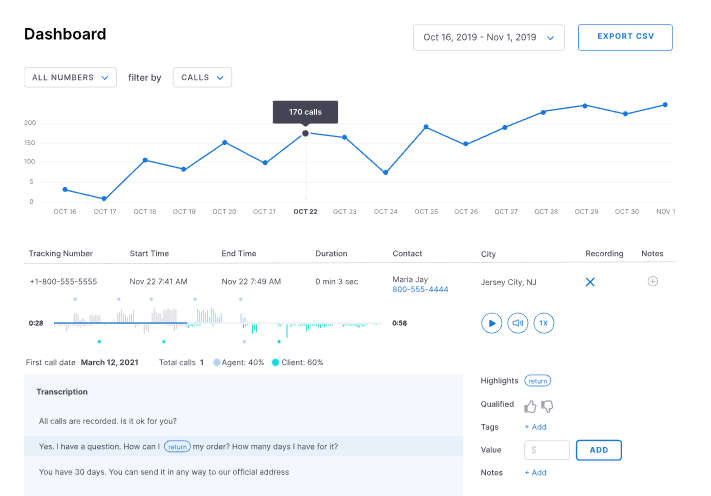 Why do businesses need cloud communication tools?
Cloud communication is the leading solution for all sorts of businesses. They hold the key to assisting businesses with greater communication, flexibility, productivity, reliability, and privacy.
Relying on communication tools is necessary to keep up with the fast-paced world of businesses. Have a look at the following reasons to understand the significance of these tools for businesses.
1. Top-class features
The stand-out characteristics of communications tools are their features. Businesses can access different features like call center solutions, third-party business tools and CRM integration, multi-channel and omnichannel communication, seamless data transfer, and many more.
These features are essential for automating tasks, streamlining the workplace, accessing data, and providing customer service. It directly impacts the performance of employees by enhancing their productivity.
2. Mobility and flexibility
Recently, the COVID 19 outbreak forced businesses to implement work-from-home policies. In addition, as remote working became a norm, it allowed businesses to use cloud-based communication tools for handling their business communication and project management from any location.
Even without the pandemic, companies are continuously supporting the use of cloud communication tools as they have realized that work doesn't always occur in the office. Also, employees are getting more flexibility to balance their personal and professional life.
3. Cost-effective
Cloud communication tools are renowned for providing companies with feature-rich subscription plans at a very affordable price. Therefore, any business can afford to use the tools without spending too much of its budget.
Communication tools are crucial to bringing a high return on investment as they are the gateway to connect with customers or clients. In addition, their value-added features enable businesses to involve in a data-driven process of making decisions and providing support.
In addition to packing a plethora of features, most communication tools support business tools and CRM integration. So just by subscribing to one communication tool, you can unleash a boundless set of features.
When many features are available on a single platform, subscribing and setting up multiple tools won't be necessary. It saves not just your money but also your time and effort.
4. Scalability
Scalability is another excellent benefit of using cloud communication tools. Businesses can quickly build a presence in any country with international phone numbers and scale the number of users without getting any additional hardware or paying extra charges.
Communication tools and software enable companies to add workspace and distribute team members to different workspaces with just a few clicks.
Also, expanding or contracting the workspace can be done seamlessly without much effort. At the same time, the expansion and contraction can be done with little to no additional financial expenses.
5. Advanced security
On-premises solutions are far less secure than cloud-based solutions. That's because the cloud has extra security layers and procedures in place, as well as data encryption methods. As a result, breaching is significantly less common in clouds than on-site physical servers.
This allows businesses to keep their data from leaking into the market or falling into the wrong hands. In addition, data security is necessary for assuring privacy to teams and customers.