Are you looking for a high-quality WebP picture converter? If the answer is yes, you are recommended to try AnyWebP software. But, first, let us have a look at why and how!
AnyWebP is an online tool that comes with features converting WebP images to general JPG/PNG and ICO. In contrast, AnyWebP also enables users to convert any other image format to WebP. The best benefit of using AnyWebP is that it is fast and free, and users do not need to upload any images to the server.
Despite having many functions, AnyWebP software comes with a free version. Moreover, users can use this program offline. It means that this tool does not require a constant internet connection.
Convert WebP to JPG or PNG using AnyWebP
Using AnyWebP, you can easily convert all your WebP pictures to formats such as JPG, JPEG, PNG, GIF, and many more. One of the significant advantages of AnyWebP is it does not harm the picture quality while converting.
This free program allows users to convert a wide range of images at once. However, users must take note; this program operates very fast, such that the conversion requires a maximum of one second for each file.
AnyWebP can be easily used by many users on both platforms, i.e., Windows and Mac. There is nothing complicated in the conversion process. All you have to do is drag your WebP image and customize the output format, quality, and size. Finally, click on the Convert All Files button.
AnyWebP developers have added such features here that can guarantee a pleasurable user experience. In addition, the software contains a very straightforward interface that attracts many users today. Thus, even an inexperienced user can for sure quickly understand how to use the free tool AnyWebP.
Here is another point to keep in mind when using AnyWebP. If, as a user, you have any questions or difficulties while using this tool, you can write to customer support that is active 24*7*365. Besides, you can also watch several tutorials explaining the necessary steps to perform the batch conversion on the official website.
The compatibility criteria for AnyWebP are as follows:
iOS: Requires iOS 11.0 or later. The free tool is also compatible with iPhones and iPads.
Android: Requires Android 5.0 or later. The free tool is also compatible with Android Phones and Tablets.
Features of AnyWebP
Here are some of the top-most features of AnyWebP which users can rely on:
Anyweb is a robust application that lets you force anything on an Android phone or tablet via the app or a website.
Users using this tool for the first time do not need to pursue any techniques.
Anyweb is a browser that allows users to exert incredible forces with a simple touch. Such as on any website or app. For example, Instagram, Amazon, Google, Google maps, Netflix, etc.
Every single task is executed inside the AnywebP app itself. This app personates the sites in real-time.
Users of AnyWebP can learn to use it in just minutes. There are no requirements for the prior strategy.
The free tool has instructions and step-by-step video demos.
An amazing app ideal for beginners to professional magicians.
Users can create their effects with AnyWeb based on their imagination.
Anyweb is designed for smartphones and tablets so that users can use it according to their convenience.
How AnyWebP helps to convert WebP to JPG or PNG?
WebP, the newer image format by Google, has an improved compression competence over the older formats like JPG. However, WebP images often can't be viewed or edited by offline image editors compared to extensively used formats like JPG and PNG.
Users can utilize AnyWebP, which is a free browser-based application, to assist them with this. In addition, you can batch convert WebP images to JPG, PNG, or ICO that can be edited easily in a hassle-free manner.
How to perform batch conversions via AnyWebP?
The process of performing batch conversion through AnyWebP is quite simple.
You have to select the WebP images to be converted. It can be done by clicking on the conversion area. You can opt for an output image format like JPEG, PNG, or ICO. Moreover, the dimensions can be converted before changing the chosen WebP images.
ANYWebP can convert WebP pictures up to 10 MB in size and 8000 × 8000 pixels in quality. After some time, the images will get uploaded. All you have to do is click on the 'Convert All' WebP button for batch conversion. You can also click the 'START' button to convert individual images.
The process takes place within the user browser, and thus AnyWebP does not store these WebP images. Therefore, the number of images and the size determine the total time taken for batch conversion.
Once the processing is completed, the converted images will be available in a compressed/zipped folder. You can find the converted images in JPEG, PNG, or ICO format as previously chosen.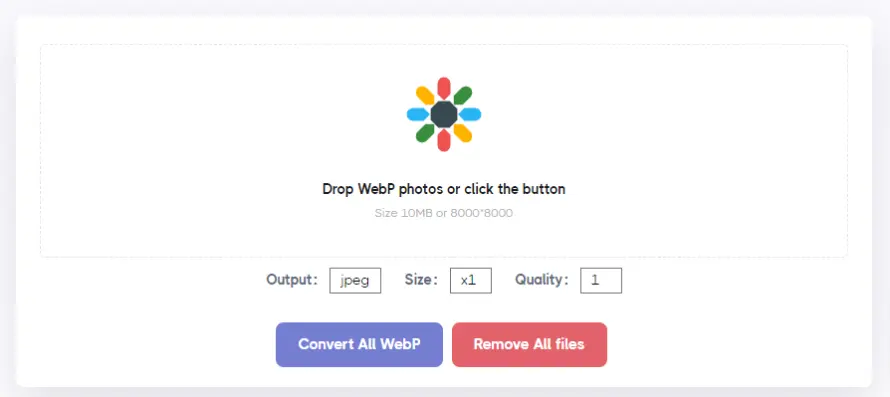 Steps in the Process
Follow the steps given to convert your WebP image to JPEG or PNG.
Step 1: Open AnyWebP website on any browser you are using (Not recommended on mobile browsers).
Step 2: Upload or drag and drop your WebP image.
Step 3: You can set the options are per your preference, like the output format (JPG/PNG/ICO), Size, and quality.
Step 4: Press the "Convert All WebP" button to convert all the uploaded images.
Step 5: Wait for the conversion to finish for a few seconds. Once completed, it will automatically download all the images within a zip file.
Note: You can convert thousands of images simultaneously using the tool or take an individual image for conversion.
By following these easy steps, you can convert WebP to JPG or PNG. After the conversion process, you can edit the image using photo editing software according to your requirements.
Conclusion
All in all, AnyWebP software is straightforward to use and provides a thorough presentation. Moreover, users will surely love the interface of the app because it is user-friendly and quick!
A user-friendly interface, 100% free access, and acutely fast conversion – all these things are waiting for you in this magnificent tool. So, what are you waiting for? Simply use this convenient browser-based application to quickly convert numerous WebP pictures, which can be further improved offline.