Since the digital landscape has expanded, video consumption has become a crucial part of our lives. People, regardless of their age, are consuming video content all across the globe. And as a result, online video platforms are starting to emerge.
While YouTube has been topping the chart, multiple other platforms are also gaining attention. One such Online Video Platform is Rumble. Interested to know more about Rumble? Then join us as we discuss more details further.
In the past few years, Rumble has gained significant attention. This online video platform has become an essential tool for content creators, viewers, and businesses alike. For video creators, Rumble offers a unique blend of features and opportunities. It fosters an environment for empowering creators while providing an alternative to a few mainstream platforms.
Rumble gained a large user base for its robust copyright system and fair monetization policy. Since it aims to provide diverse, high-quality, engaging content, Rumble is here to stay and grow.
Whether you are an avid video watcher or a content creator, here's everything you need to know about Rumble. We will dive into different aspects, including functionality, potential, and user experience of this platform. Continue reading as this comprehensive review guides you with the necessary insights to navigate the world of Rumble.
What Is Rumble? Platform Overview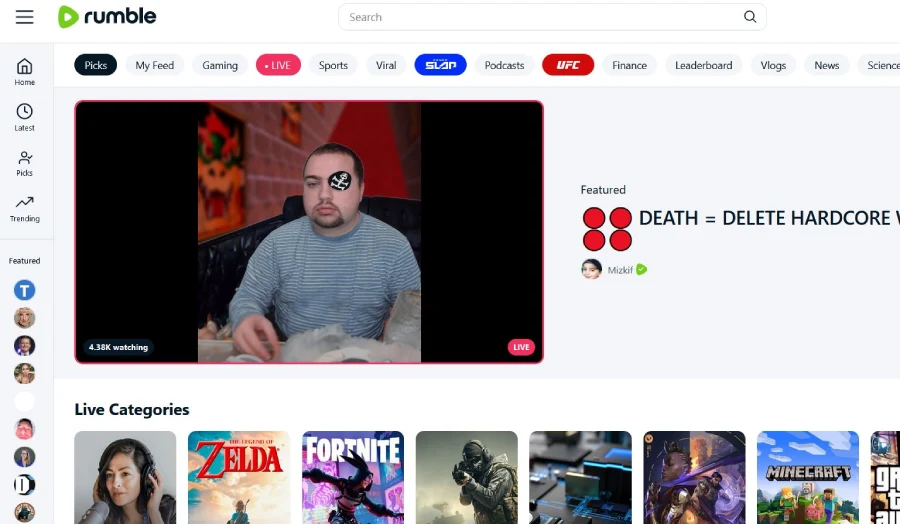 Rumble is an online video platform. Since its launch in 2013, it has been an excellent alternative to mainstream video-sharing platforms. Unlike many other similar platforms, Rumble creators retain ownership of their content. What has attracted the most attention about this platform is its policy of giving a large share of the revenue generated, despite the very strong competition.
Rumble offers content creators a space where they can share their videos while prioritizing fair monetization. It empowers creators and offers them revenue-sharing opportunities and a syndication program to expand their reach. Its user-friendly interface and high-quality features make Rumble a valuable option for creators. This alternative ecosystem for video sharing and discovery is gaining popularity daily.
What Makes the Rumble Special
Rumble is an online video platform that competes with other services, such as YouTube and Vimeo. One of Rumble's most unique features is allowing users to monetize their videos at no extra cost. Furthermore, its algorithm allows videos to stay relevant and visible more than other platforms. Rumble also uses handy tools to help content creators manage their accounts more simply, and its streamlined interface makes it simple to upload, organize, and share videos and view analytics on their viewership.
What Type of Content Can a User Publish on Rumble?
Rumble is a multimedia platform that allows users to publish virtually any type of content. Rumble will enable users to upload a wide range of content, including original videos, blogs, music, sports videos, news videos, celebrity interviews, images, and more. Users of Rumble can create and join groups, participate in chats, and follow accounts. In addition, content can be shared directly to social media networks or hosted for free on Rumble.
Key Aspects Of Rumble
Here are some key aspects of Rumble:
Monetization Options: Rumble provides video content creators an appropriate monetization option. It allows creators to earn revenue from every uploaded video via brand partnerships and advertising. Content creators can even participate in the Rumble Partner Program to earn their share of the ad revenue generated from their uploaded content.
Copyright Protection: Rumble utilizes advanced Content ID technology and thus employs a robust copyright protection system. It aims to safeguard content creators against unauthorized use of content.
Syndication and Distribution: Via syndication partnerships with external platforms, Rumble enables creators to extend their reach. Creators can share every video with a wider audience, increasing exposure and viewership potential.
User-Friendly Interface: Since Rumble has a very user-friendly interface, even the new creators can benefit from it. Creators can easily upload videos, manage monetization and customize their channels. The navigation system within Rumble is so smooth and effortless.
Content Discovery and Recommendations: Rumble recommends personalized content to viewers using algorithms. Thus, not only for content creators, it also enhances the experience for content consumers.
Community Engagement: Rumble includes features including comment and share, thus fostering community engagement. It allows content creators to interact with their viewers and build connections within the platform.
Diverse Content Library: Rumble aims to cater to a large user base through its diverse range of content. It focuses on different genres and topics, from viral videos to news coverage, for a rich viewing experience.
Mobile Apps: Rumble is a mobile application for Android and iOS. It enables users to access the platform directly from their smartphones.
How To Use Rumble?
Using Rumble is an easy process.
Either signup from the official website or download the Rumble App on your device. Click the Sign-Up button and fill in all the required details to create an account. Further, set up your username, profile picture, and bio, and once done with that, you can start uploading the videos.
Users interested in monetization can join the Rumble Partner Program and earn revenue from advertisements alongside their content.
For Content Consumers:
Is Rumble Free To Use?
Yes, for content creators and consumers, Rumble is free to use. For using Rumble, all you need is a stable internet connection and a smart device.
What Are Rumble Rants?
Rumble Rants is the latest feature that allows viewers to tip their favorite creators during live streams. It is simpler to use YouTube Super Chats and Odysee Hyperchats.
Wrapping Up
Overall, Rumble is a competitive alternative to all the mainstream video platforms. For all independent viewers and creators, it is undoubtedly a popular space. Moreover, the quality of Rumble videos is better than its competitors because it uses a higher bitrate when encoding videos. With millions of active users worldwide, Rumble is here to stay and grow.